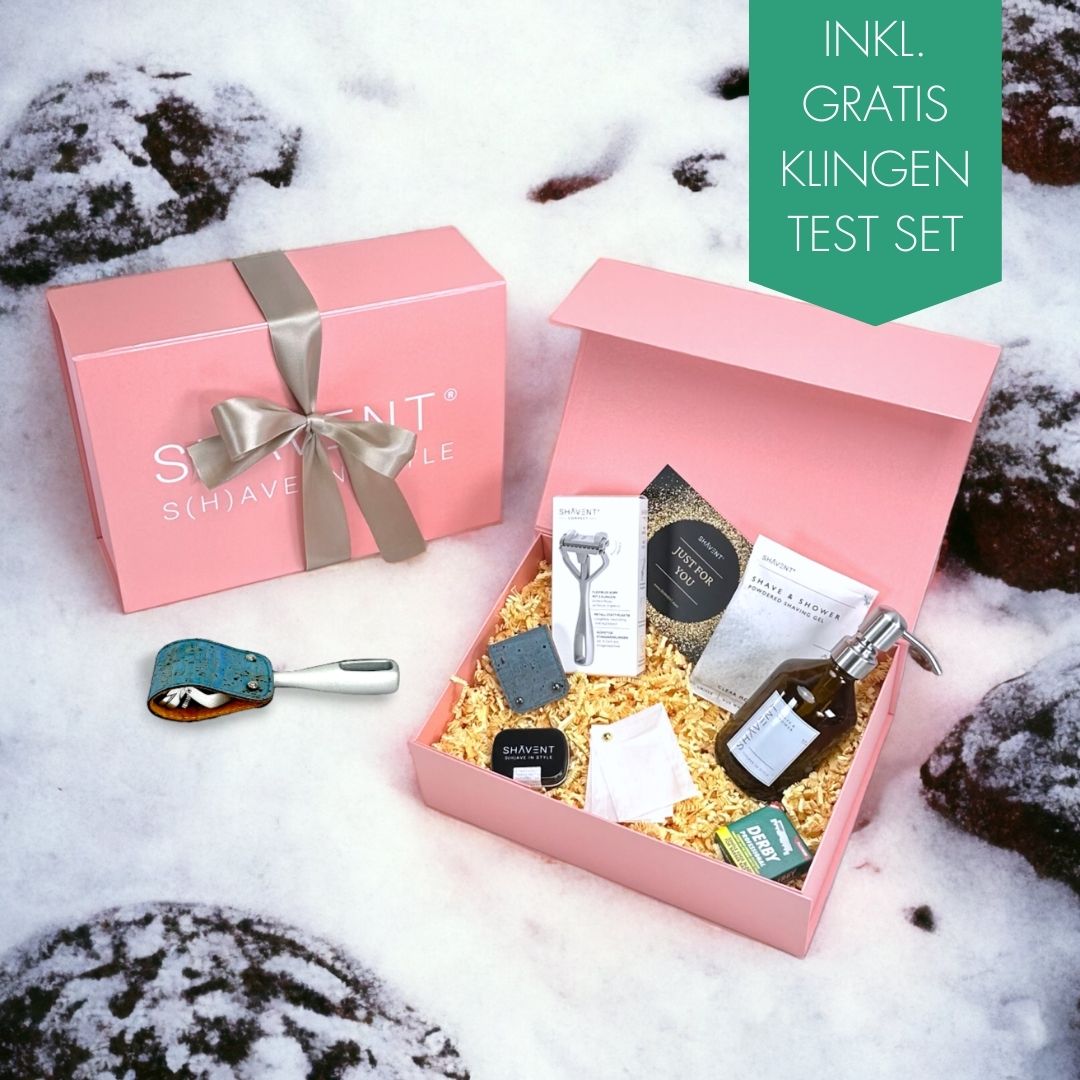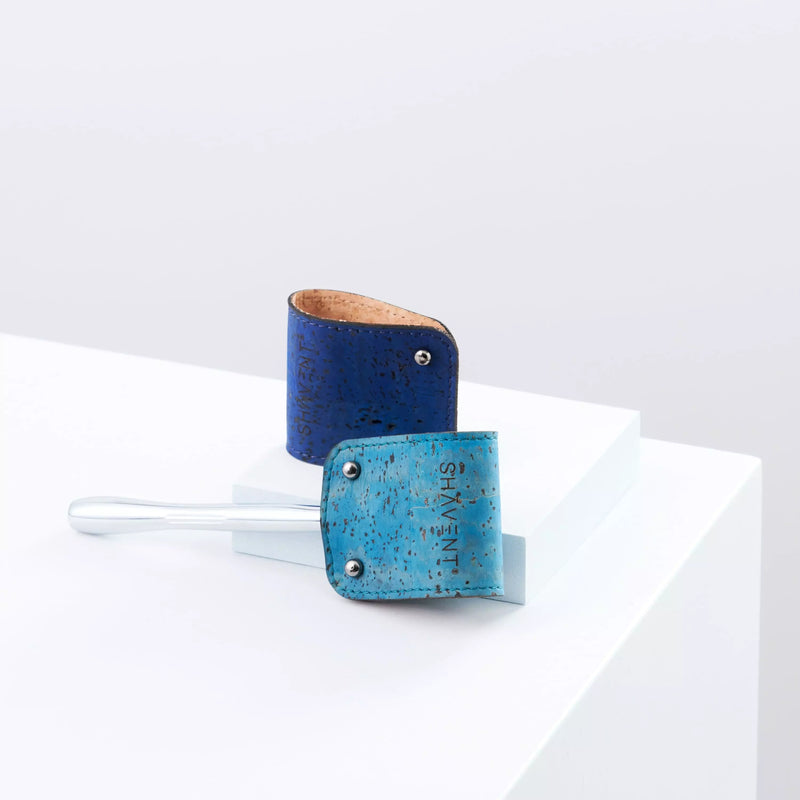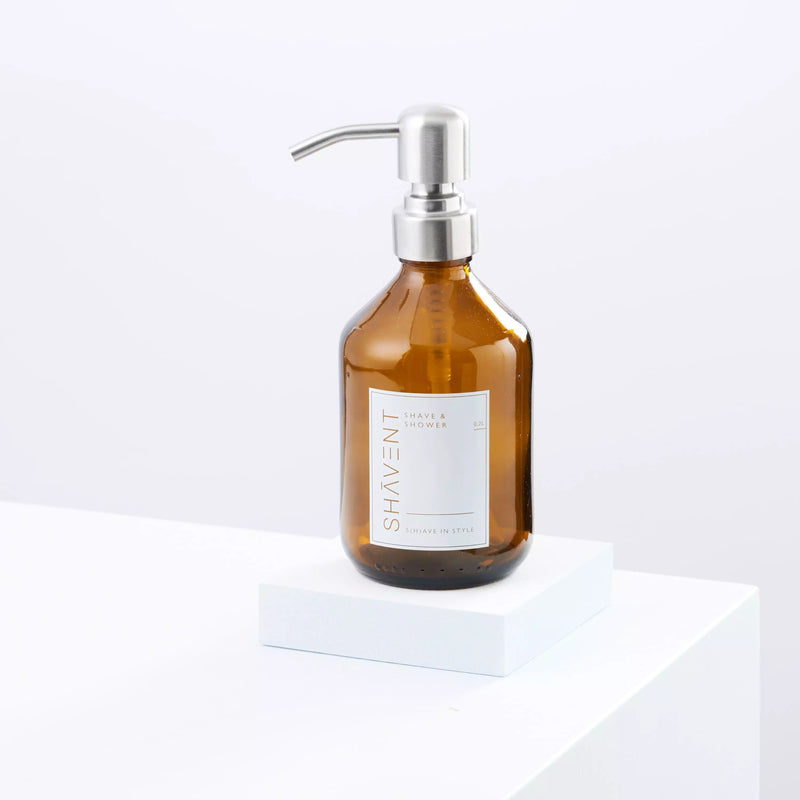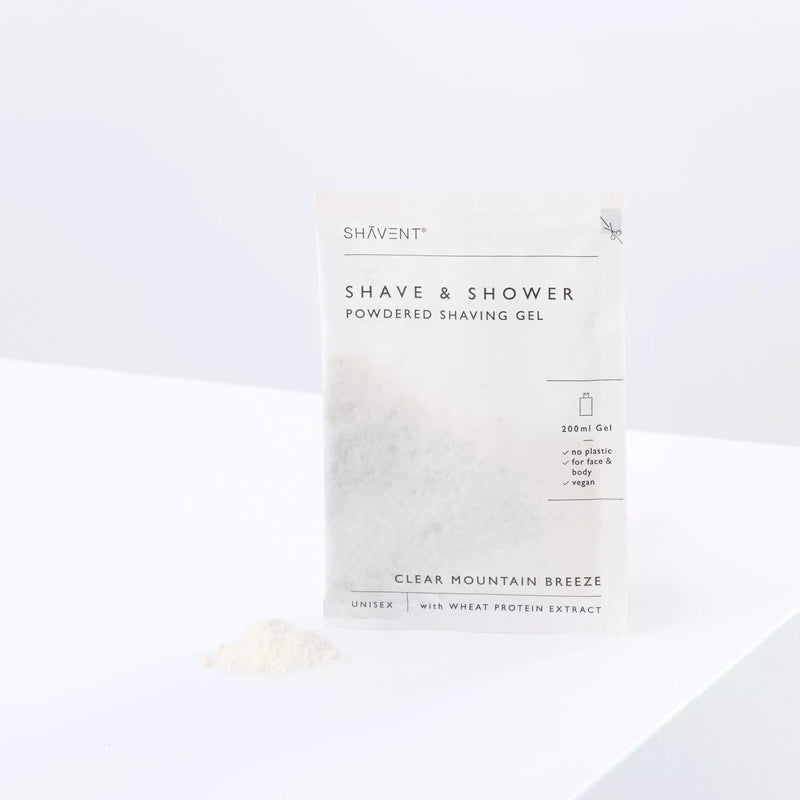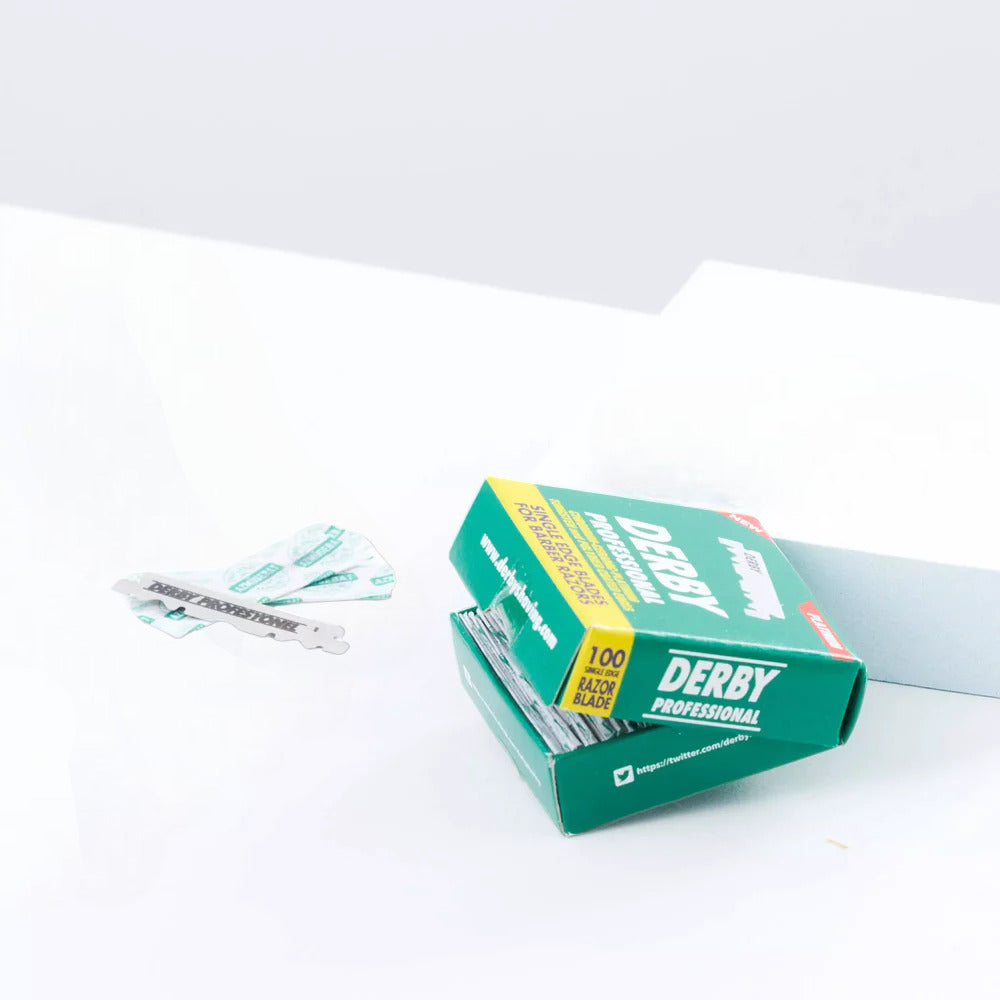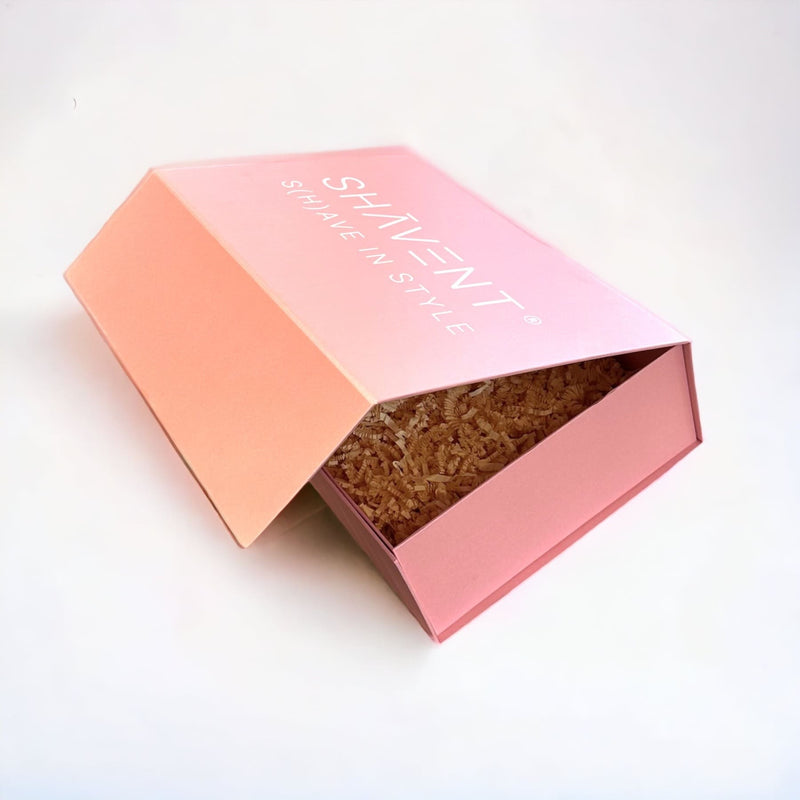 SHAVENT Christmas gift box - Ladies
SHAVENT Klingenschutz aus Kork — Color:
Petrol Türkis
In stock, with you in 1-4 days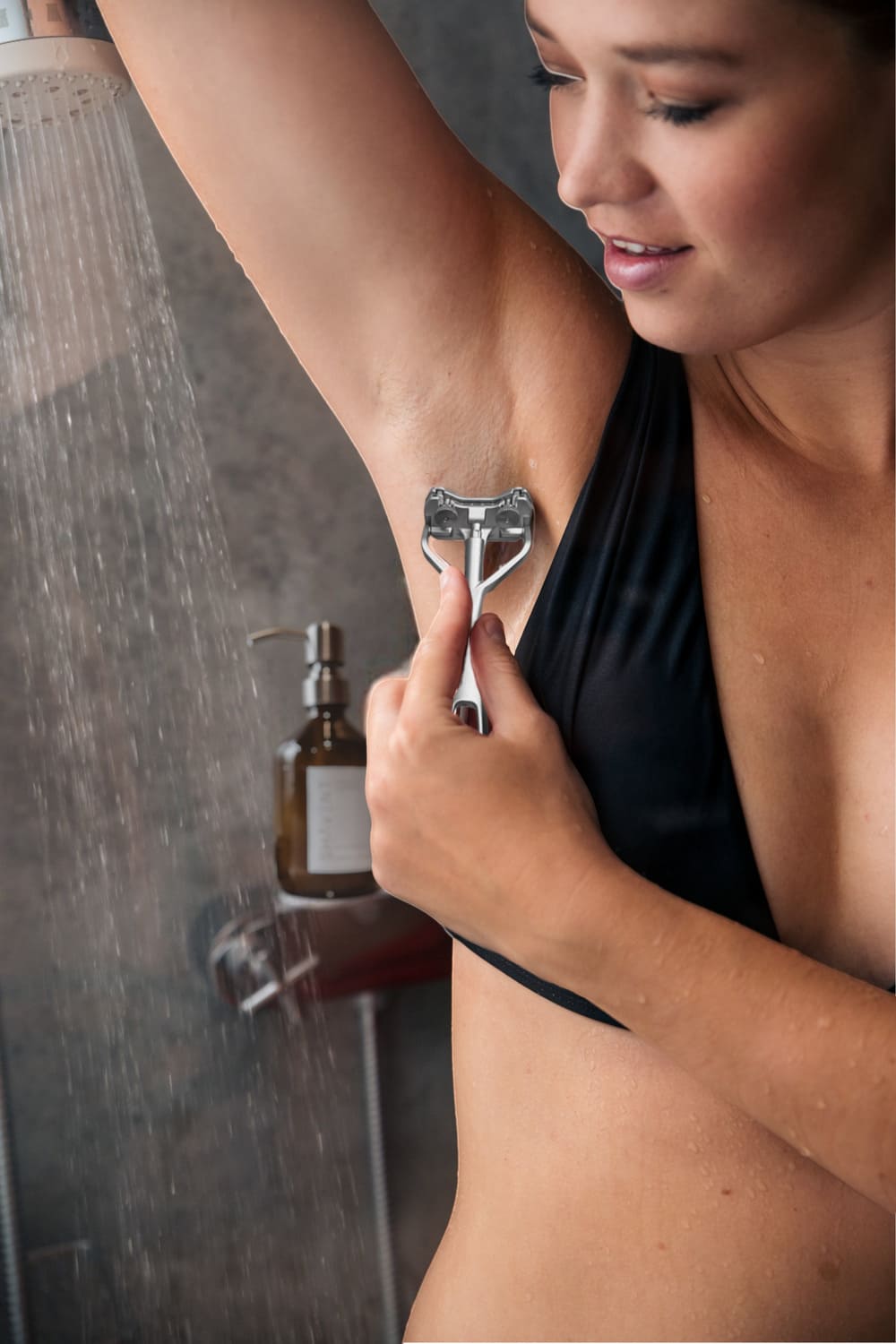 💃 Finally the right razor 💃
The SHAVENT gift box for ladies: gentle, safe and perfect for the shower
The holiday season is the perfect opportunity to give yourself or the special women in your life a unique gift. The large SHAVENT gift box for ladies is the ideal gift for anyone looking for a gentle, safe and plastic-free body shave - whether armpits, legs or intimate areas, the SHAVENT Compact maneuvers easily over all areas of the skin and has a practical recess, for example for hanging in the Shower. The light gel ensures perfect gliding, even on large surfaces and even on sensitive skin.
A gift that combines flexible swing head shaving and sustainability
This set is designed for all ladies who value a safe, gentle shave and are tired of plastic and expensive long-term replacement heads. It frees you from expensive and environmentally harmful blade heads with gel pads and shows that a wonderfully soft shave requires absolutely no disposable plastic.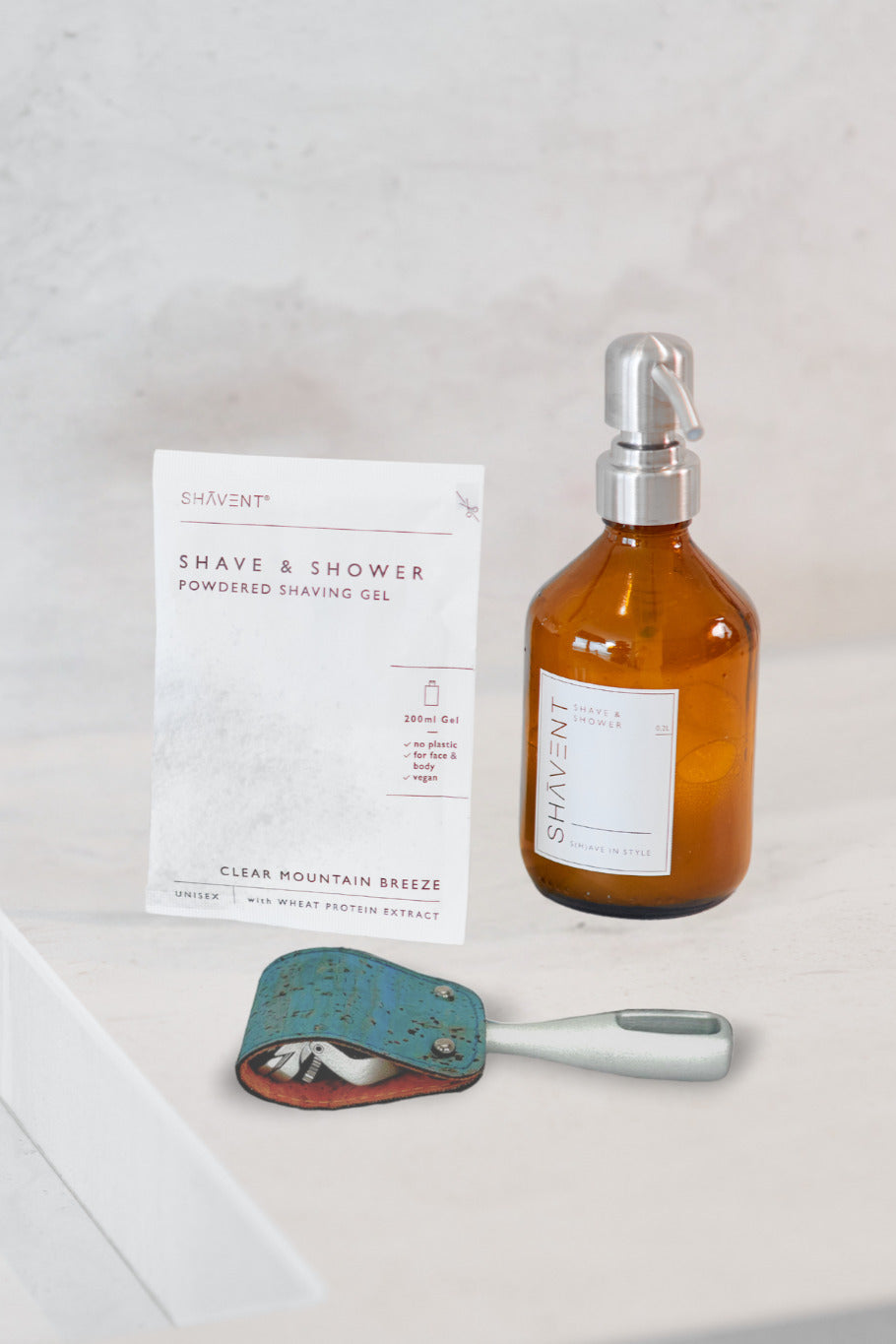 Everything you want for the perfect body shave:
SHAVENT Compact Rasierer: In subtle matt chrome, this compact metal razor is perfect for shaving even in hard-to-reach places. It combines safe swing head shaving with all the advantages of a metal razor: durable quality, no plastic and affordable standard blades.


100 blades for 33 changes: These blades ensure a long-lasting, sharp and gentle shave. They are the perfect complement to the SHAVENT Compact and offer an excellent, super-affordable alternative to conventional women's razors, as changing the blade only costs 15 cents instead of several euros. So you like to treat yourself to fresh blades more often, which also counteracts skin irritations.


Blade total dose: Safe and practical storage for used blades.


SHAVE & SHOWER Rasiergel: In powder form to easily shake up at home. This lightweight gel offers a gentle shaving experience while also being good for the environment.


SHAVENT shaving gel dispenser: A beautiful brown glass dispenser with a pump head that makes mixing and applying shaving gel a pleasure.


Practical SHAVENT blade protection made of cork: Available in two bright colors, this sustainable cork protector protects the blades and adds the perfect transport protection to the set.


Blade test set: With this set, the recipient can try out different brands of blades and find their favorite brand.


Elegant gift boxMade of sturdy cardboard with elegant engraving, magnetic closure and attractive filling - of course plus a greeting card and a fine ribbon
A gift that can go right under the tree
The SHAVENT Christmas gift set comes in a great gift box with everything you need for giving: a card for a personal message and a pretty bow are included so that you can get the gift ready for the Christmas tree in just a few steps.
Give the gift of a piece of luxury, joy and sustainability this Christmas season. The SHAVENT Christmas gift box is more than a razor set - it is a symbol of self-care, style and environmental consciousness.
Make this Christmas special and order the SHAVENT Christmas gift box in the Ladies Edition now!
Less pressure. full of comfort
You can use the SHAVENT on the face and all over the body use.
Just start with less pressure as before. Rule of thumb: with a plastic razor you press like you're writing with a ballpoint pen, with SHAVENT you just press like you're writing with a fineliner/stabilo. 
Use the SHAVENT always on wet skin with a gentle foam - a shower gel is often enough, but you can use the SHAVENT with all shaving products that you use with other razors: gel, soap, foam - the main thing is that it "slips". For an extra portion of shaving care, we have our SHAVE & SHOWER shaving care products in the shop. 
You can change the blades just as often or as rarely as you do before. We always recommend changingwhen the shave no longer feels as smooth as it did at the beginning - because sharp blades are the best way to combat skin irritation. 
Technical specifications
Dimensions: 12 cm long
Weight: razor approx. 90 g
Material: matt chrome-plated zinc
Blade Type: Standard Half Blades
safety notice
As with every razor, the same applies to the SHAVENT: please always be careful - razor blades are known to be razor sharp! Keep razors and blades out of the reach of children or anyone who is not familiar with razor blades.
You can find more information on safety and care HERE
Note: Decoration on photos not included, see "scope of delivery"
SHAVENT Compact razor - the handiest companion since the metal swing head shave: with the SHAVENT Compact you have full comfort in pocket size with a recess for hanging in the shower


100 blades Derby Professional for 33 changes


Blade collection box: for storing used blades.


SHAVE & SHOWER shaving gel in powder form, for 200ml gel to shake at home


SHAVENT shaving gel dispenser: Dispenser made of brown glass with a pump head for the shaving gel


Practical SHAVENT blade guard made of cork, made in a family factory in Portugal


Blade test set: discover the variety of blade brands with 3x6 blades.