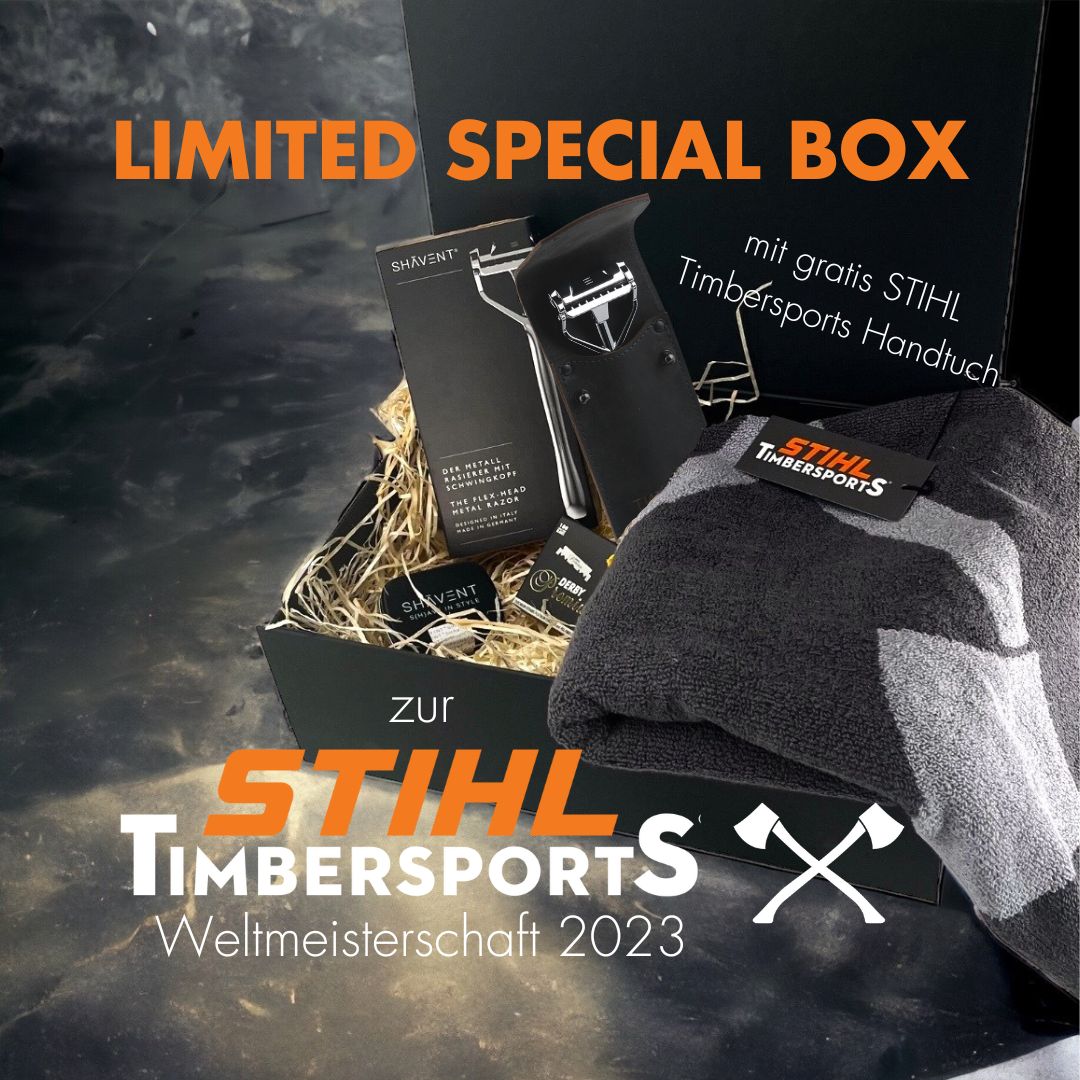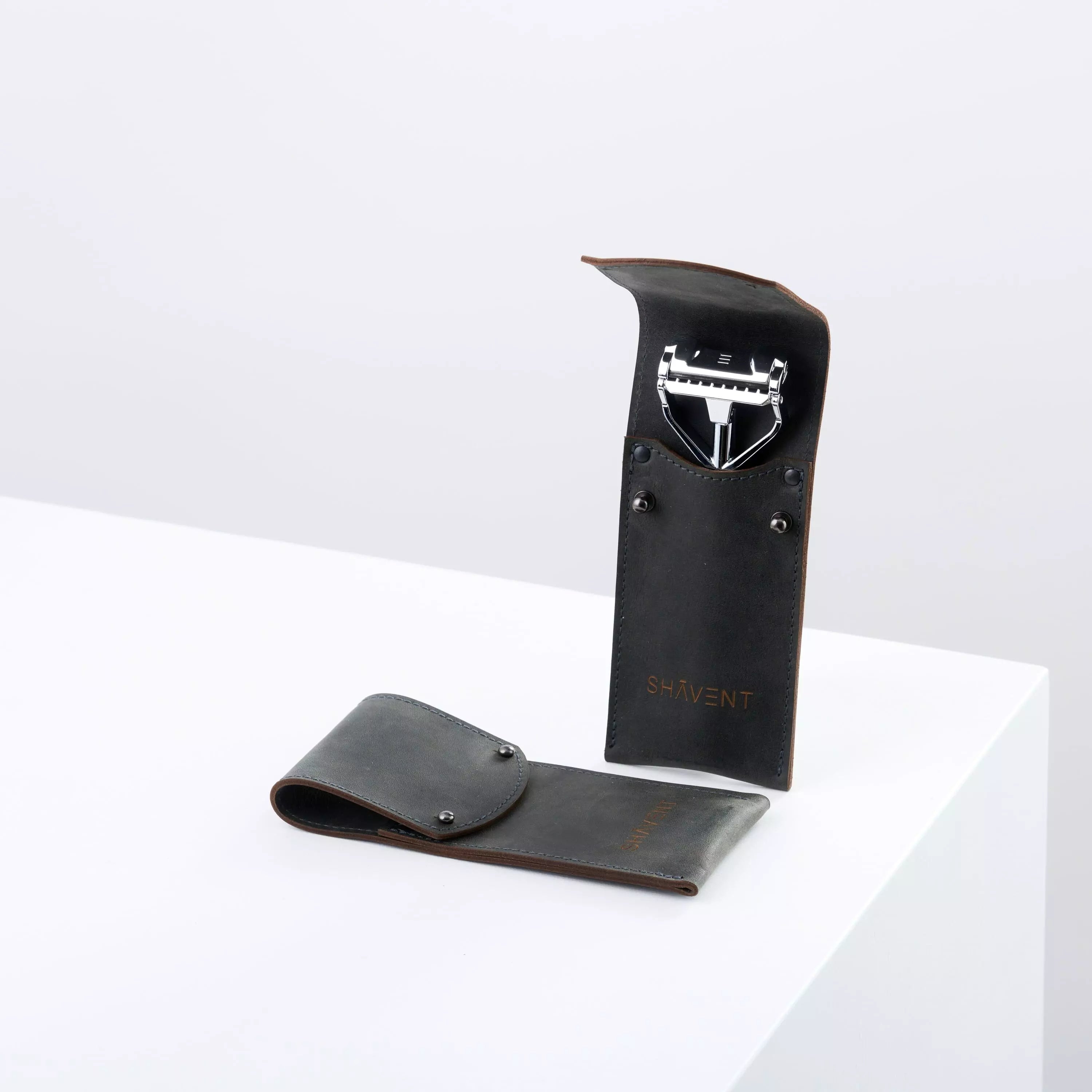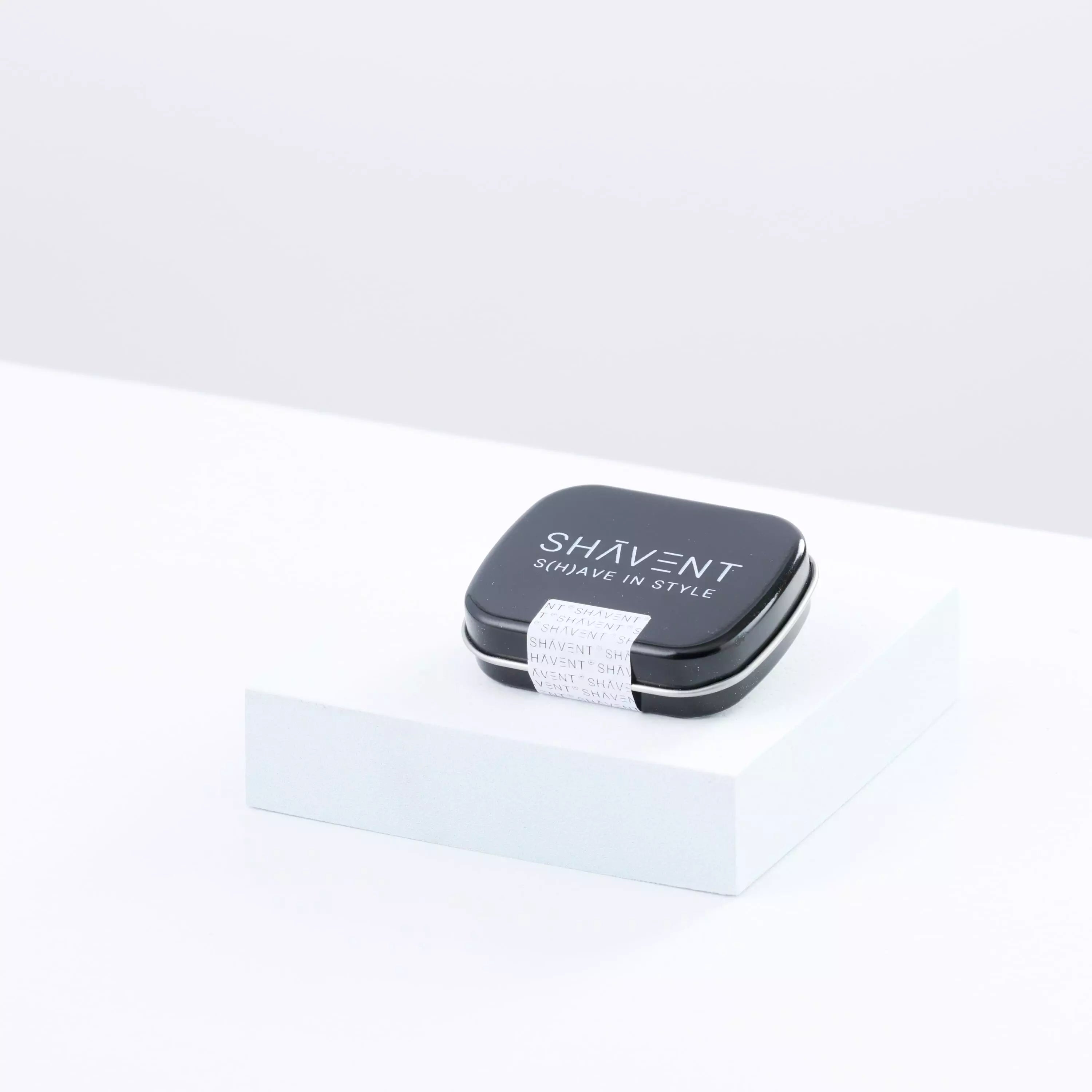 Limited: STIHL Timbersports Worldcup Special Box
In stock, with you in 1-4 days
A razor for face and body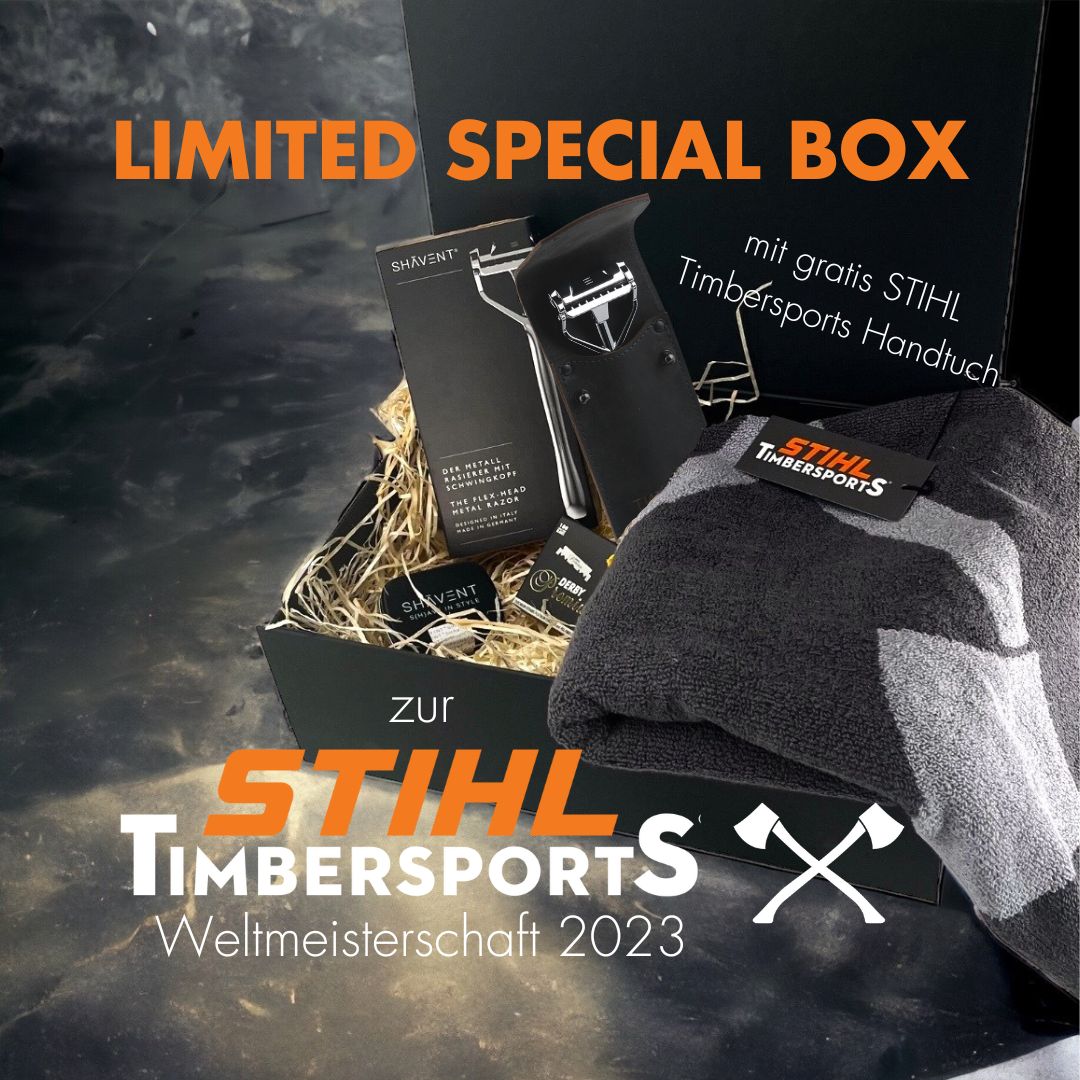 SHAVENT meets STIHL: When two titans shake hands.
Imagine if Chuck Norris and Arnold Schwarzenegger had a baby. That's pretty much what this collaboration feels like. Two giants. A razor set.

Only 200 of these sets are available, so grab yours before they're gone, including a magnetic closure gift box and free STIHL Timbersports towel!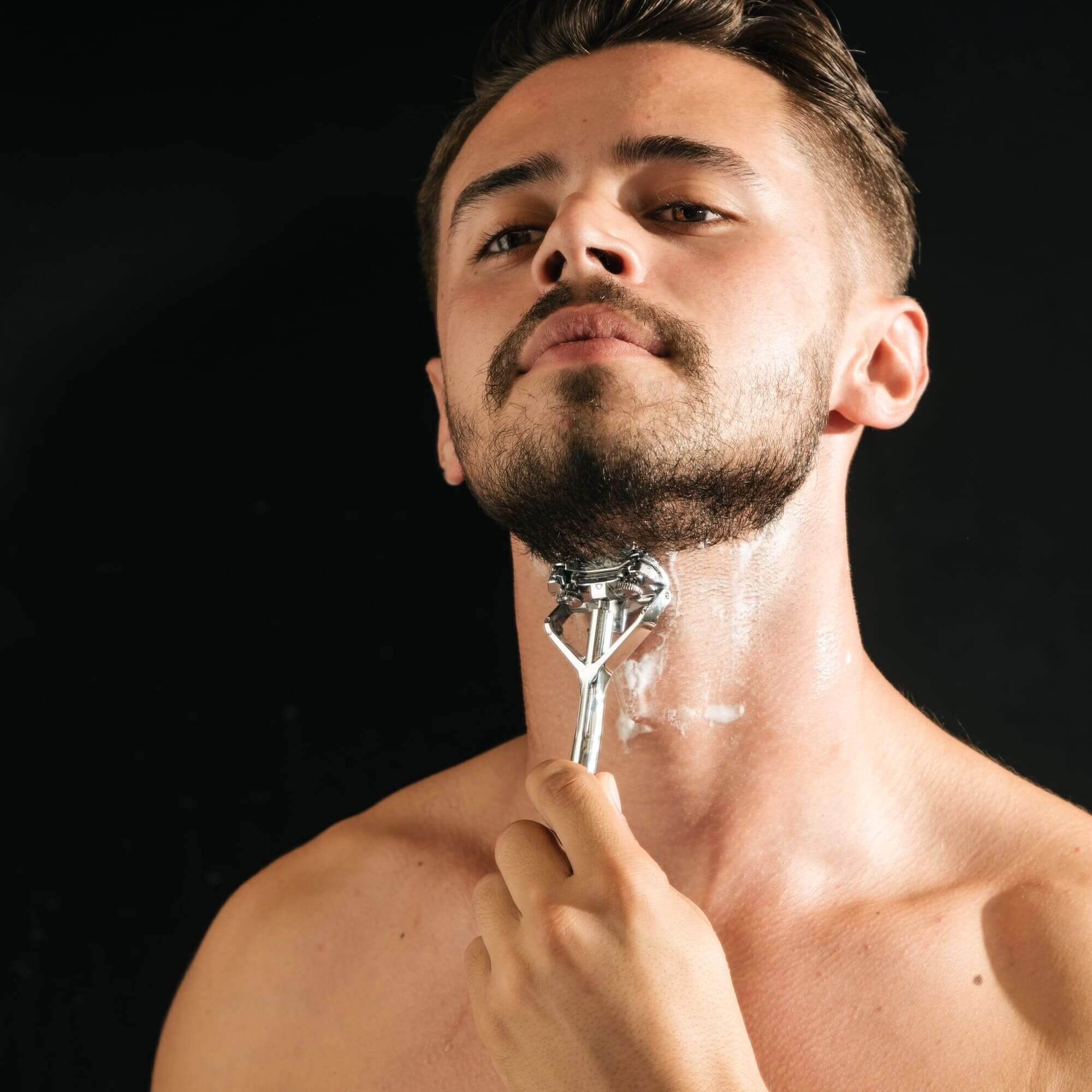 Why do you need this set? Simply because you deserve it.
Black is Back.
Did you think that was it? Far from it, buddy. Strictly limited to 100 pieces, we are only bringing back a rarity in the STIHL box during the promotional period that could bring tears to the eyes of even the toughest guys: the SHAVENT Black Diamond. But be careful – there are only 100 of this luxury item available. Yes, you've read that correctly. 100! And you could be one of the lucky ones to get your hands on one.
The Black Diamond is not just a razor. He is a statement. A class of its own. Thanks to the "Diamond Like Carbon" coating – a technology from tool making – it offers a surface experience that you have never felt before. This coating is not only incredibly hard, but also a guarantee of quality and longevity. A piece of deep black eternity for your bathroom.
You don't like black? Also available with the SHAVENT Original in shiny chrome.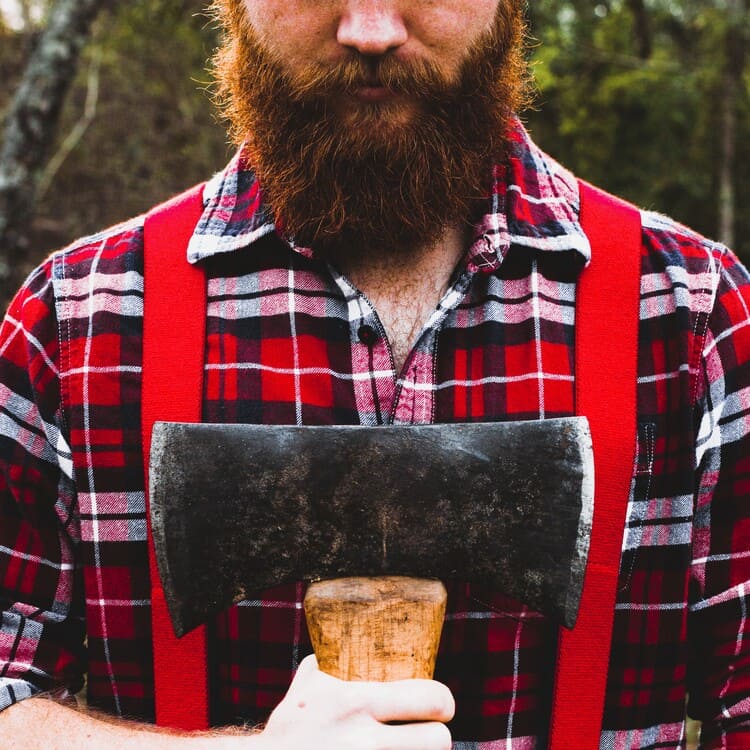 Are you ready?
Now it's up to you, buddy. Don't wait too long - or another guy will snatch this limited set from you. And you don't want that, do you?
The exclusive set: Only for the best of the best.
The SHAVENT razor: The heart of the set.

Not for wimps. A beast of a tool that even trees would fear. You have the choice 100 times: Black Diamond or classic shiny chrome - what should it be?

100 blades: Because a true master knows that the sharpness of the blade makes the difference.
High quality bag made of premium leather:

Not for jewelry. Only for your SHAVENT.

SHAVENT Blade collection box:

 Because even when used, your blades are still too sharp for the wrong hands

.
Stylish safe gift box with magnetic closure: whether as a gift or to store your shaving utensils.
Free towel from STIHL:

You don't sweat - you shine. But if so, please do so with a stylus. 

Show everyone that you are part of the best with the exclusive motif of the Stihl Timbersports event.
Harder than steel. Black as the night.

SHAVENT Black Diamond Series - black as night, exclusive and limited to 100.
A shaving icon that is second to none. The perfect metal shaving comfort with 3 blades and a smooth-running flexible head, refined with the fascinating black "Diamond Like Carbon" coating, 40 times thinner than a human hair, yet twice harder than steel.
A coating so high-quality that it bears the name of a diamond. 

The Diamond Like Carbon technology is through its unique combination of mechanical and chemical properties used wherever maximum wear resistance is the goal. From machinery, tool making to surgery and implants - this coating is twice as hard as steel and as thin as a human hair, highly abrasion-resistant and durable. 
Impressively high quality, unforgettably elegant.
This creates a surface of impressive quality, a deep black that gives the SHAVENT a dark elegance - a look that you will enjoy every day.

Less pressure. full of comfort
You can use the SHAVENT on the face and all over the body use.
Just start with less pressure as before. Rule of thumb: with a plastic razor you press like you're writing with a ballpoint pen, with SHAVENT you just press like you're writing with a fineliner/stabilo. 
Use the SHAVENT always on wet skin with a gentle foam - a shower gel is often enough, but you can use the SHAVENT with all shaving products that you use with other razors: gel, soap, foam - the main thing is that it "slips". For an extra portion of shaving care, we have our SHAVE & SHOWER shaving care products in the shop. 
You can change the blades just as often or as rarely as you do before. We always recommend changingwhen the shave no longer feels as smooth as it did at the beginning - because sharp blades are the best way to combat skin irritation. 
Technical specifications
Measurements: 15 cm long
Weight: razor approx. 85 g
Material: Zinc chrome plated and DLC coated
Blade type: standard half blades, see for example HERE
safety notice
As with every razor, the same applies to the SHAVENT: please always be careful - razor blades are known to be razor sharp! Keep razors and blades out of the reach of children or anyone who is not familiar with razor blades.
You can find more information on safety and care HERE
Note: Decoration on photos not included, see "scope of delivery"
Do you still have any questions about SHAVENT?
Then take a look at ours FAQ drop by or write to us about our contact form - we would be happy to advise you!
Usage
Thanks to the smooth-running swinging head, the SHAVENT offers a safe, close and gentle shave for the face, head and body, including the intimate area, for both men and women.
As a metal razor with a weight of approx. 85 grams, the SHAVENT feels good in the hand - this means you need significantly less pressure when shaving to achieve a perfect shaving result.
As a rule of thumb: with a plastic razor you press the same way as you write with a ballpoint pen, with a metal razor you only use the pressure with which you write with a Stabilo/Fineliner.
The SHAVENT is a wet razor - like all wet razors, it should not be used on dry skin as this irritates the skin unnecessarily and does not provide a good shaving result.
The skin should always be wet and a gliding aid such as shaving foam or simply shower gel should be used - this is how the SHAVENT glides optimally over the skin.
Vary your usual vertical shaving stroke under the nose a little and shave under the nose crosswise instead of lengthways, with light pressure from below on the wings of the nose - this way you should be able to reach every part of the skin.
Razor blades
The SHAVENT uses standard razor blades. The so-called half blades or "single edge blades" have been used in razors for decades and are available to buy cheaply from many brands in our shop, on the large online marketplaces and in specialist shops. This means that every blade change only costs a few cents instead of many euros.
The SHAVENT is designed as a 3-blade razor. This means it offers optimally balanced skin contact.
However, it can also be used very well with one or two blades.
The blades can be changed in just a few steps. Simply loosen the knurled nuts, remove the head and insert new blades alternating with the spacers.
Order & satisfaction
We offer a variety of easy and secure payment methods including Paypal, credit card, Amazon Pay, Apple as well as Google Pay and invoice via Klarna.
Ordering in advance is also possible at the checkout in the online shop.
We ship with DHL / Deutsche Post domestically and internationally.
It's very simple: try out SHAVENT shaving in peace and quiet - not satisfied? Then write to us, send the SHAVENT back free of charge and get your purchase price refunded. You can find more details HERE .
No, nothing on the SHAVENT can rust. If you see slight brownish traces when changing the blade, then don't worry: these are deposits from the tap water and skin flakes that can easily be removed with your finger.