SHAVENT
Safe, gentle & plastic-free shaving
Flexible head instead
The SHAVENT is your comfort shave for the whole body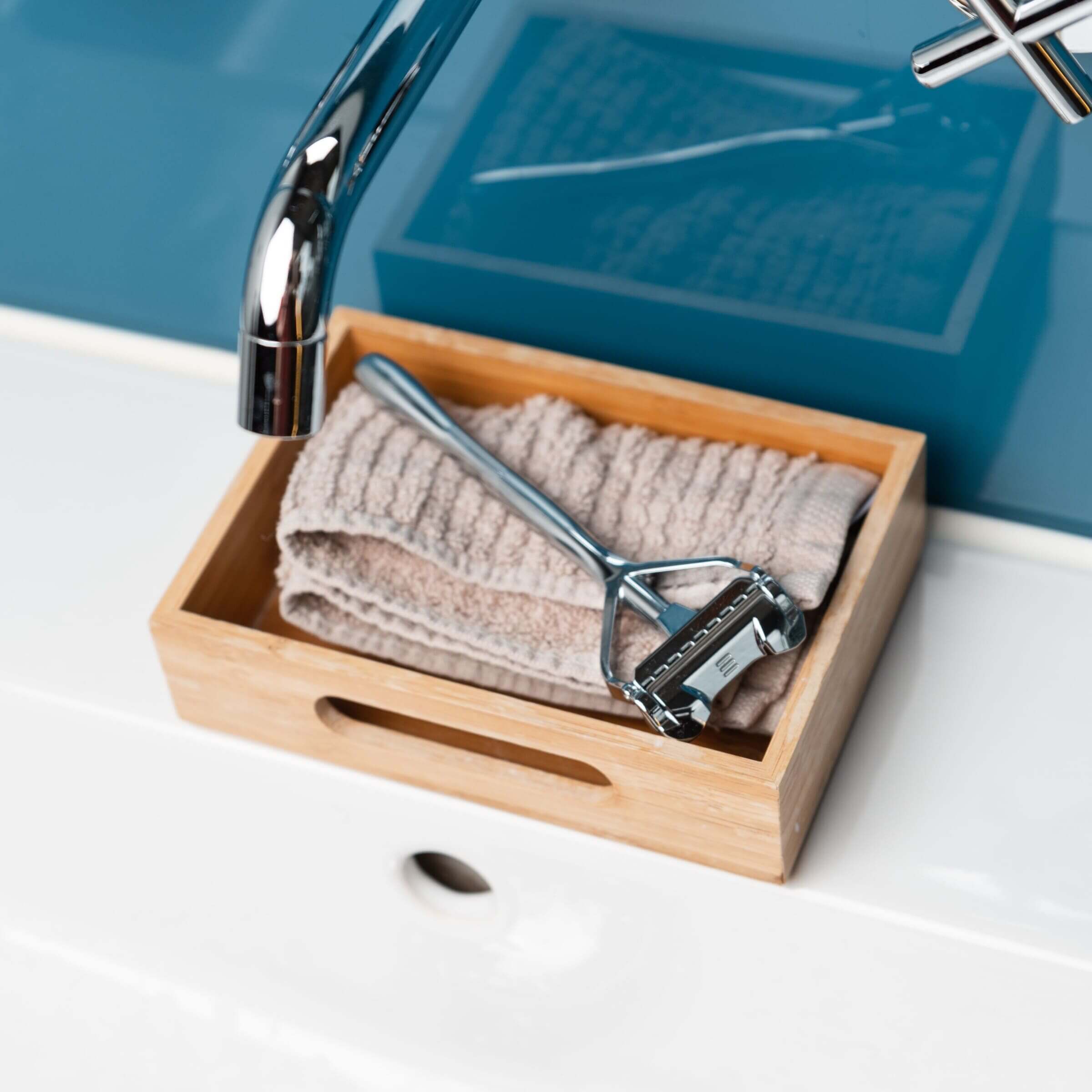 Clever, durable, gentle
THE SHAVENT combines the best of two worlds
SHAVENT is an innovative swing-head razor that will give you years of pleasure and does not use any plastic at all.

It combines the safe, maneuverable feel of a swinging head that you know from razors with plastic, and combines it with cleverly low-cost standard blades that are completely plastic-free - just like the SHAVENT itself!
So much more than "just" a safety razor. Made with ❤️ in Germany.
⭐️⭐️⭐️⭐️⭐️ Absolutely convinced. I actually used a classic safety razor before and hurt my skin. So far not a single cut with the shavent, neither on the legs, nor under the arms or in the bikini zone.
⭐️⭐️⭐️⭐️⭐️ Best shave ever! I've had the SHAVENT for 4 weeks and I'm really excited!
⭐️⭐️⭐️⭐️⭐️ Everything done right! The entire set is great, the shaver is super easy to use and changing the blade is child's play. Never again another shaver.
SHAVENT Compact
Start with the compact travel size for the shower...
SHAVENT ORIGINAL
...OR GET OUR BESTSELLER - INCLUDING BLADES FOR 33 CHANGES!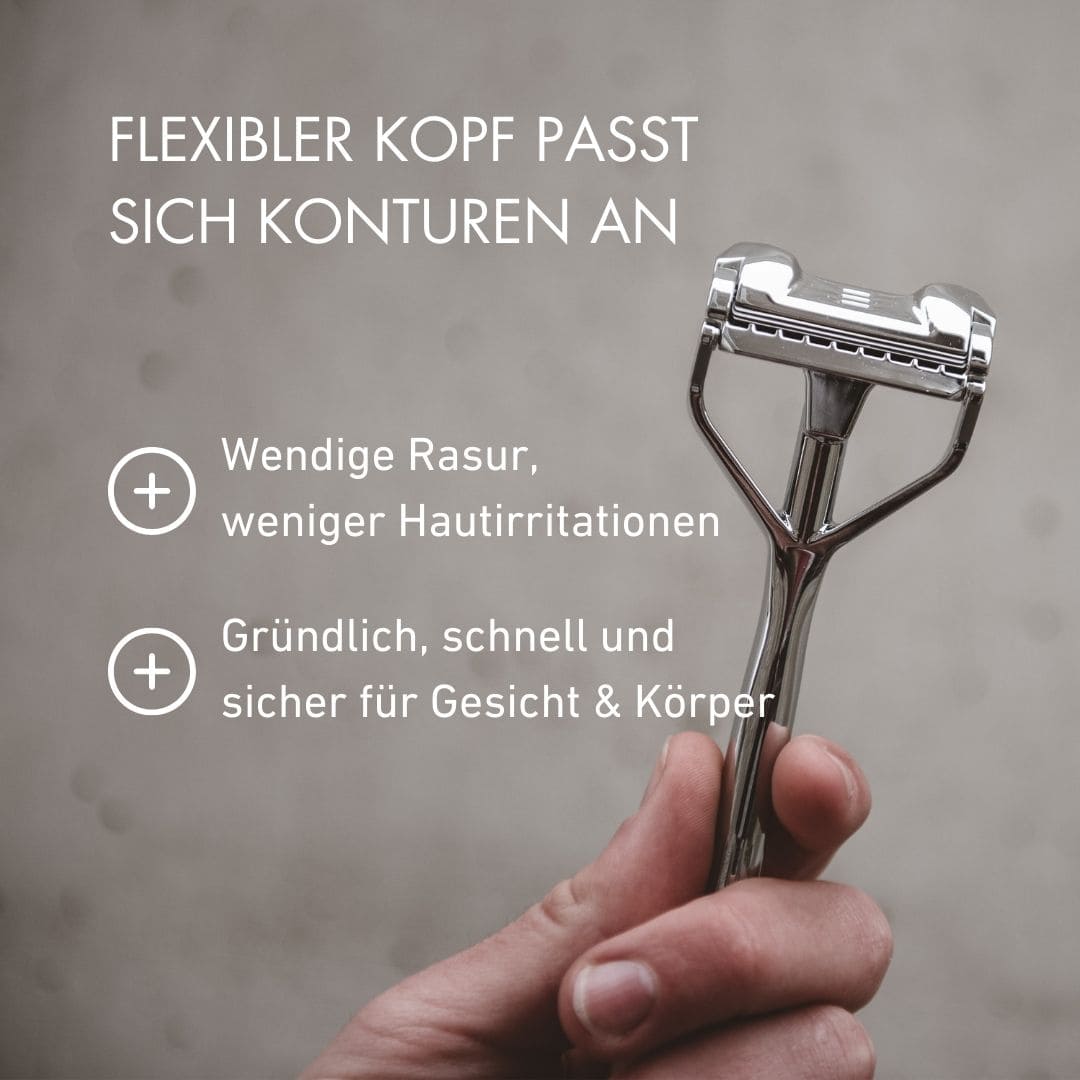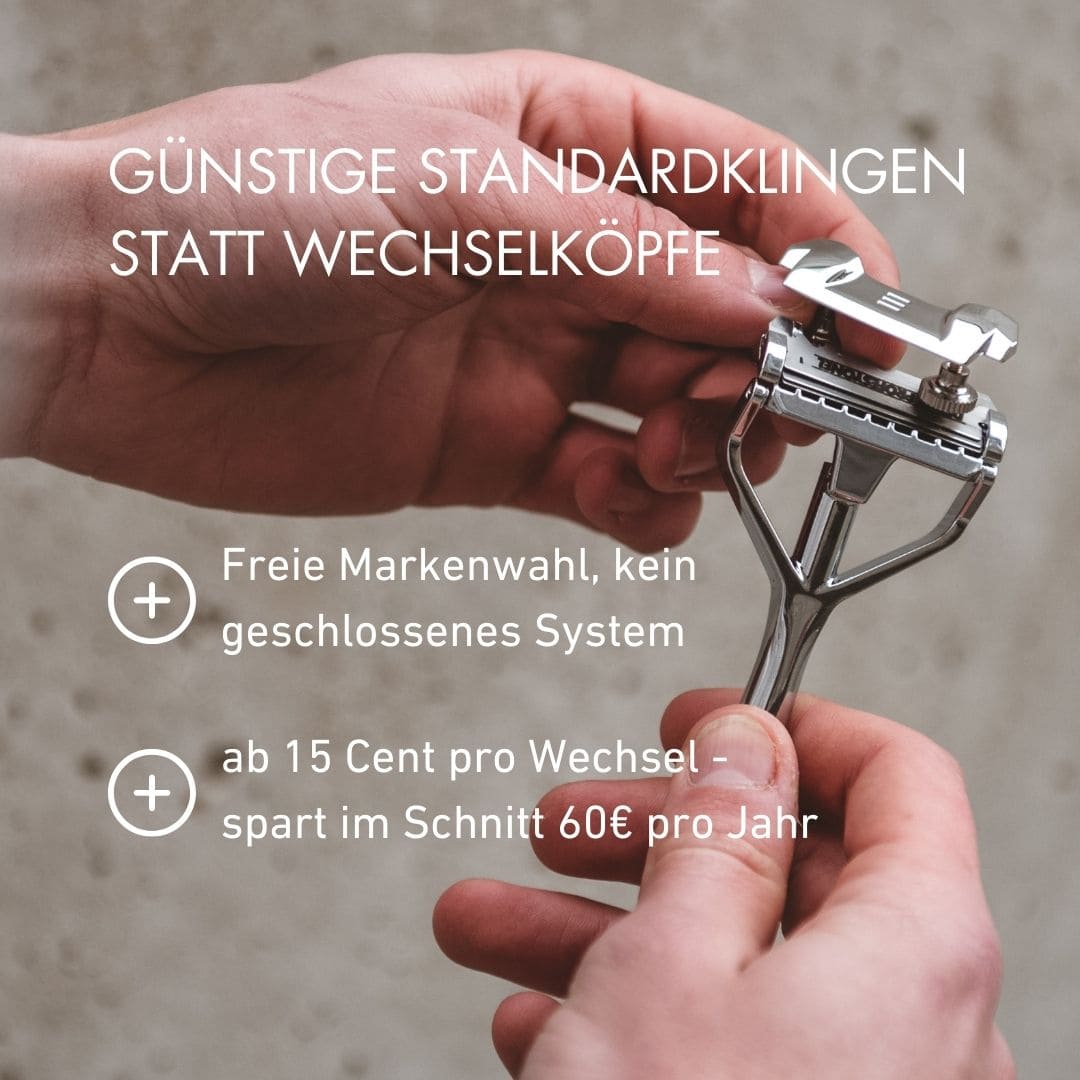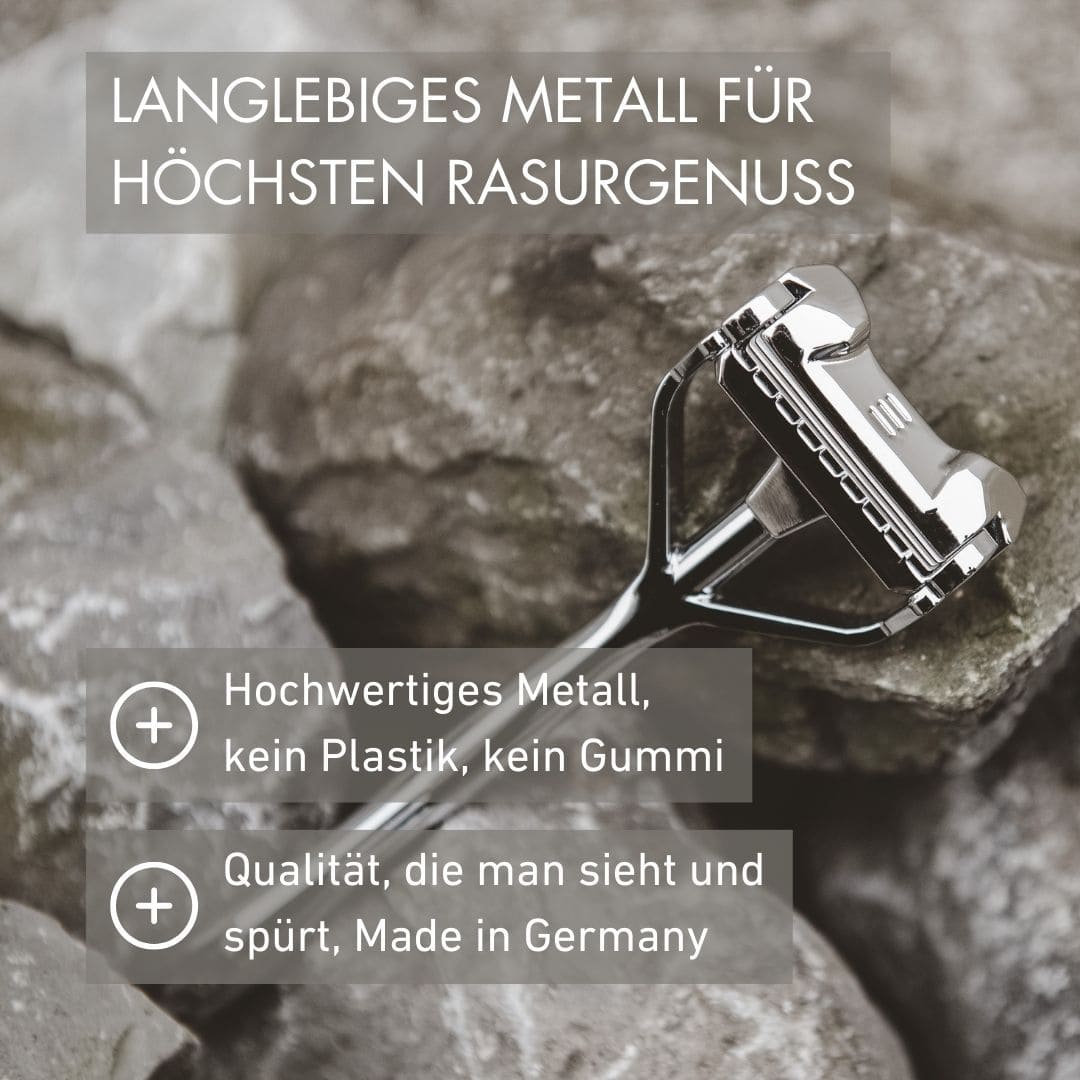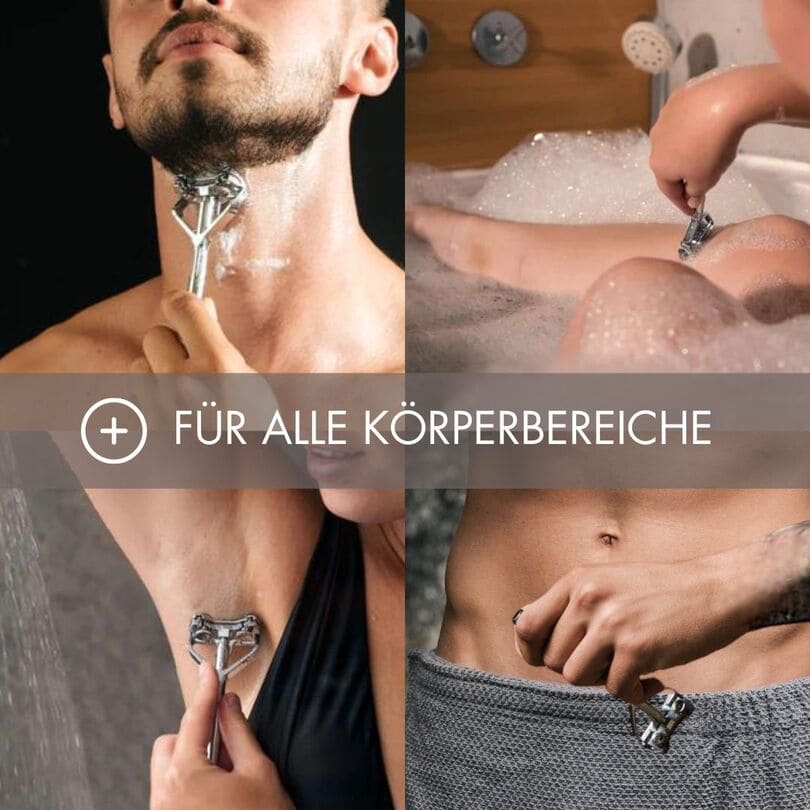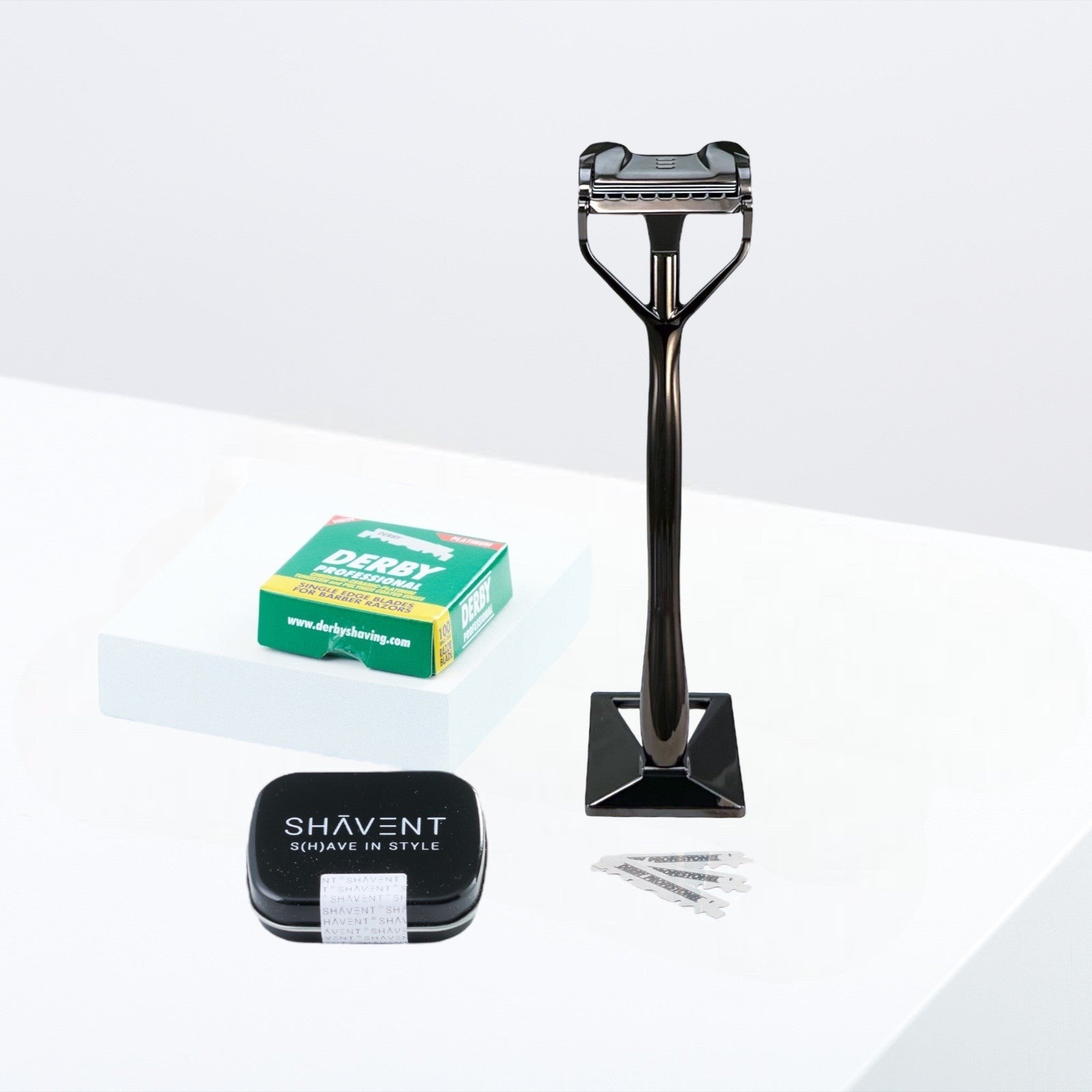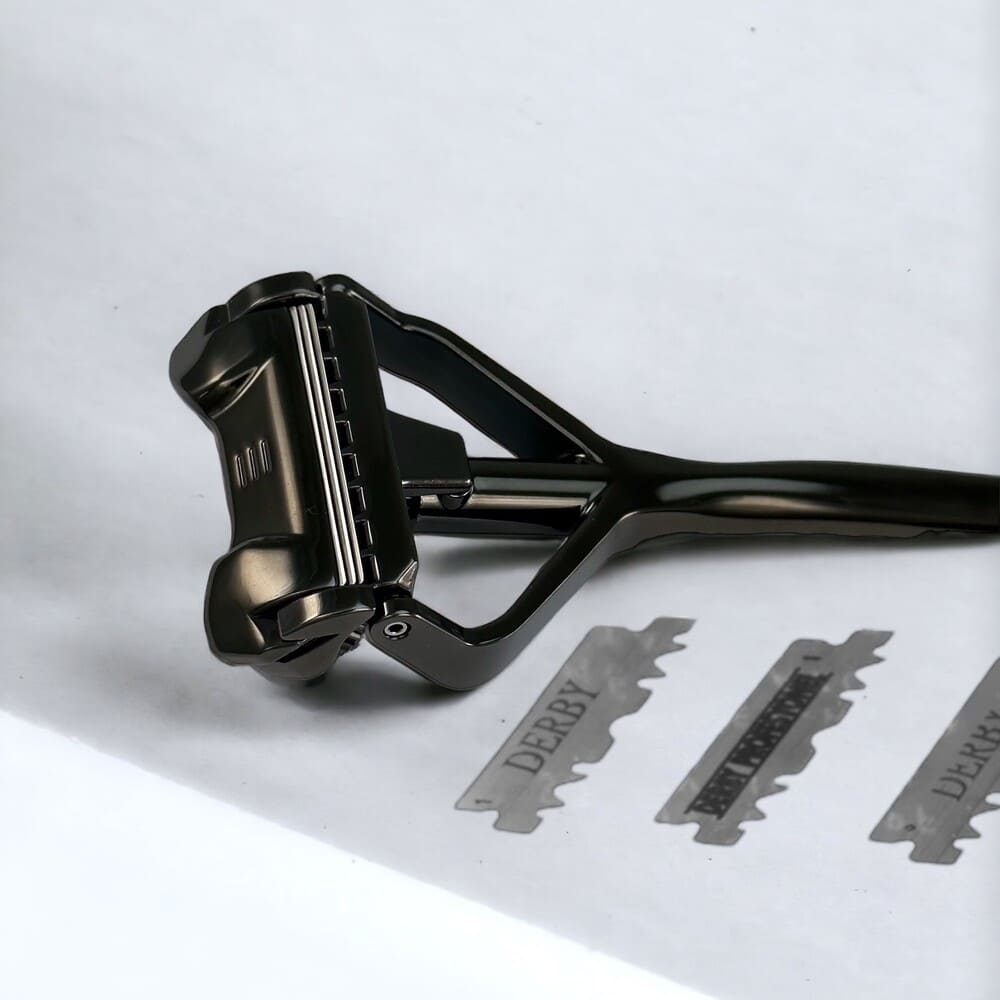 Let customers speak for us
Thanks to the flexible head
Suitable for all body areas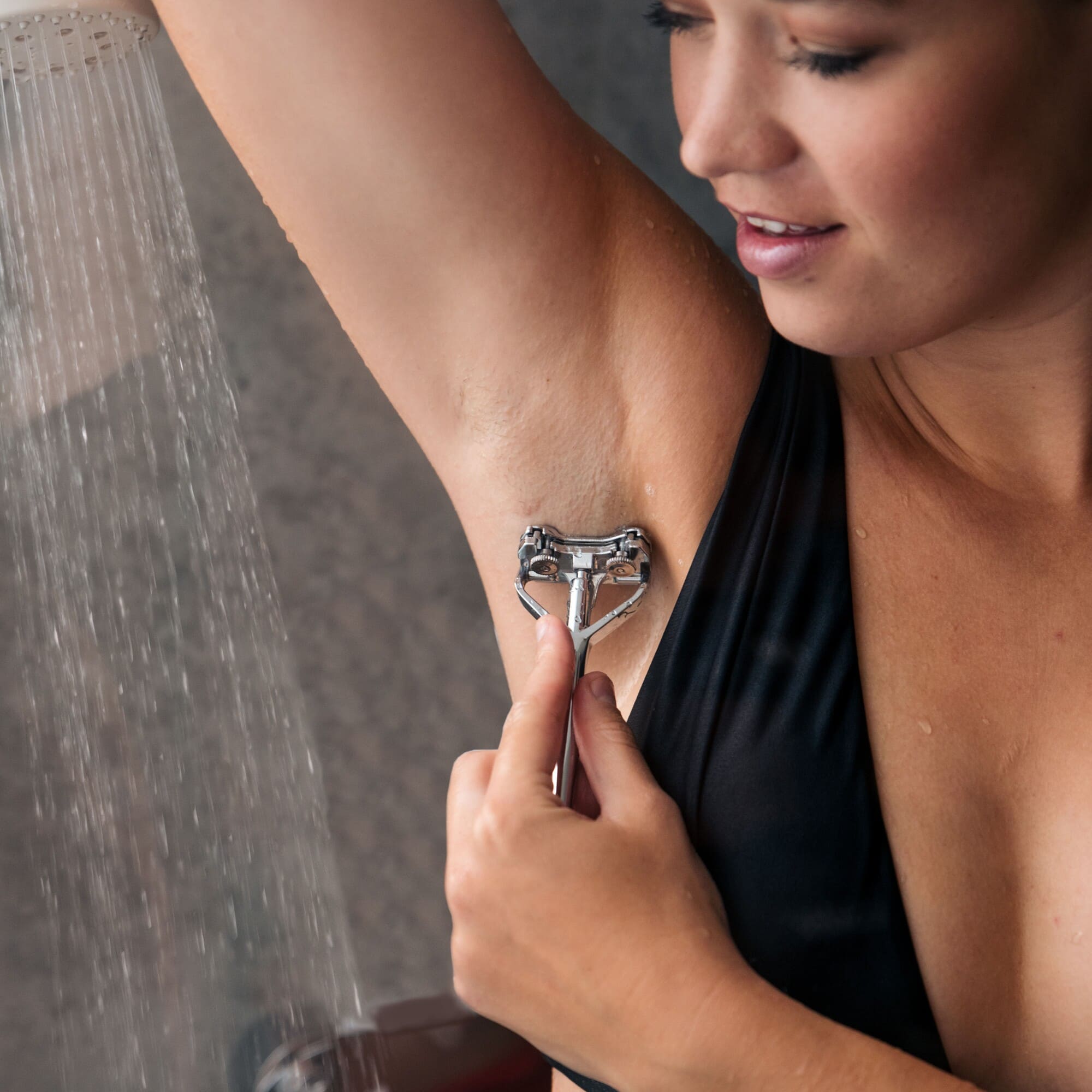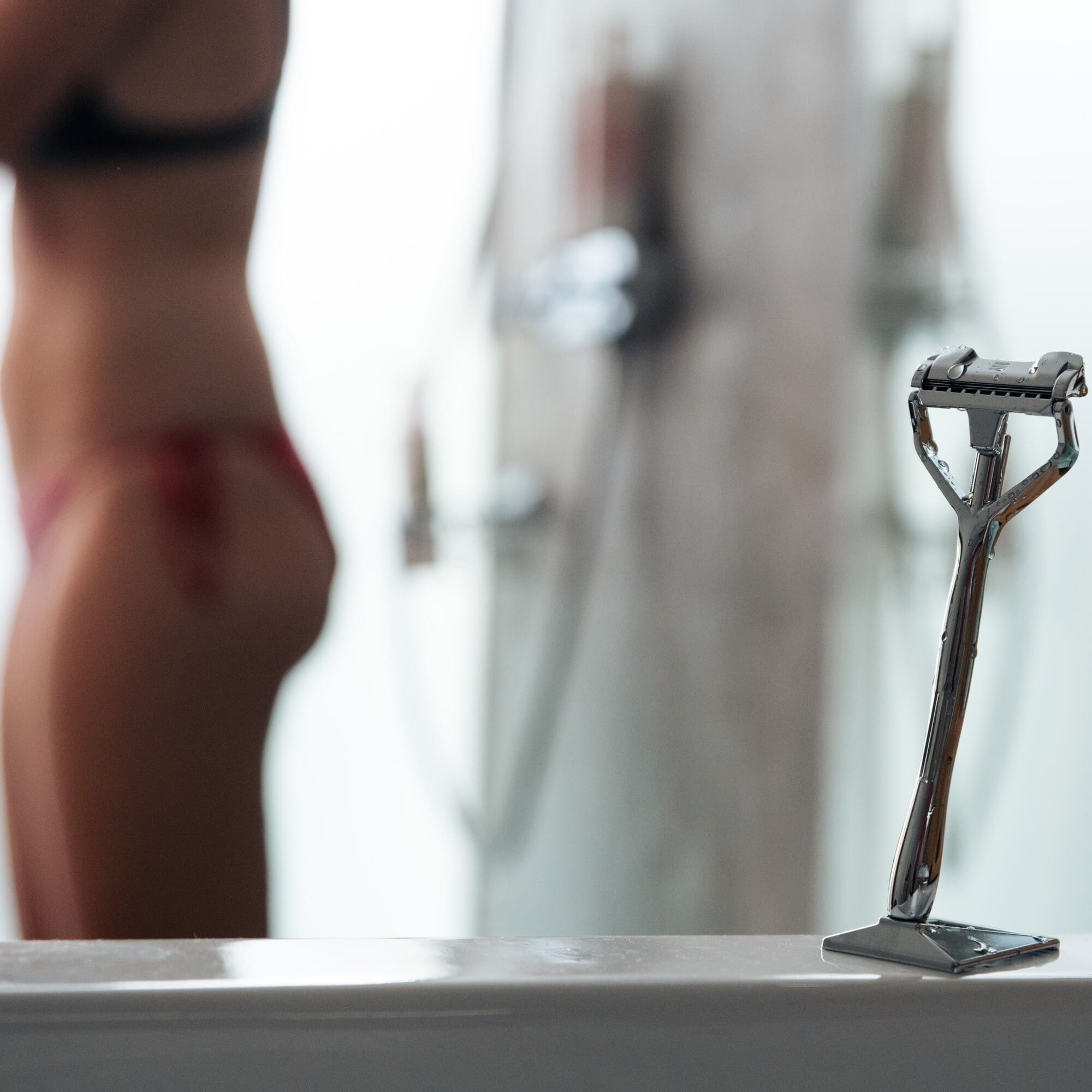 Get rid of "either or"
Your wet shave options so far
Drugstore razor
As pink as possible, as much plastic around the blades as possible and for that 20% more expensive than a men's razor - that's the offer that most drugstore razor brands come up with for ladies.
Lots of plastic packed in lots of plastic.
And how much does a blade cartridge cost? 🙈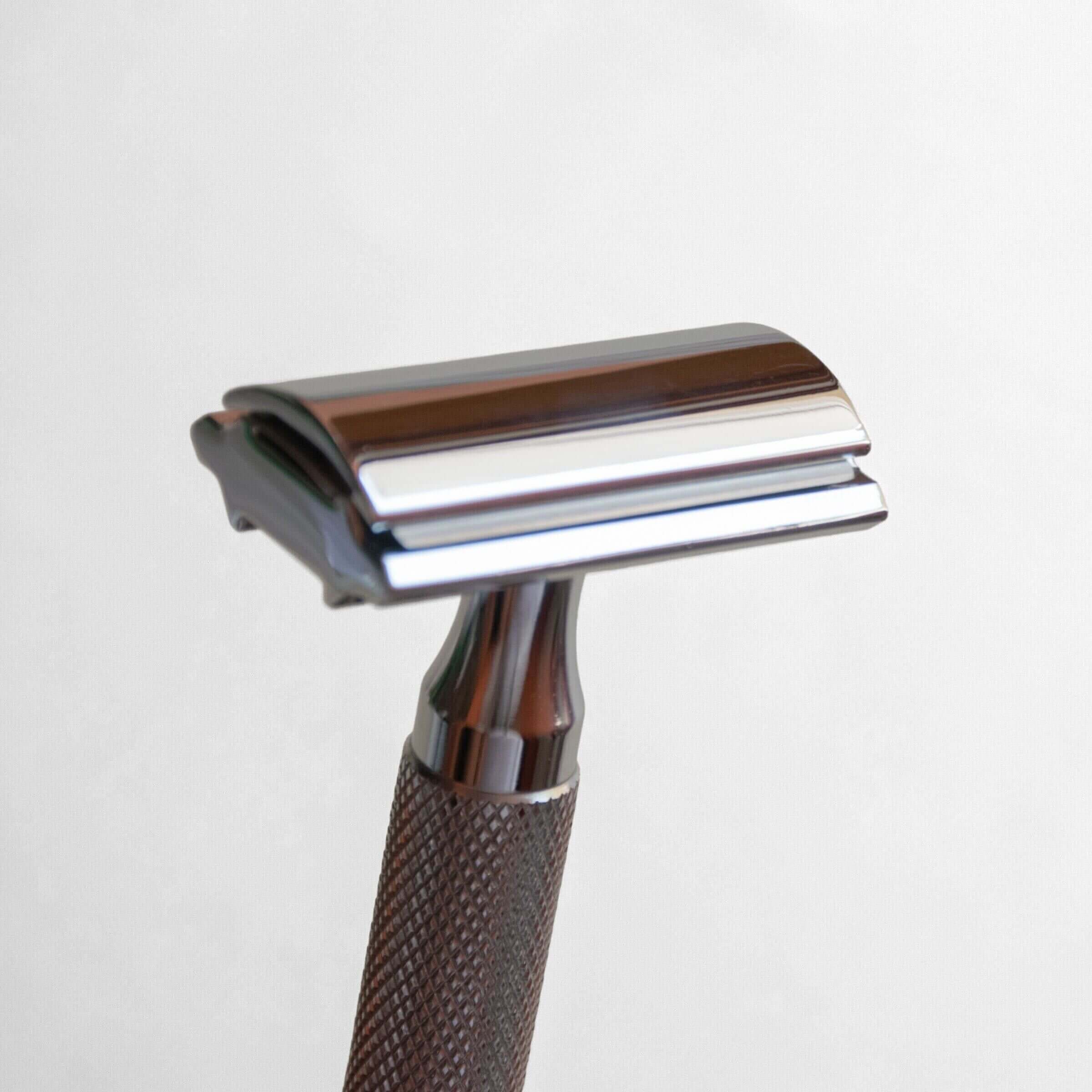 Safety razor with a rigid head
Many ladies have therefore already switched to plastic-free shaving and are trying out a classic safety razor.
The problem: due to the rigid head, it is not suitable for body shaving.
The risk of injury is too high and skin irritations can also occur more often if the blade does not slide over the skin at the optimal angle!
The Shavent is different!
Adapts to all contours
Full swing head comfort, zero plastic
The smooth-running flexible head ensures safe shaving results on every skin area - even in the intimate area.
Test now
Satisfied or 30 days money back
Thousands of customers are already convinced of the SHAVENT shave. You are too or you will get your money back.
Win-Win
Clever Blades
The cheap standard razor blades are available from many brands and are super thorough.
A blade change costs only ~15 cents instead of several euros and the exchange is very easy. This allows you to treat yourself to a fresh blade more often and also reduces skin irritation!
Good for your wallet, good for the environment and good for your skin!
On average for our customers
This is how the SHAVENT pays off via low-cost standard blades
Usage
The answer is very simple: The SHAVENT doesn't need any wearing sliding aids for a close shave - and neither do you! Normal shower gel or our SHAVE & SHOWER shaving care is sufficient for this.

The combination of three standard razor blades and a flexible oscillating head allows you to have a gentle, safe and perfect shave - even without any lubricating strips or all-round gliding cushions, which often mean a lot of waste and quickly lose their effectiveness.
Of course, the SHAVENT can also be used in the shower. The SHAVENT is a high-quality wet razor and, due to the material composition, cannot rust. The SHAVENT also delivers smooth legs in the shower.
After your daily shave, you can rinse the SHAVENT from the back under warm, running water. You can also clean your SHAVENT more intensively, e.g. in the dishwasher. You can find the right tips for cleaning and care here: blog post.
Blades
Changing the blade on the SHAVENT is very easy and can be done in under a minute with a little practice. You can find detailed replacement instructions here as Video or in the SHAVENT operating instructions. As soon as you have the feeling that the SHAVENT is no longer gliding smoothly over your skin, you should change the blades - this is just as often / seldom as with the previous razor.

The SHAVENT uses standard razor blades. The so-called half blades or "single edge blades" have been used in razors for decades and there are many brands available to buy cheaply in our shop, on the large online marketplaces and in specialist shops. Each blade change costs only a few cents instead of many euros.
Service
Quite simply: take some time to try the SHAVENT shave - not satisfied? Then write to us within 30 days after purchase, send the SHAVENT back free of charge and get your purchase price refunded. You can find more details HERE.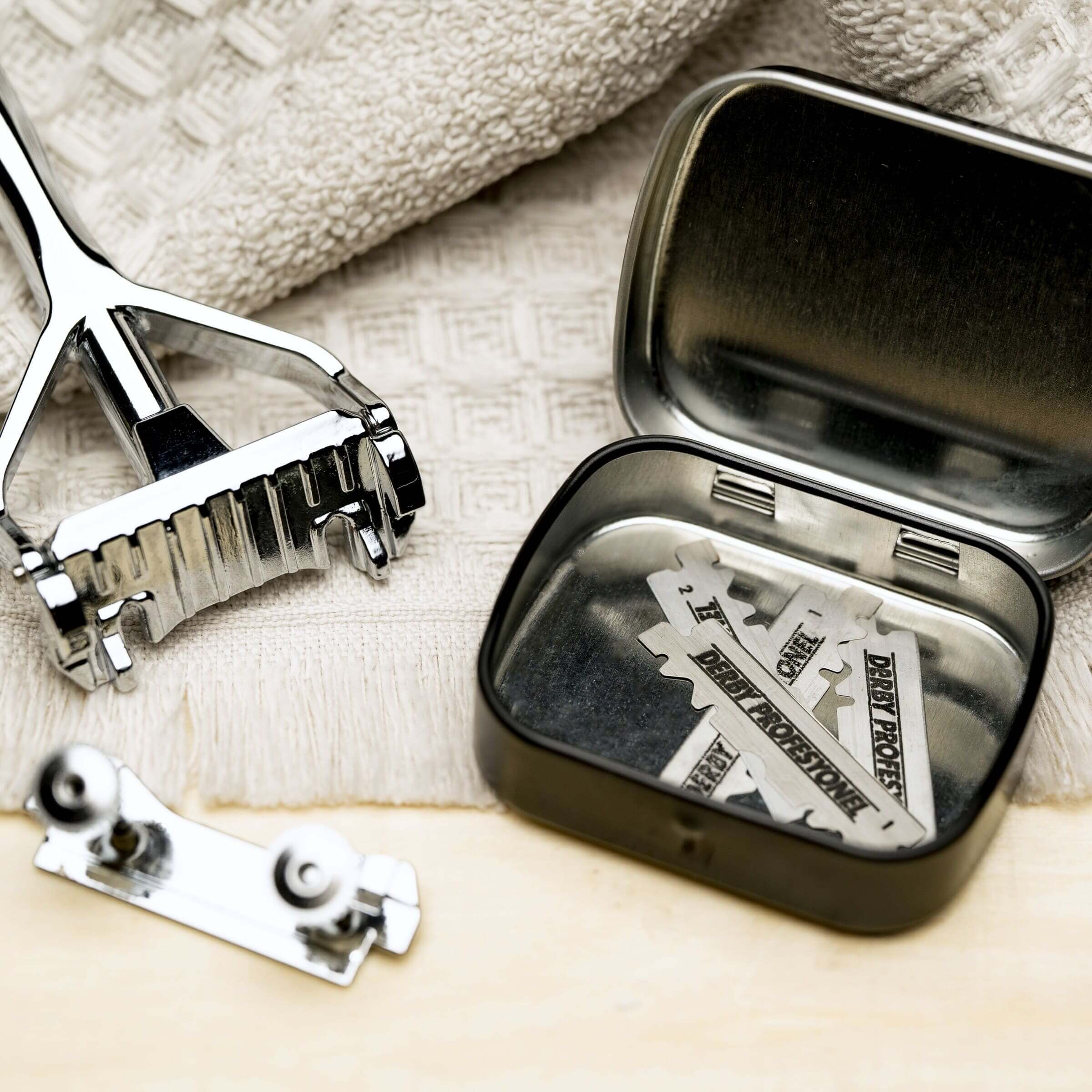 Gentle & independent
SHAVENT is one of the first to combine the gentle comfort of a swinging head with classic razor blades, thus combining innovation with tradition.
In doing so, he puts an end to the interchangeable heads of the lady shaver and thinks back to the classics: he uses "Halfblade" razor blades, which are easy to replace and are therefore always sharp - perfect against skin irritation. They protect the environment and your wallet at the same time and are available from many manufacturers.
To the blades
Sustainable & beautiful
When designing the SHAVENT, we combined the shiny eye-catcher effect with clever handling.
Without the use of plastic or rubber, the SHAVENT lies ergonomically in your hand and brings you the usual shaving comfort and safety, even in difficult areas. The metal surface, in combination with water, ensures that a kind of "squeaking effect" is created and that you have a secure grip on the SHAVENT even without rubber applications.
How important plastic free is
Durable by design
Made from high-quality cast metal in Germany, the SHAVENT is not only valuable and comfortable to hold, it also guarantees long-lasting quality.
All the small parts that give the SHAVENT its mobility are also installed in such a way that they wear out as little as possible. And should one of the parts fail after tens of years, you can easily replace all wearing parts yourself at home. After all, why should you throw away a super product just because a spring might tire after many years?
To the spare parts set
OUR BLOG
The best shaving tips
The SHAVENT is a razor for men, women, everyone.
IS THE SHAVENT ALSO SUITABLE AS A LADIES RAZOR? Of course!
A smooth shave is equally important to all of us! Because the female skin needs to be treated just as sensitively as that on the male face. The SHAVENT is therefore ideally suited as a women's razor.
Thanks to the flexible oscillating head and the three razor blades, the SHAVENT adapts perfectly to the contours of your skin. Whether arms, armpits, legs or the bikini area, the SHAVENT shaves gently and safely.
Why is the SHAVENT not pink and why does the SHAVENT not have a grid or all-round glide pads like other women's razors?
The answer is quite simple: the SHAVENT requires no glide aids or grids for a safe, gentle, close shave.

This is also the biggest difference to conventional women's razors made of plastic. The SHAVENT is completely plastic-free and shaves with standard razor blades, so-called single edge razor blades. This type of blade has been used successfully in classic razors for more than a century. In contrast to women's razors with disposable heads, these blades are many times cheaper and of course completely plastic-free. If you've used up your blades, you can Replenishment in our shop or in well-stocked drugstores / specialist shops. Then nothing stands in the way of a perfect shave.

For women, the combination is crucial.

The combination of three standard razor blades and a flexible oscillating head allows you to have a gentle, safe and perfect shave - even without any lubricating strips or all-round gliding cushions, which often mean a lot of waste and quickly lose their effectiveness.



SHAVENT is gentle from head to toe - for women, men, everyone!

There is one for the very curious exciting blog post. The article shows you the advantages and disadvantages of the different types of wet razors.

P.S.: The "fashion" of painting everything pink - especially women's razors - is more of a merchant invention than a necessity. The expression for the usual price surcharge is "Pink Tax" And why should we want to pay something like that? We're out.