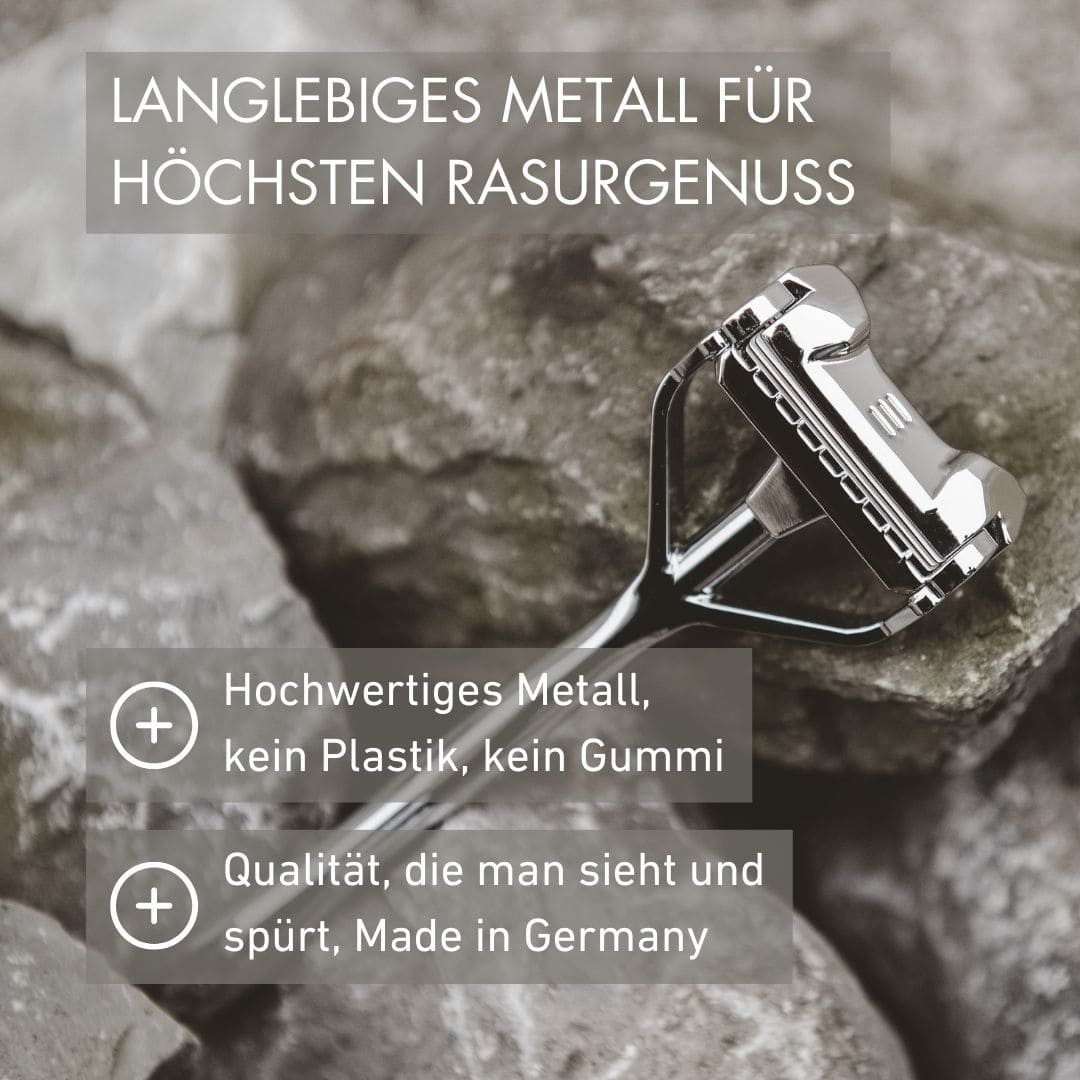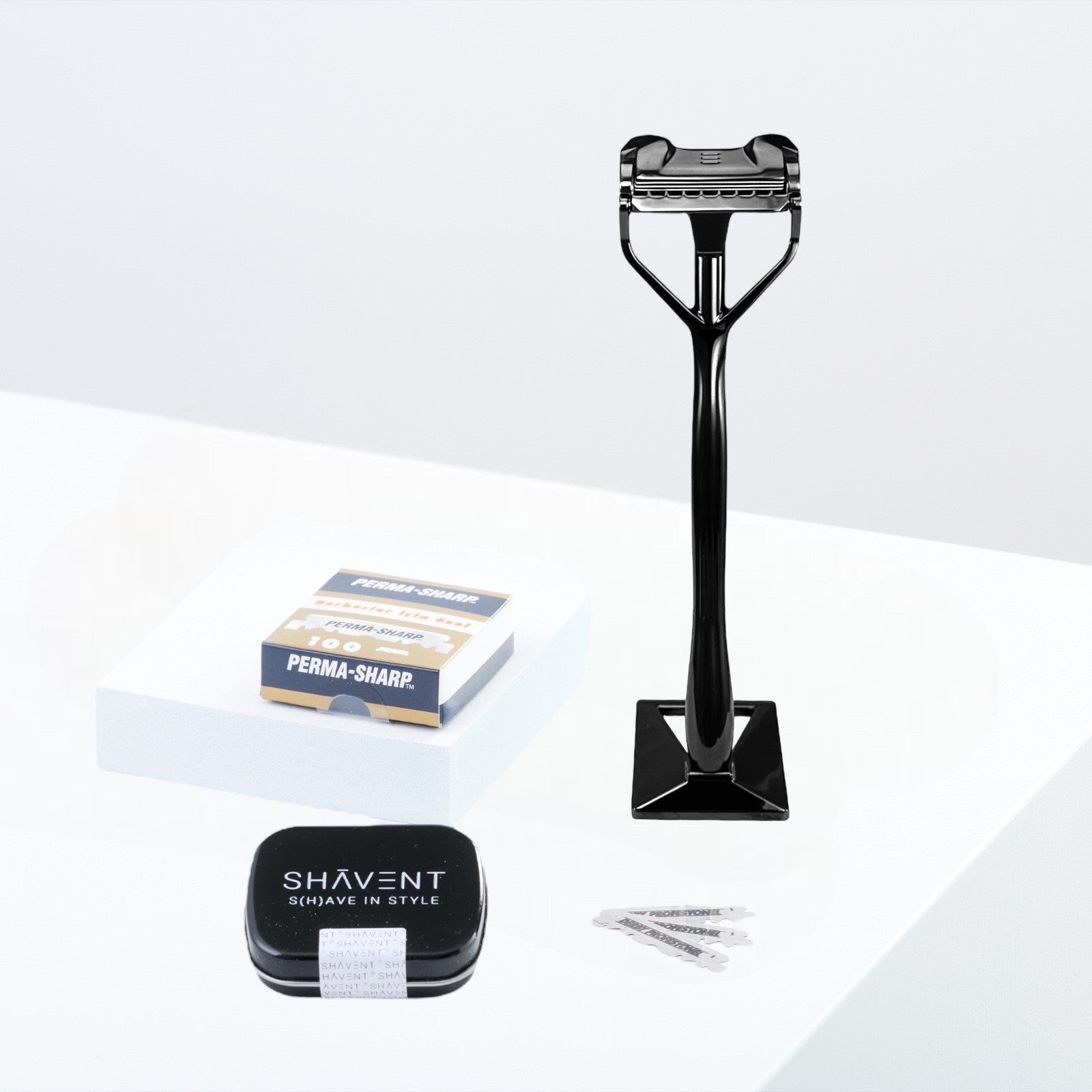 SHAVENT strong hair set with Perma Sharp blades - for face and head shaving
In stock, with you in 1-4 days
Satisfied or your money back
SHAVENT strong hair set with Perma Sharp blades - for face and head shaving
Do you have very thick and strong facial hair or would you like to use the SHAVENT to shave your bald head? Then we have the right blades for you!
Instead of the all-rounder derby blades, this set comes to you with the extra-sharp Perma Sharp professional blades! These are particularly suitable for big challenges and leave a "baby bum" smooth shave even with thick hair. Especially recommended for head shaving!
Important: as always with the SHAVENT, please start your first shave with very little pressure and make slow, even strokes - especially with the extra sharp Perma Sharp blades!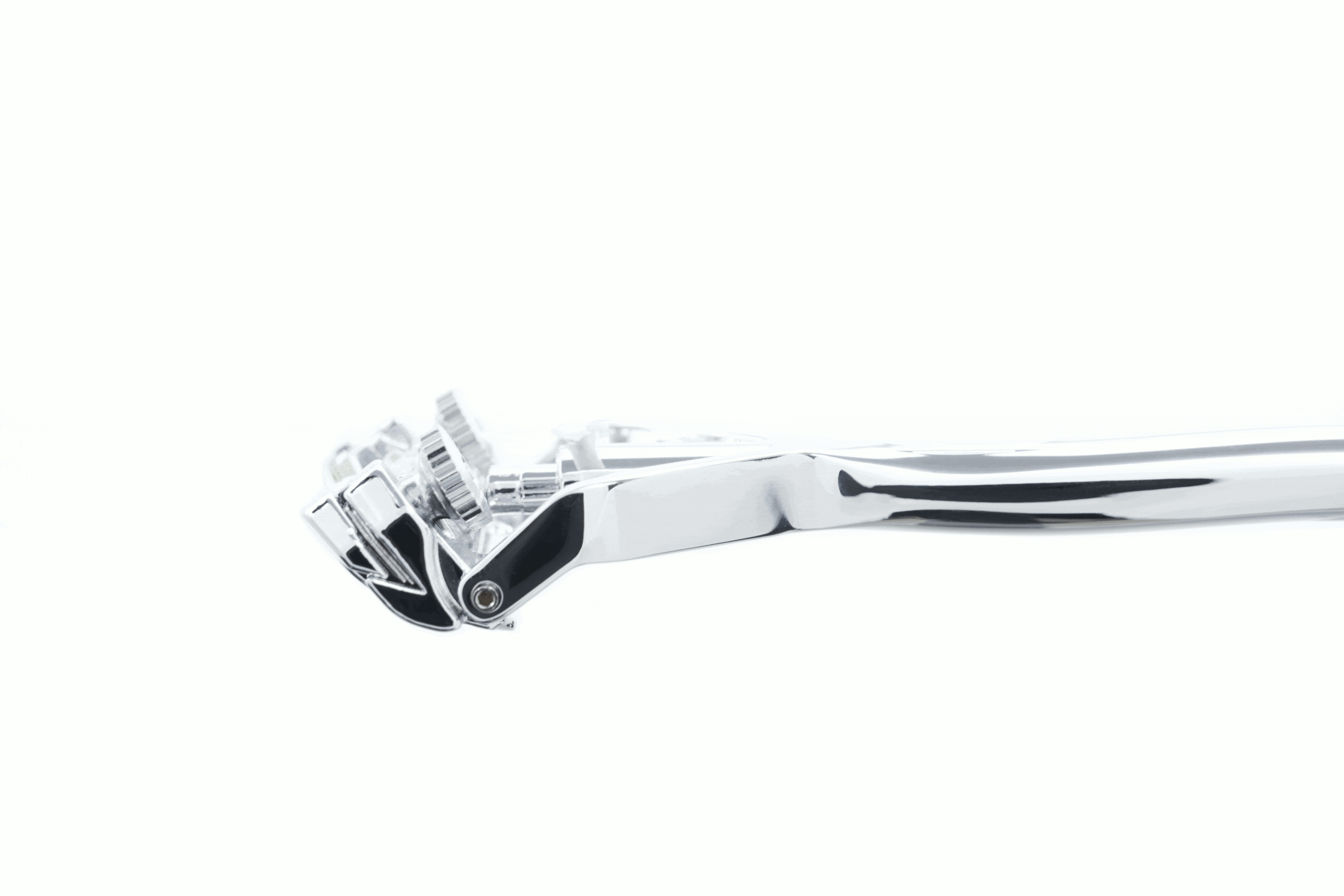 Metal shaving made flexible
Flexible swing head, safe shave
The SHAVENT flex head maneuvers easily around all contours, both on the face and on the body, even in sensitive areas.
It holds three standard razor blades for a balanced, direct and safe shave without skin irritation.
Due to its valuable weight, you need less pressure for a very thorough shave and protect your skin.
The razor is really great. The shave is very comfortable and with significantly less skin irritation than with conventional razors. Highly recommended at any time!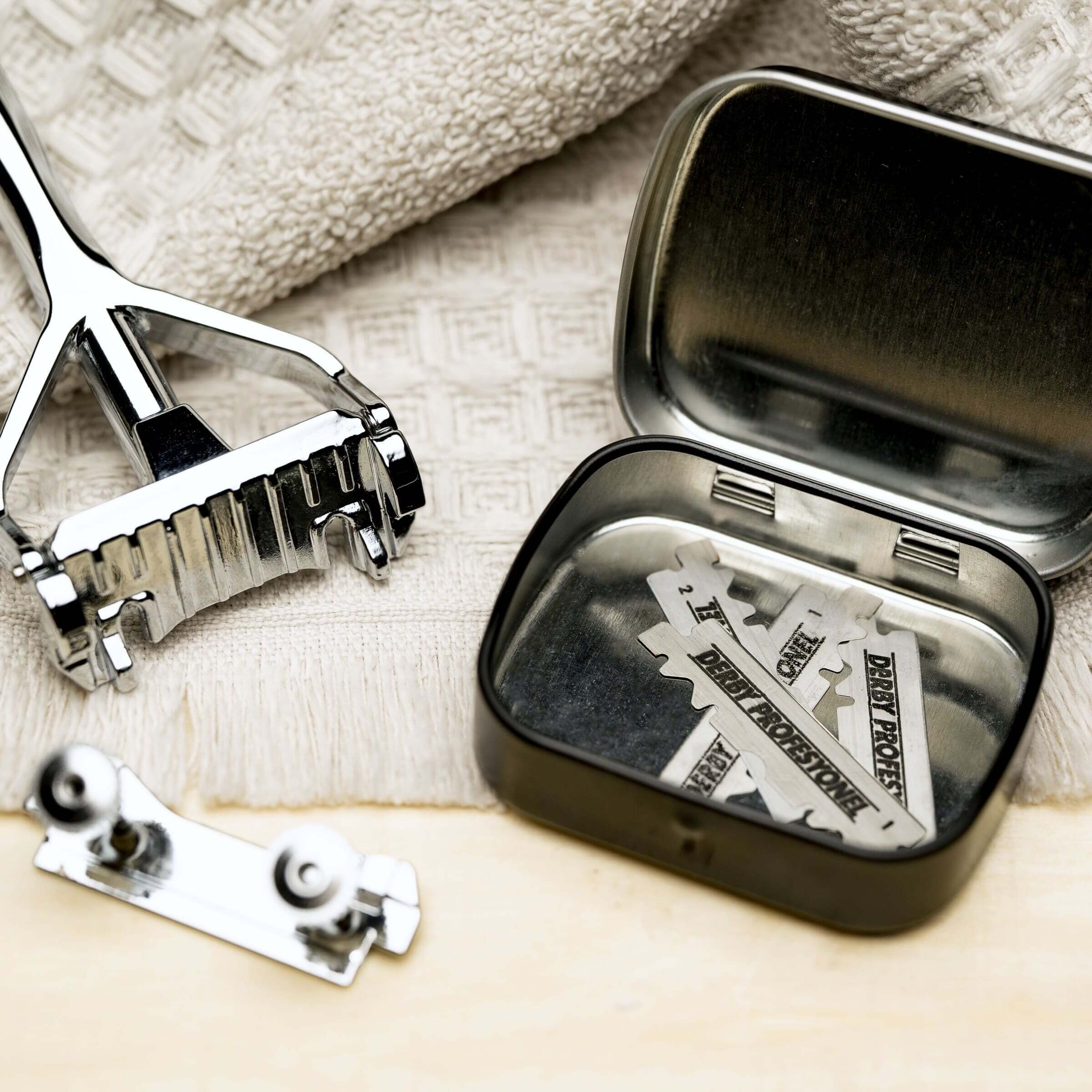 Independent
Cost-effective standard blades, more freedom
The SHAVENT uses classic razor blades. So you can choose the blade brand freely and thus independently of us.
The so-called half-blades have been used in straight razors for decades and are therefore available from many manufacturers online and in specialist shops.
At Costs from 15 cents per blade change and no more plastic waste, so you can treat yourself to fresh blades more often.
Brilliant! Finally a great shave without having to buy overpriced blades!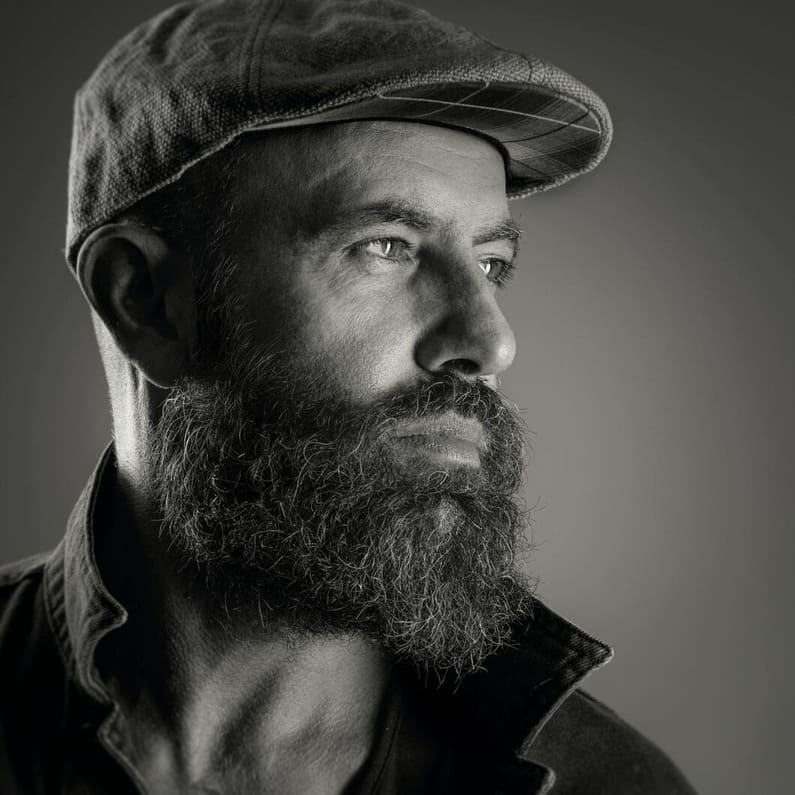 "Strong hair? I thought the SHAVENT was for everyone?" - Yes, that's right! The SHAVENT itself maneuvers all body regions safely and gently with its smooth-running flexible head. The difference in this set is in the blades:

For everyone with very thick, strong beard hair or for shaving the head, we have equipped the SHAVENT in this special set with the ultra-sharp Perma Sharp blades. They glide through the strongest hair growth without any plucking, like butter!
For a quick daily shave on the legs, however, we explicitly advise against these blades - they are simply too direct and too sharp for a quick stroke over the leg! Hence the distinctive name for this set.
Usage
Thanks to the smooth-running flex head, the SHAVENT offers a safe, thorough and gentle shave for the face, head and body, including the intimate area, for both men and women.
As a metal razor, the SHAVENT lies comfortably in your hand with a weight of approx. 85 grams - this means that you need significantly less pressure when shaving to achieve a perfect shave.
As a rule of thumb: with a plastic razor you press as you write with a ballpoint pen, with a metal razor you only use the same pressure as you write with a Stabilo pen / fineliner.
The SHAVENT is a wet razor - like all wet razors, it should not be used on dry skin, as this irritates the skin unnecessarily and does not provide a good shave.
The skin should always be wet and a lubricating aid such as shaving foam or simply shower gel should be used - this is how the SHAVENT glides optimally over the skin.
Vary your usual vertical shaving line a little under the nose and shave under the nose across instead of lengthways, with light pressure from below on the nostrils - this way you should be able to reach every part of the skin.
Razor blades
The SHAVENT uses standard razor blades. The so-called half blades or "single edge blades" have been used in razors for decades and there are many brands available to buy at low cost in our shop, on the large online marketplaces and in specialist shops. Each blade change costs only a few cents instead of many euros.
The SHAVENT is designed as a 3-blade razor. It offers an optimally balanced skin contact.
However, it can also be used very well with one or two blades.
The blades can be changed in a few simple steps. Simply loosen the knurled nuts, remove the head and insert new blades alternating with the spacers.
Order & Satisfaction
We offer a variety of easy and secure payment methods including PayPal, Credit Card, Amazon Pay, Apple and Google Pay and invoice via Klarna.
You can also order pay in advance at the checkout in the online shop.
We ship with DHL / Deutsche Post domestically and abroad.
Quite simply: take some time to try the SHAVENT shave - not satisfied? Then write to us within 30 days, send the SHAVENT back free of charge and get your purchase price refunded. You can find more details HERE.
No, nothing on the SHAVENT can rust.
If you should see slight brownish traces when changing the blade for the first time, then don't worry: these are deposits from the tap water and skin particles that can be easily removed with your finger.
You can also find all the details in this blog article.
SHAVENT Original starke Haare Set mit Perma Sharp Klingen - für Gesicht und Kopfrasur
Top Produkt
Wenn man sich einander gewöhnt hat, super!
SHAVENT starke Haare Set mit Perma Sharp Klingen - für Gesicht und Kopfrasur