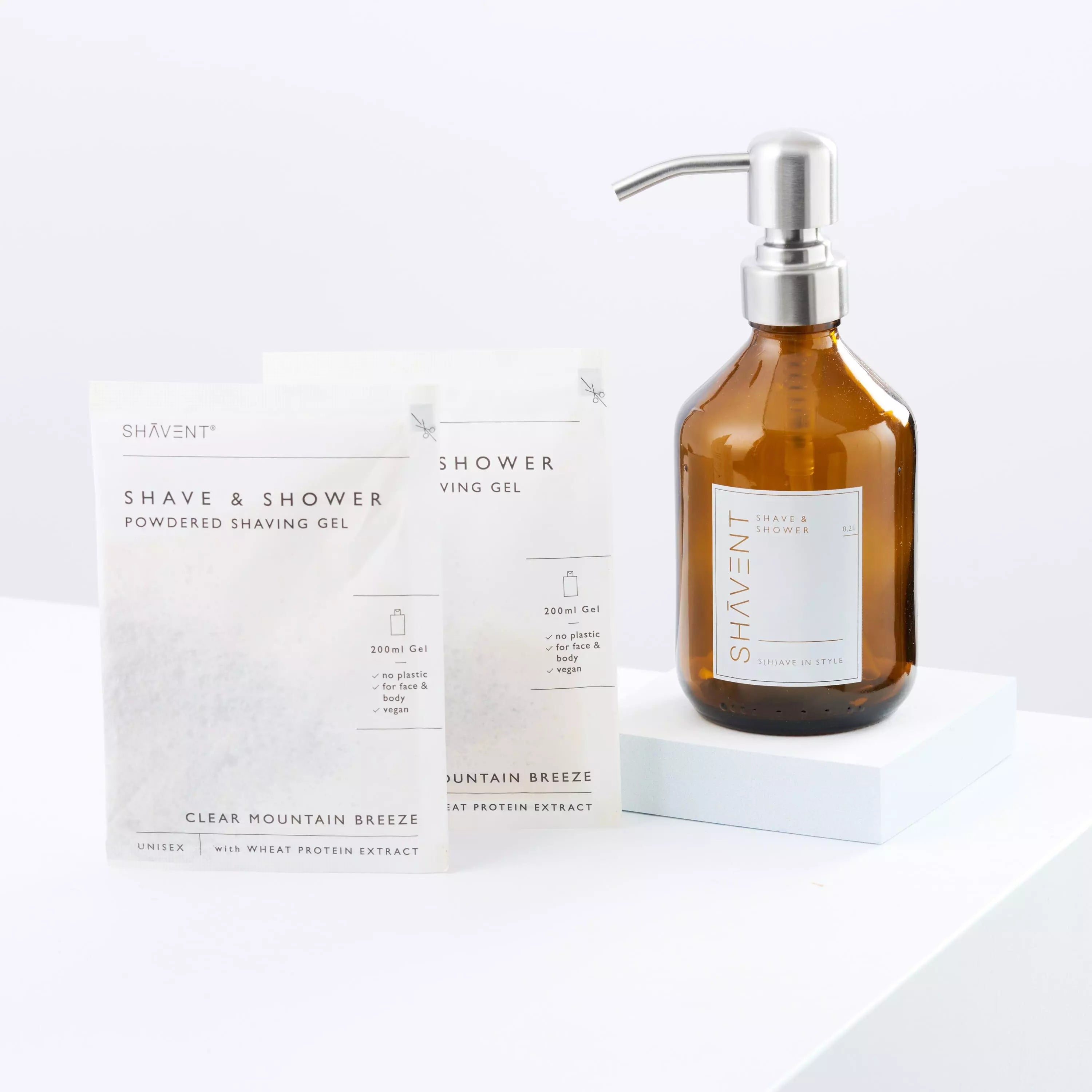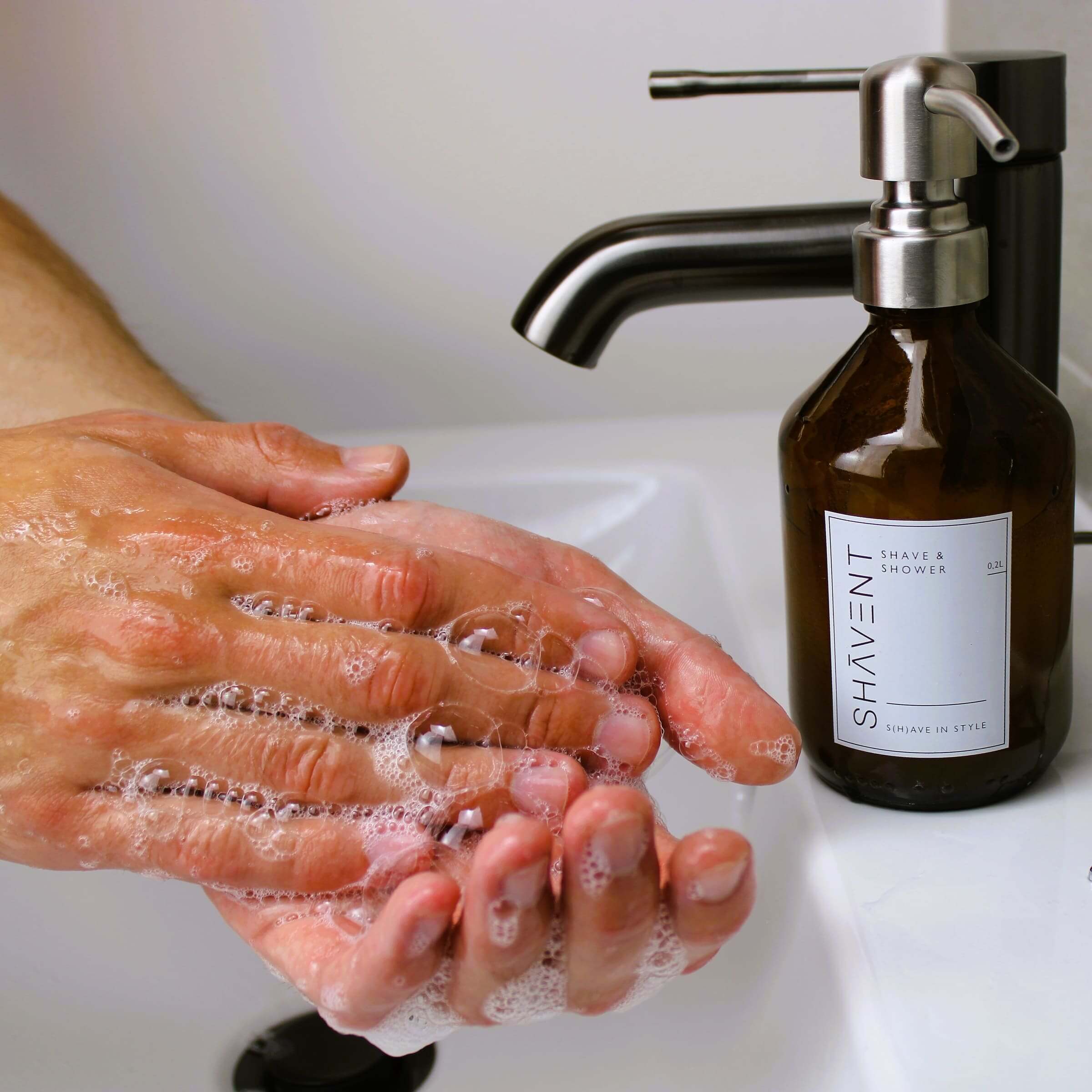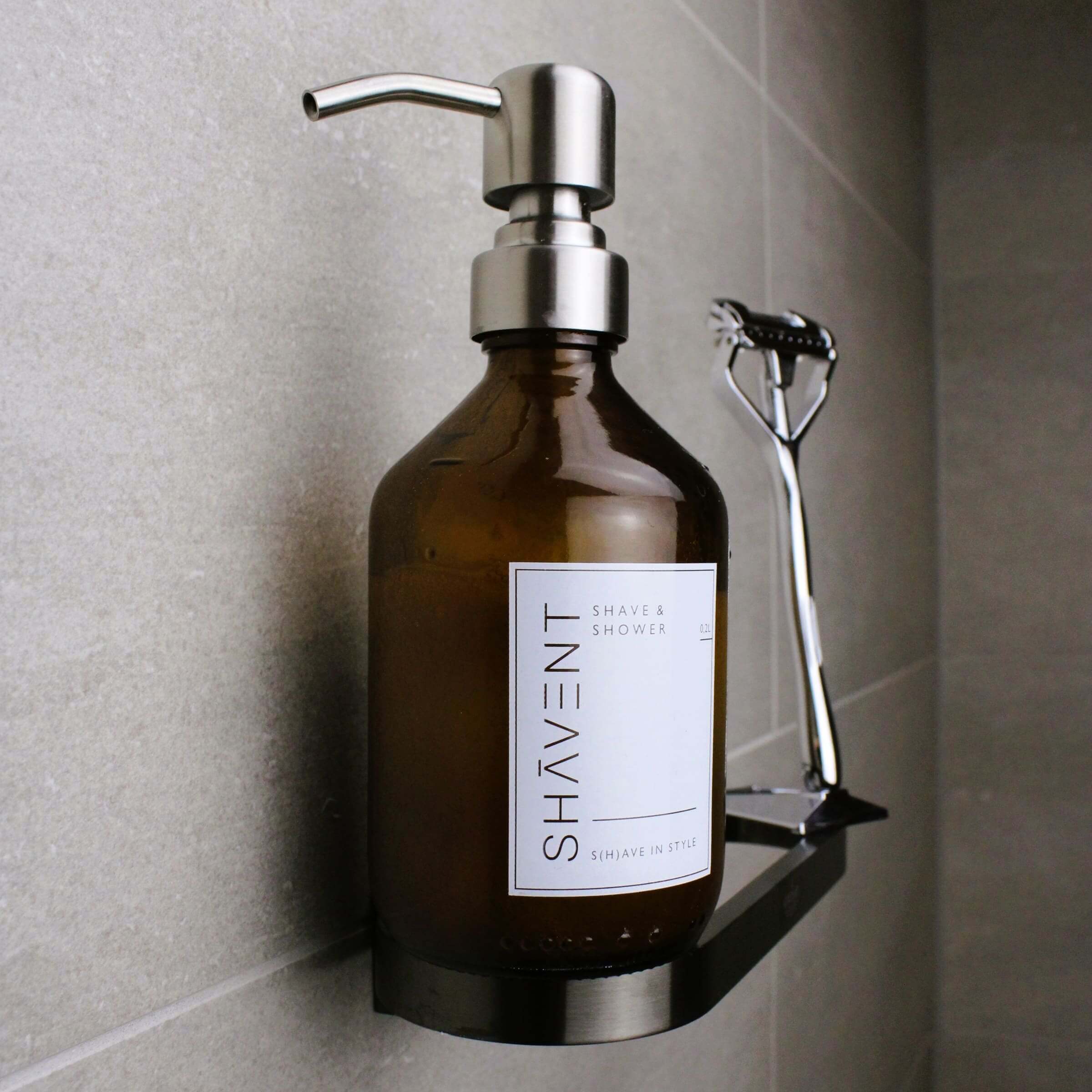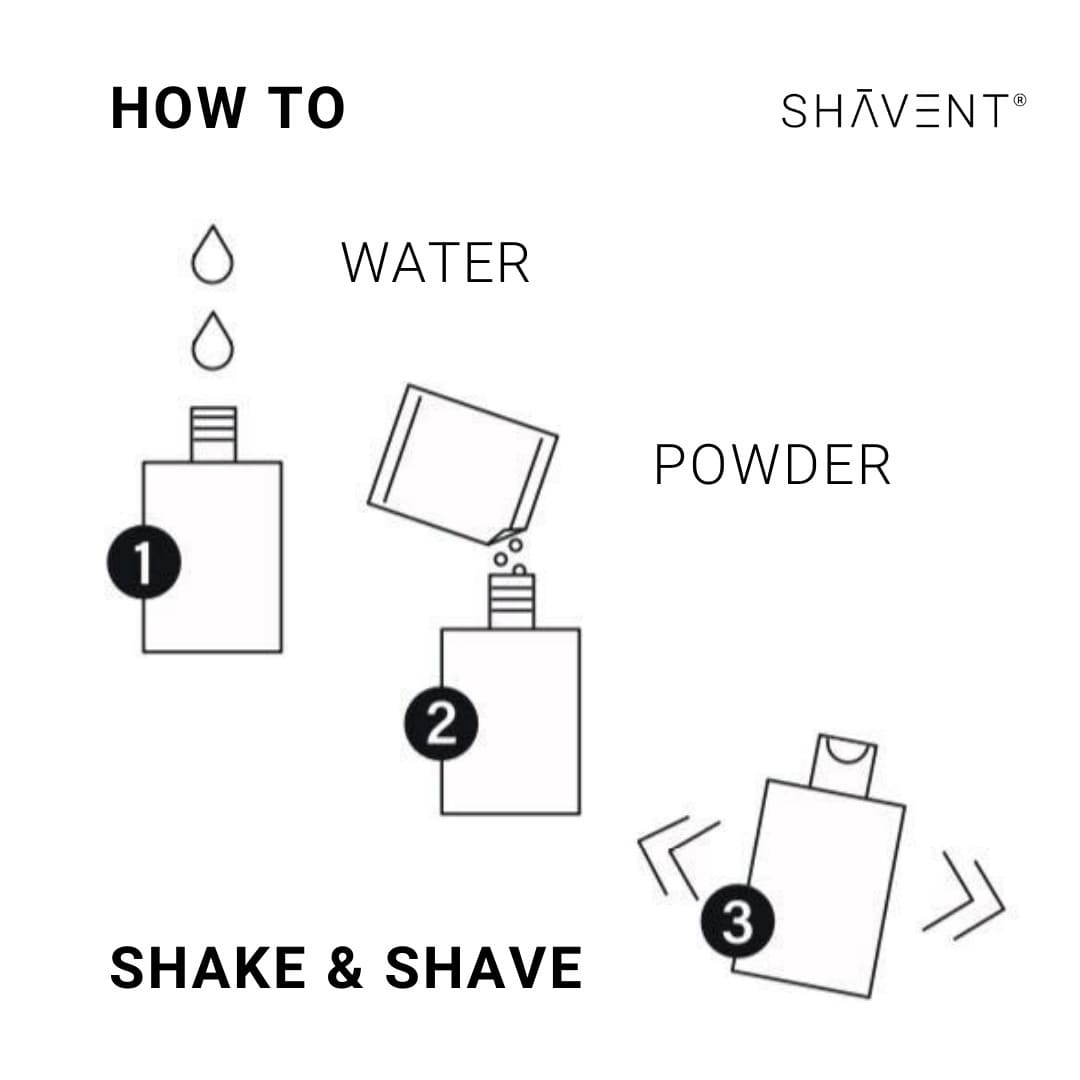 Set: SHAVENT Shave Gel Dispenser + 2x SHAVE & SHOWER Shaving Gel
In stock, with you in 1-4 days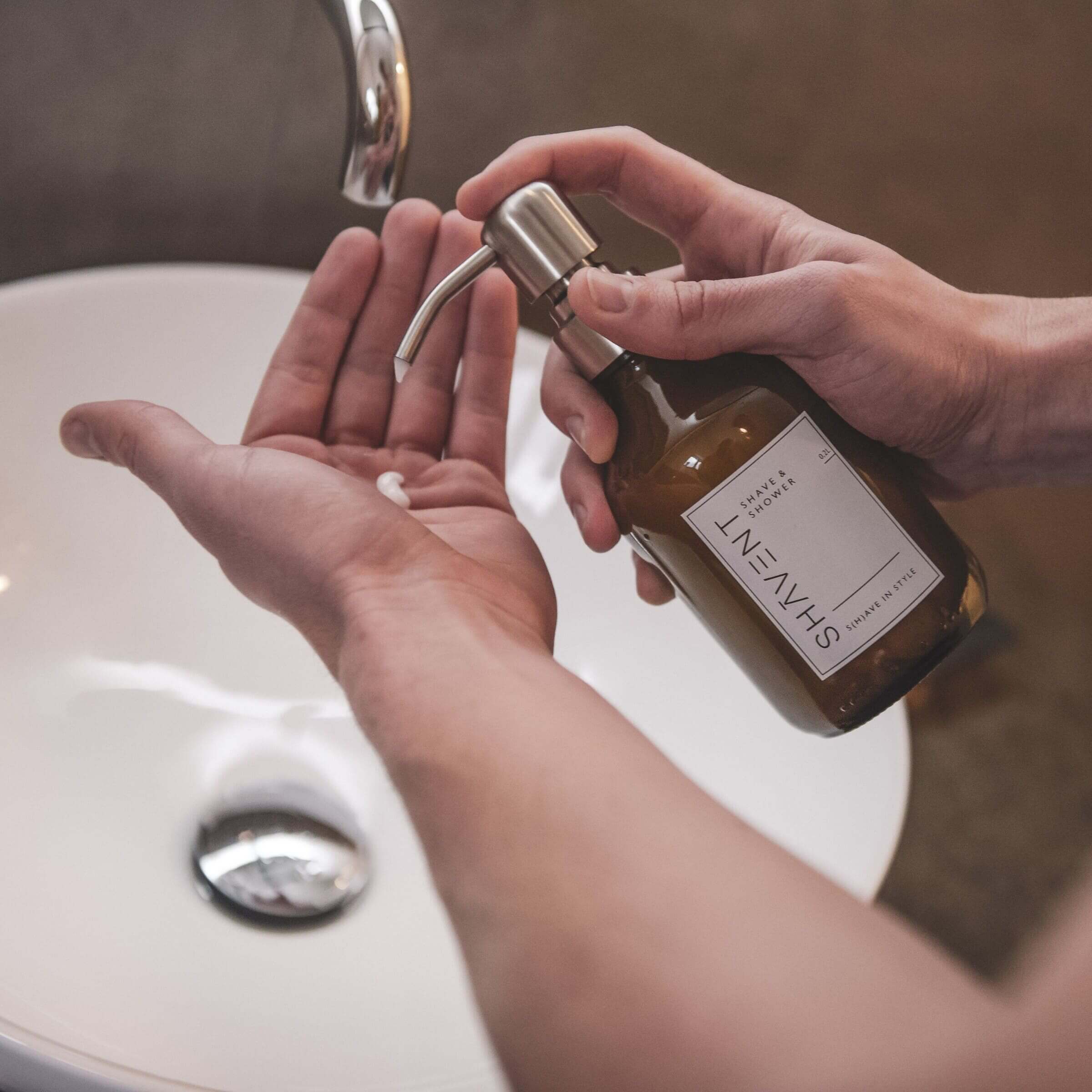 SHAVE & SHOWER
2in1 Shaving Care
2x your light shaving gel for face and body with the matching, elegant, long-lasting SHAVENT shaving gel dispenser
This is why you will love the SHAVENT Shaving Gel Set:
✅ Fine shaving gel
for your plastic-free shave - quickly applied, quickly rinsed off, especially practical in the shower
✅ Light, soap-free care that does not dry out your skin - also perfect as a shower gel
✅ Suitable for shaving all over the body, including sensitive areas
✅ No cans, no plastic packaging, space-saving stock - simply make powder into gel with water in the soap dispenser
✅ Plastic-free, mineral oil-free, vegan, GMO-free
Light shaving gel with a subtle, clear scent of cleanliness - nourishing from head to toe - for men, women, everyone
FOR YOUR SHAVE
The special twist
Shaving Gel
Do you like it easy and quick to shave without sacrificing care? Then our shaving gel is just right for you! The fine shaving and shower gel is the perfect companion for your plastic-free shave, whether face or body.
With its light texture, it can be effortlessly applied to large areas and rinsed off quickly and easily - even from your hands, so that your SHAVENT fits your hand even better!
The SHAVENT Shaving Gel is soap-free and pH-neutral. It also cares for and soothes sensitive skin, even while shaving.
Made with ❤️ in Germany.
---
Shaving gel dispenser
Say goodbye to plastic tubes and disposable spray cans - your elegant SHAVENT shaving gel dispenser brings stylish sustainability into your bathroom. A wonderful accessory for your daily shaving ritual. Reliable and easy, it dispenses the perfect amount of shaving gel for your light shave, especially useful in the shower.
But it not only decorates your bathroom, but also saves a lot of plastic and other packaging material that shaving gel usually comes to you in over its long service life.
Preparation: How to turn powder into gel
~ Pour 200ml of water into your empty shaving gel dispenser - we've printed a mark at 0.2L on the bottle.

Add a sachet of Shave & Shower Gel powder and close the dispenser.

Shake & wait 3 min. Your shaving gel is ready.
Note: Bottle may foam over.
2x16g powder for 2x~200ml gel
---
Application:
Simply apply to wet skin like shower gel, shave, rinse off, done!
Enjoy the fresh clear scent of cleanliness every day!
No shave today? Use it as a mildly cleansing and caring shower gel and enjoy the gentle cleansing every day!
Store in a cool, dry place, use up the finished shaving gel quickly.
Included are:

Glass bottle, printed
Pump dispenser head including hose
2 Tüten SHAVENT Shaving Gel Pulver
Razors and other decorations are not included
Dimensions:
Bottle diameter: 7.0 cm
Height: bottle without pump head: 13 cm, bottle including pump head: 17.5 cm
Capacity: 300ml
This is what the SHAVENT Shaving Gel Powder contains:
Sodium Coco-Sulfate (C 12-18) - Surfactant based on coconut oil known from natural cosmetics - mild cleaning
Sodium lauryl sulfoacetate - Surfactant based on coconut oil known from natural cosmetics - mild cleaning, foaming
Cyamopsis tetragonoloba gum - Guar Gum - Consistency and film formation on the skin
Xanthan Gum - Gel former - Moisture and consistency enhancer
Citric acid - Citric acid - regulates pH
Hydrolyzed wheat protein - Wheat Protein Extract - Moisturizes, softens hair (Hydrolyzed Wheat Protein is also applicable on the skin for people with gluten intolerance or celiac disease.)
Sodium Benzoate - Light preservative against germ development
Potassium Sorbate - Potassium salt of sorbic acid, protects cosmetic products from microbial spoilage
Prunus sweet almond oil - Sweet almond oil - nourishing, moisturizing, soothing
Betaine - Vegetable component from the sugar beet. Very mild raw material that protects the skin from drying out and soothes and reduces skin irritation.
Perfume - Fresh smell
INGREDIENTS: SODIUM C 12-18 ALKYL SULFATE, SODIUM LAURYL SULFOACETATE, CYAMOPSIS TETRAGONOLOBA GUM, XANTHAN GUM, CITRIC ACID, HYDROLYZED WHEAT PROTEIN, SODIUM BENZOATE, POTASSIUM SORBATE, PRUNUS AMYGDALUS DULCIS OIL, BETAINE, PARFUME
Do you still have questions about SHAVENT SHAVE & SHOWER shaving care?
Then look at ours FAQ drop by or write to us about our contact form - we are happy to advise you!
Gut, aber noch nicht ideal.
Ich habe mir das Shave & Shower Gel als Alternative zu meinem Rasierschaum bestellt. Die Gleiteigenschaften sind ganz gut, die Idee ein Pulver mit Wasser zu einem Gel zu mischen ist perfekt. Mir gefällt die Konsistenz nicht so gut, meiner Meinung nach ist das zu flüssig, also kein Gel. Für den Körper funktioniert das ja noch ganz gut, für das Gesicht ist das mir einfach zu flüssig.
Volltreffer gemäß Benutzbarkeit und Dauerhaftigkeit
Bis jetzt keines Rasiermittel benützt weil immer Reizungen aber sanfte und weiche Haut mit diesem Rasiergel.
Sehr gute Qualität und Funktion
Sehr kundenorientierter Service und Kontakt. Der Rasierer liegt sehr gut in der Hand und das Ergebnis ist sehr gut. Bei dem Shaving Gel hatte ich zuerst Bedenken ob das funktioniert und vor allem wie lange eine Packung reicht. Ich bin positiv überrascht, das Gel unterstützt die Rasur sehr gut und eine Packung reicht erstaunlich lange. Auch als Duschgel ist es sehr angenehm.
Lieber Edwin, 1000 Dank! Dein Feedback hat uns richtig umgehauen :).
Es ist fantastisch, dass Du mit unseren Produkten und unserem Service total zufrieden bist!
Ich wünsche Dir weiterhin viel Freude damit und alles Gute.
Liebe Grüße,
Lorenza von SHAVENT