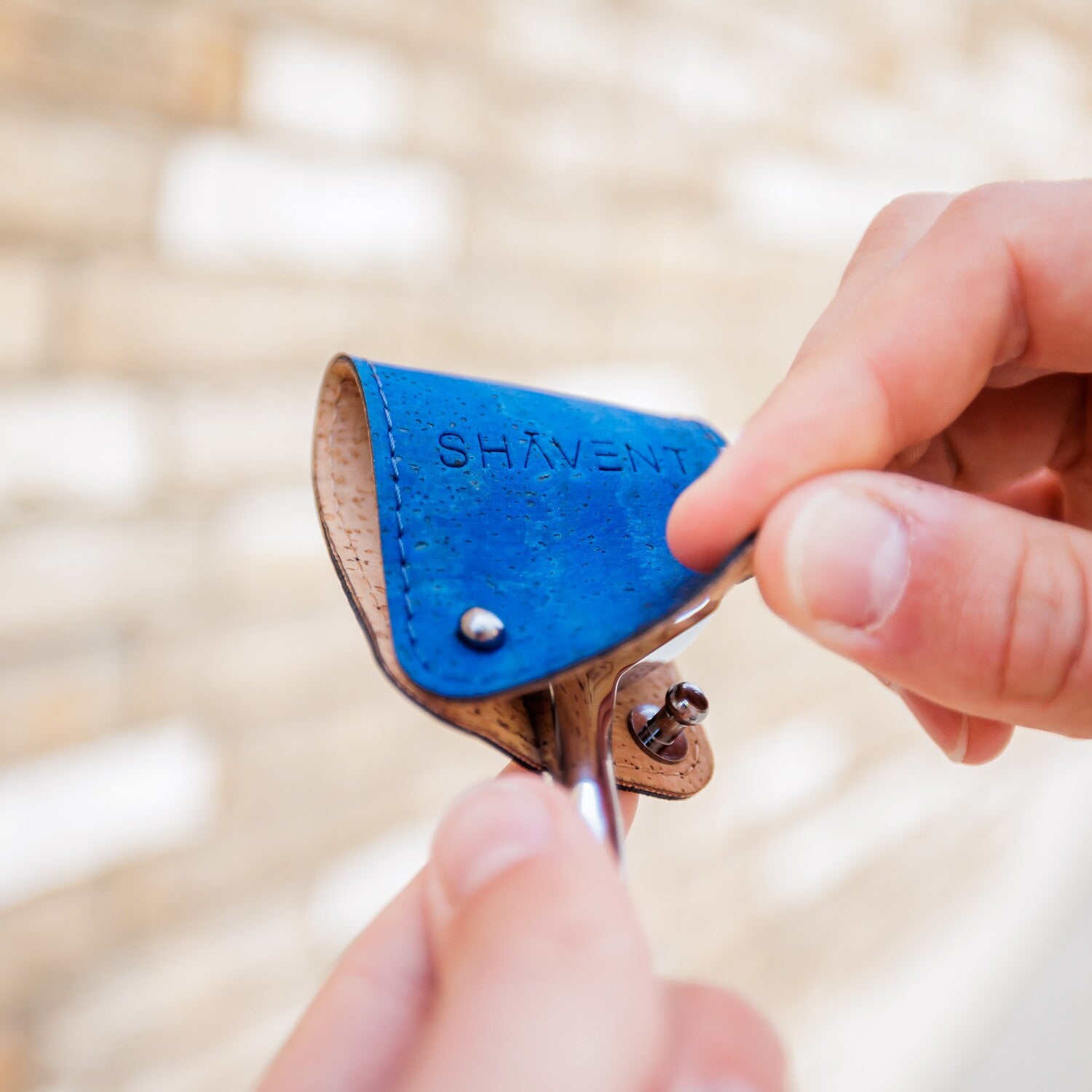 Accesories
Cases and Other Accessories
Practical, beautiful and so filigree - with the SHAVENT blade guard you can transport your SHAVENT safely.
FOR YOUR SHAVE
The special twist
This is why you will love the SHAVENT cork blade guard:
✅ Perfect fit for your SHAVENT
✅ Strong color on the outside and natural cork flair on the inside meet a soft feel that is almost reminiscent of leather
✅ Long-lasting and sustainable natural material: Cork oaks survive even after the cork harvest and even absorb 3-5 times the CO2 when peeled
✅ Noble ball pocket buttons and the elegant laser engraving complete the design
Practically elegant, naturally durable, made with a lot of dedication in a family factory in Portugal.
Your SHAVENT cork blade guard fits both the SHAVENT Original and the SHAVENT Compact.
Included is:

1x SHAVENT blade guard, cork
Razors and other decorations are not included
Care:
You can easily wipe your SHAVENT cork case with a damp cloth to remove light dirt.
In the case of larger stains, you can even wash it carefully by hand - simply let it dry afterwards, perhaps on a towel, and your case will be like new again. 
Dimensions:
Height: 5.8cm; Opened 12.9cm
Width: 5.1cm
Do you still have questions about the SHAVENT travel bag?
Then look at ours FAQ drop by or write to us about our contact form - we are happy to advise you!
Easy, cool n comfortable
At first I wasn't sure why to get such a small cover but then I got truly happy about it!
When you have a life on the go and want to be sure that the blades n head are safe, well…this little cover is what you are lookin for!
Simple, cool and so easy to use!
Pratisch und kompakt
Bisher keine Probleme und nimmt im Kulturbeutel nicht mehr Platz ein als nötig,
Klasse Idee
Der Klingenschutz ist wirklich eine gute Idee. Bisher hatte ich meinen Shavent immer in der Box mit, und das war in der Toilettentasche auf Reisen doch immer ein wenig sperrig. Aber mit dem Klingenschutz spart man doch jede Menge Raum in der Toilettentasche. Daumen hoch für diese innovative Idee.
Liebe Sabrina, vielen lieben Dank! :) Ich bin sehr happy, dass Dir die Idee des Klingenschutzes gefällt und dass er Dir auf Reisen Platz spart. Daumen hoch für Dein positives Feedback!! Ich wünsche Dir weiterhin viel Freude mit Deinem SHAVENT! Viele Grüße, Ilaria von SHAVENT