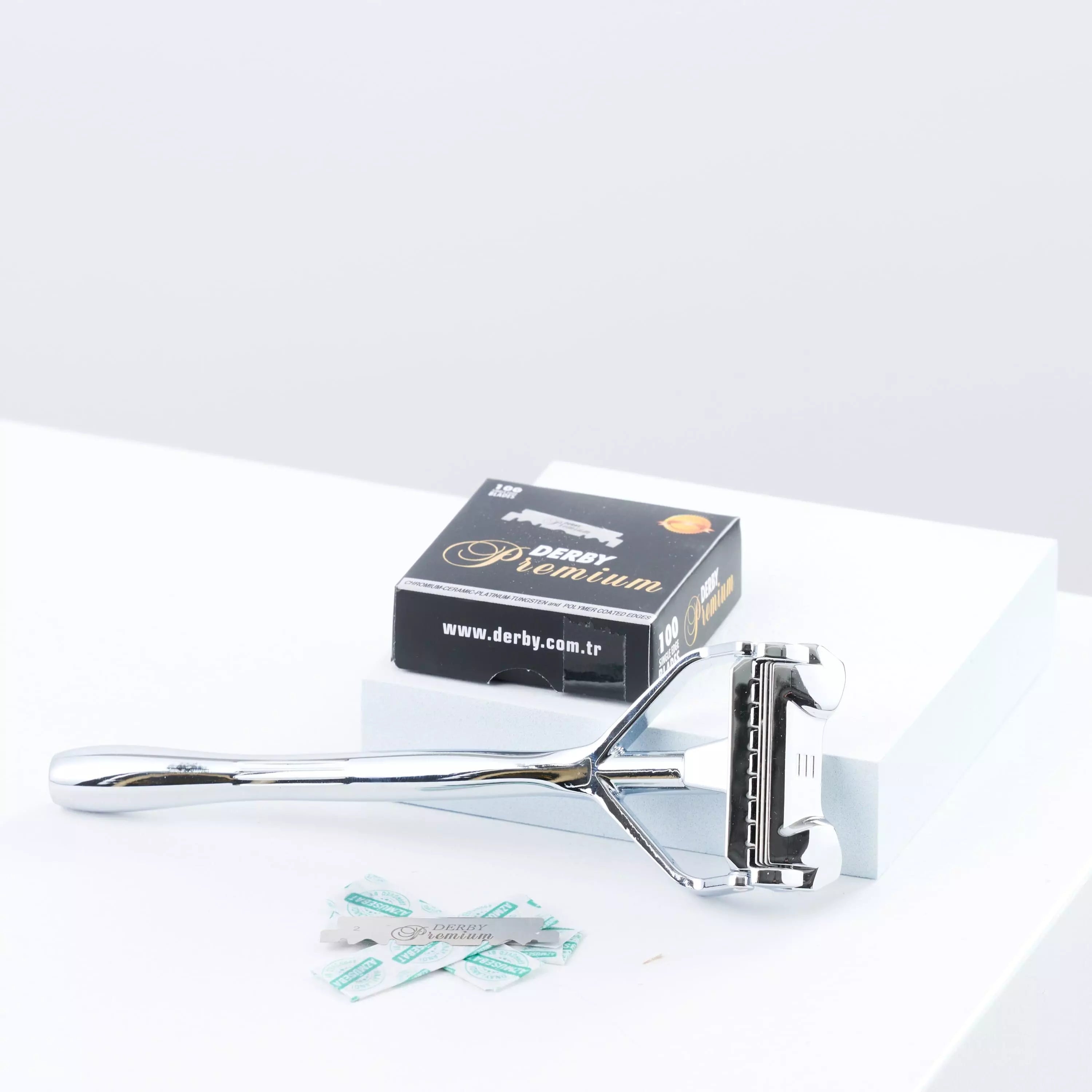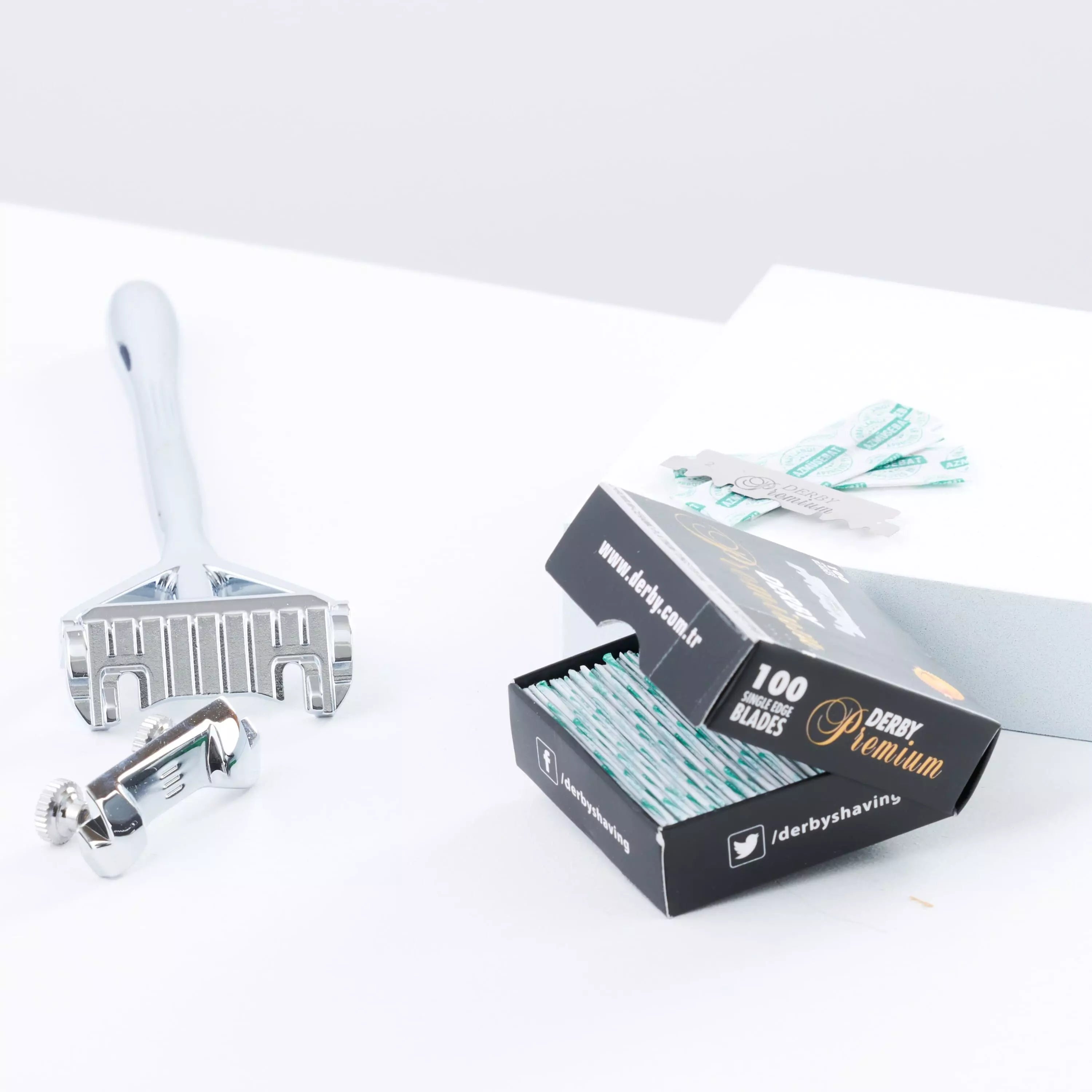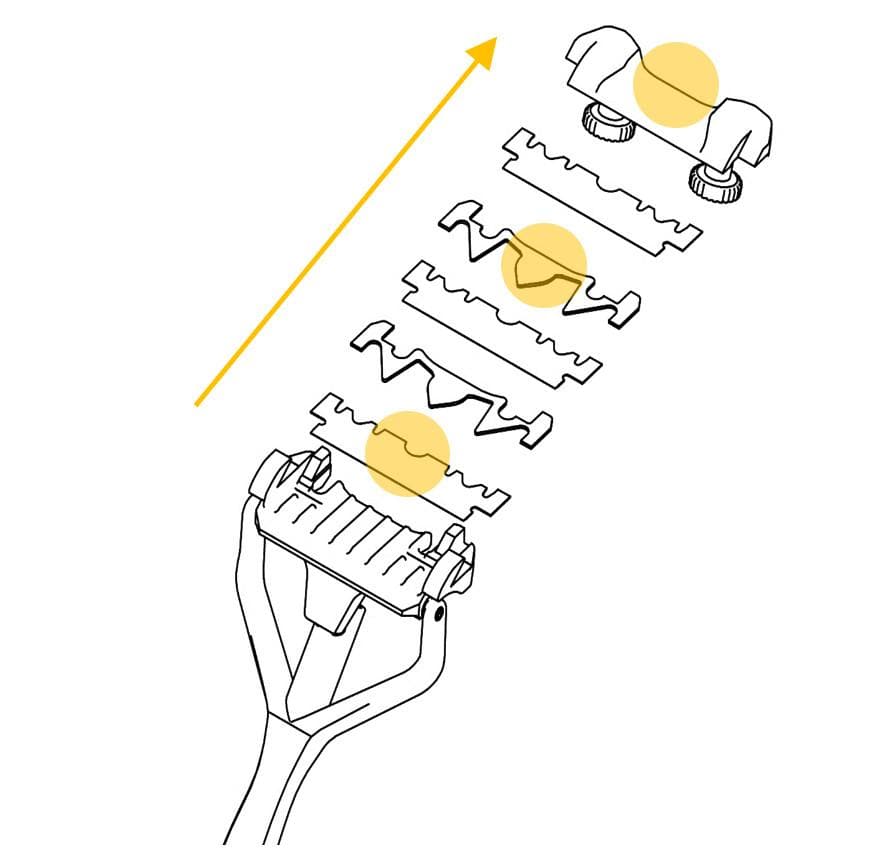 Razor Blades - Derby Premium Single Edge Half Blades
In stock, with you in 1-4 days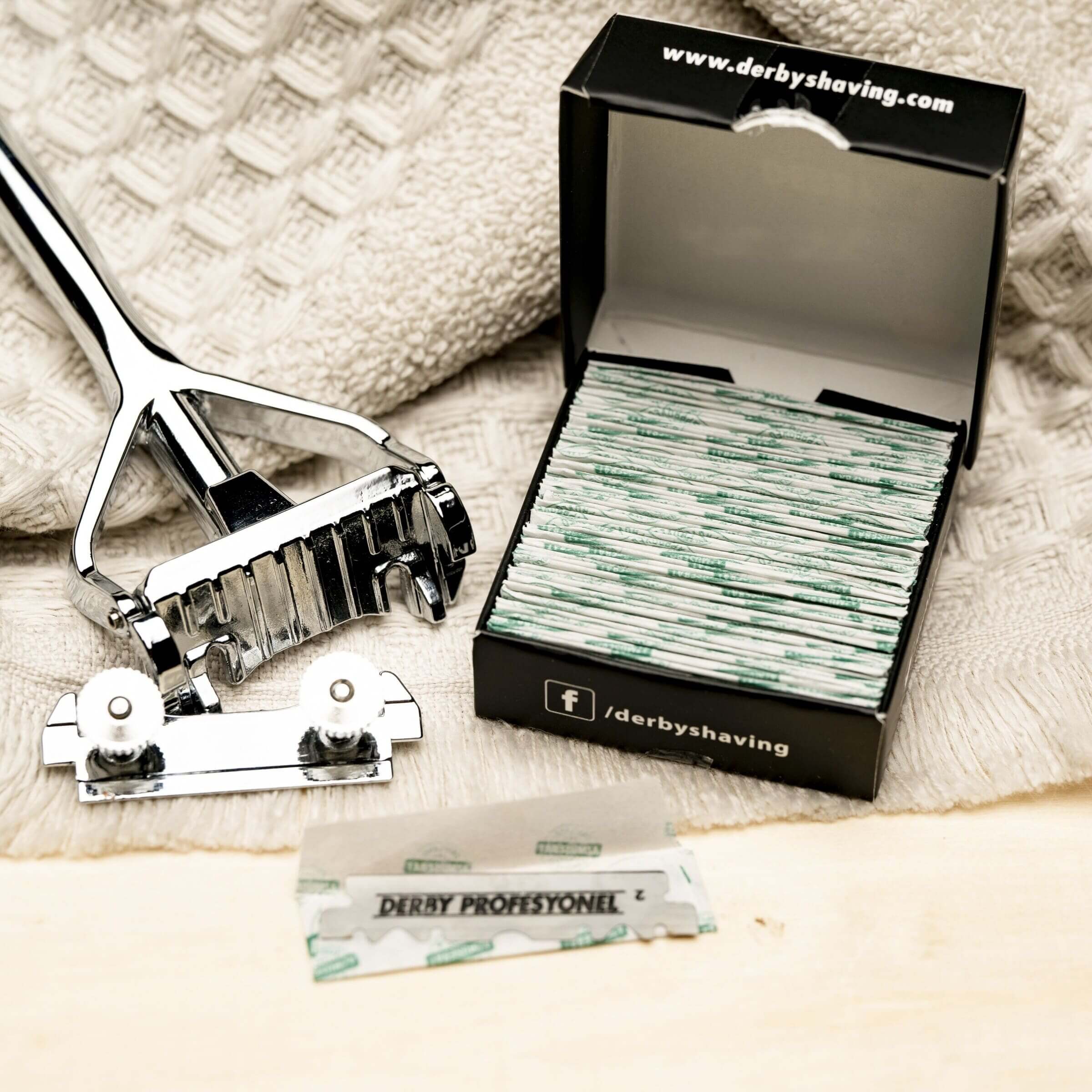 Accesories
Razor Blades
Cardboard with your 100 Derby Premium Halfblade Blades / Halb Blades / Single-Edge Blades
One carton is sufficient for 33 blade changes
The black Derby blades are also "all-rounders" and very well suited for both a close shave on the face and a gentle shave on the body. According to the manufacturer, they are subjected to an additional coating process.

Premium version of the Derby blades:

High quality Swedish stainless steel
Special double plating with chrome, ceramic, platinum and tungsten for optimal edge retention and extreme comfort
All Derby razor blades are:
Perforated, hardened and sharpened using the latest blade technology.
Manufactured from heavy duty stainless steel.
Developed with special plating technology of chrome, ceramic, platinum and tungsten for optimal durability and shaving comfort.
Controlled in every step of production with international quality standards.
For the past 40 years, Derby has always focused on providing its users with the highest quality shave - gentle, comfortable and economical.
Made in Europe (Turkey)
safety notice
As with every razor blade, the same applies here: please always be careful - razor blades are known to be razor sharp! Keep razors and blades out of the reach of children or anyone who is not familiar with razor blades.
You can find more information on safety and care HERE
FOR YOUR SHAVE
The special twist
Alle Derby Rasierklingen sind:
Perforiert, gehärtet und geschärft mit modernster Klingentechnologie.
Hergestellt aus Hochleistungs-Edelstahl.
Entwickelt mit spezieller Beschichtungstechnologie aus Chrom, Keramik, Platin und Wolfram für optimale Haltbarkeit und Rasierkomfort.
Kontrolliert in jedem Schritt der Produktion mit internationalen Qualitätsstandards.
Enthalten ist:

Je nach Wahl 1-3 Kartons mit 100 Rasierklingen
Rasierer und sonstige Dekorationen sind nicht enthalten
Die Klingen sind zum Einlegen in deinen SHAVENT perfekt geeignet. Entscheide selbst wie viele Klingen Du nutzen möchtest. Ob eine, zwei oder drei Klingen – Hauptsache Du hast das perfekte Rasurerlebnis.
Sicherheitshinweis 
wie bei jeder Rasierklinge gilt auch hier: sei bitte immer vorsichtig - Rasierklingen sind ja bekanntlich rasierklingenscharf! Lass Rasierer und Klingen nicht in die Hände von Kindern oder anderen Personen gelangen, die nicht sicher mit Rasierklingen umgehen können. 
Weitere Hinweise zur Sicherheit und Pflege findest Du HIER
Du hast noch offene Fragen zu SHAVENT?
Dann schau bei unseren FAQ vorbei oder schreib uns über unser Kontaktformular - wir beraten Dich gern!
100 Rasierklingen - Derby schwarz Premium Single Edge Halbklingen
Einfacher als gedacht ;-)
Funktioniert tadellos :-)
Lieber Alfred,
Vielen Dank für Deine Bewertung :) Kann ich Dich fragen, warum 4 Sterne? Hast Du Fragen oder kann ich Dir irgendwie weiterhelfen?
Liebe Grüße, Lorenza von SHAVENT