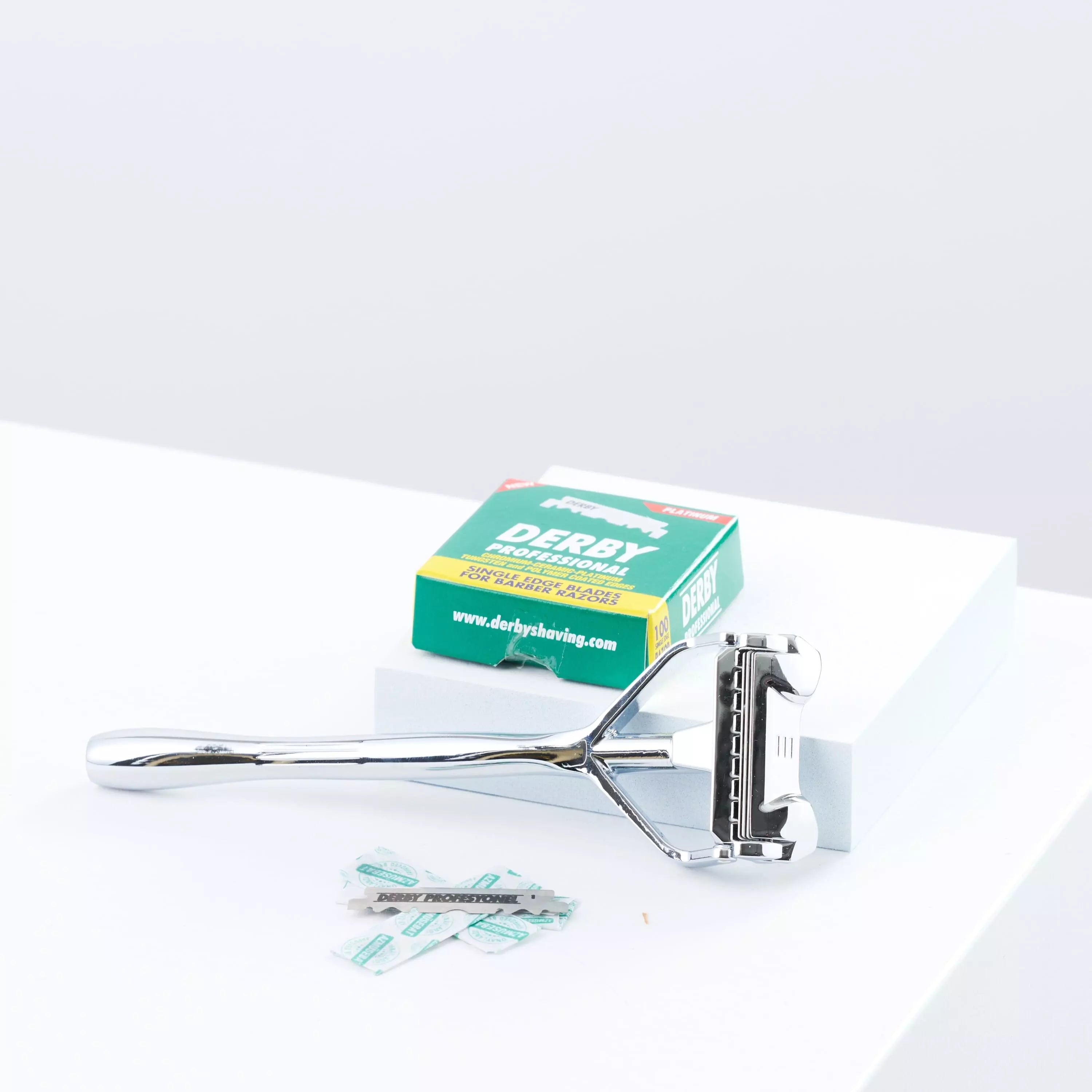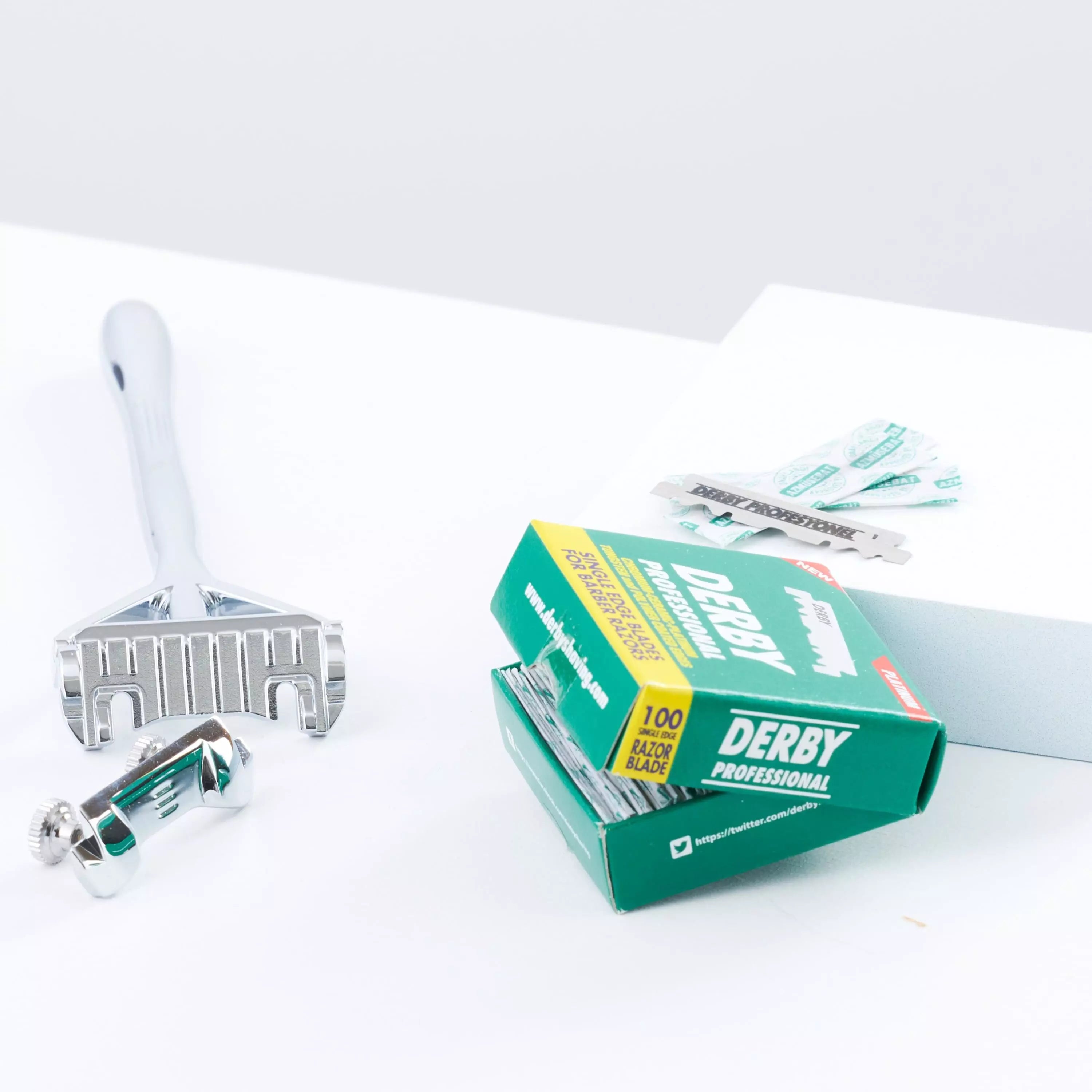 Razor Blades - Derby Professional Single Edge Half Blades
Number of packs:
1 x 100 blades
In stock, with you in 1-4 days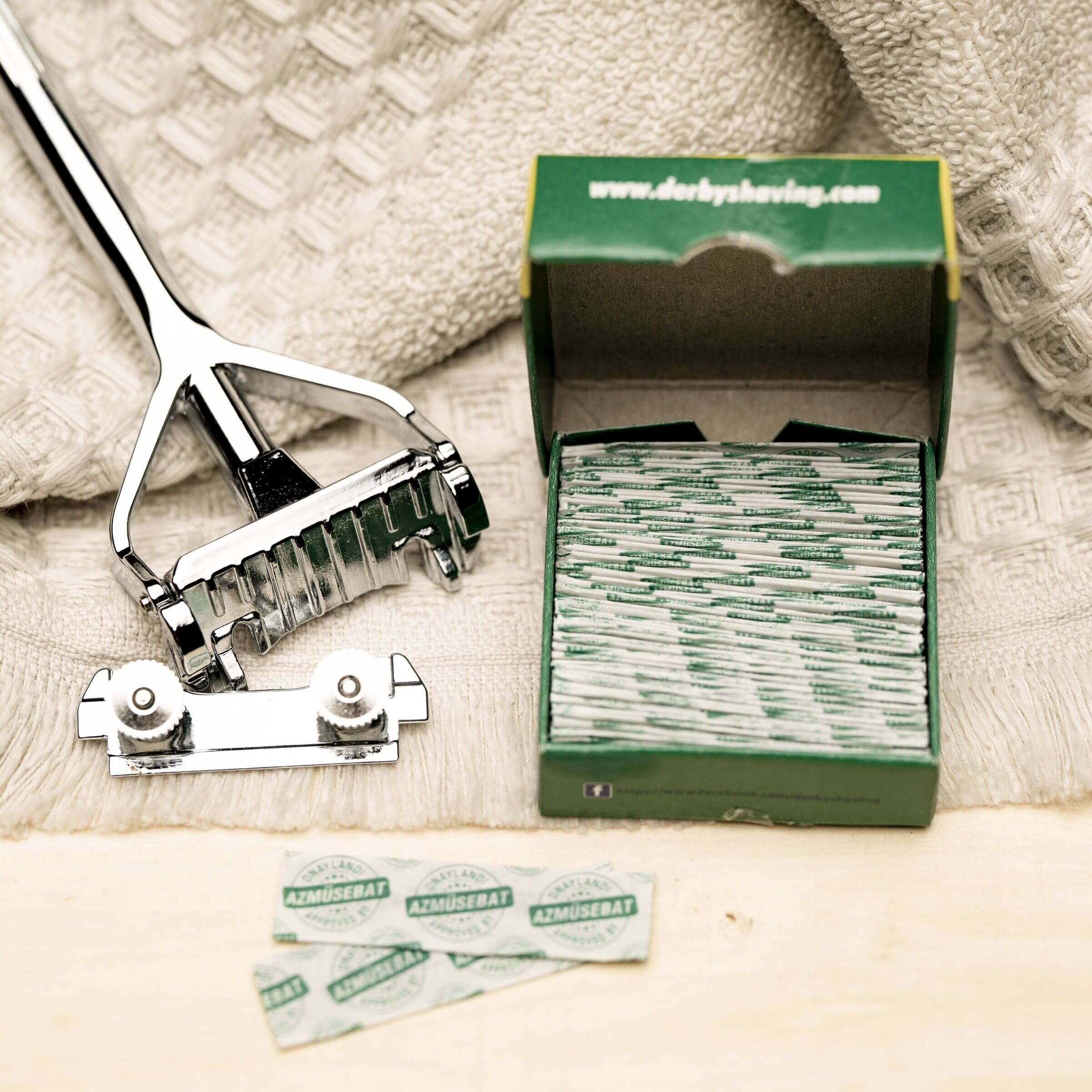 Accesories
Razor Blades
Cardboard with your 100 Derby Halfblade Blades / Halb Blades / Single-Edge Blades
One carton is sufficient for 33 blade changes
The green Derby blades are known as "all-rounders" - they manage the balancing act between a close shave on the face and a gentle shave on the body.

For the past 40 years, Derby has always focused on providing its users with the highest quality shave - gentle, comfortable and economical.
FOR YOUR SHAVE
The special twist
All Derby razor blades are:
Perforated, hardened and sharpened using the latest blade technology.
Manufactured from heavy duty stainless steel.
Developed with special plating technology of chrome, ceramic, platinum and tungsten for optimal durability and shaving comfort.
Controlled in every step of production with international quality standards.
Included is:

Depending on your choice 1-3 boxes with 100 Derby razor blades
Razors and other decorations are not included
The blades are perfect for inserting into your SHAVENT. Decide for yourself how many blades you want to use. Whether one, two or three blades - the main thing is that you have the perfect shaving experience.
safety notice
As with any razor blade, the same applies here: Please always be careful - razor blades are known to be razor sharp! Keep razors and blades out of the reach of children or anyone who is not familiar with razor blades.
You can find more information on safety and care HERE
Do you still have questions about the Derby Professional blades?
Then look at ours FAQ drop by or write to us about our contact form - we are happy to advise you!
Die neue Art der Rasur
Der Einsatz am ersten Tag phänomenal… glatter geht's wohl nicht mehr. Der Griff ist, da ich mich mit Rasieröl rasiere, sehr glatt. Der Klingentausch geht mir bereits besser von der Hand. Meine Bewertung fünf Sterne
Hey Dieter, vielen Dank für Deine mega Bewertung! Es freut uns total, dass unsere Rasurtechnologie bei Dir so gut ankommt und Du gleich am ersten Tag super glatte Ergebnisse erzielen konntest. Deine fünf Sterne sind der Hammer und motivieren uns mega, weiterhin top Produkte zu liefern. Danke für Dein Vertrauen und weiterhin viel Spaß mit Deinem SHAVENT! :) Viele Grüße, Ilaria von SHAVENT
Gute Rasurschärfe
Die Derbyhalbklingen halten relativ lange, so etwa 10 Rasuren bei mir.
Gute Qualität
Rasiere mich mittlerweile gerne mit den Shavent. Nur um die Nase rum ist der Kopf zu groß. Suche noch nach einer Lösung.
TOP Rasierer mit sehr guten Klingen
Der Rasierer ist wirklich toll, die Klingen sehr scharf. Rasur sehr angenehm und mit deutlich weniger Hautirritationen als bei herkömmlichen Rasierern.
Jederzeit sehr zu empfehlen!
Lieber Udo, vielen Dank für Deine Bewertung :) Wir freuen uns sehr, dass Dir der SHAVENT so gut gefällt und Du tolle Rasuren damit hast. Weiterhin ganz viel Freude damit und alles Gute, Tamara von SHAVENT