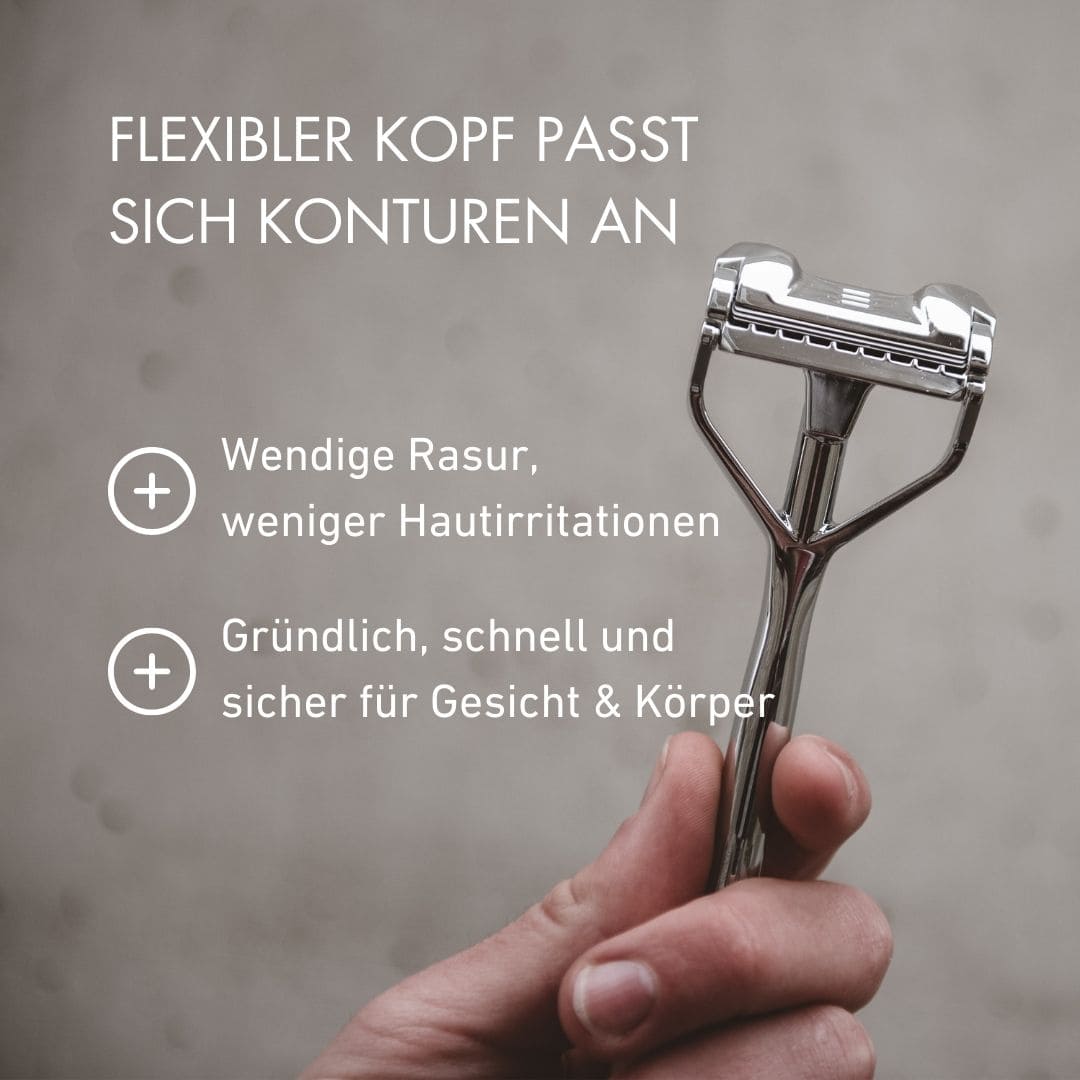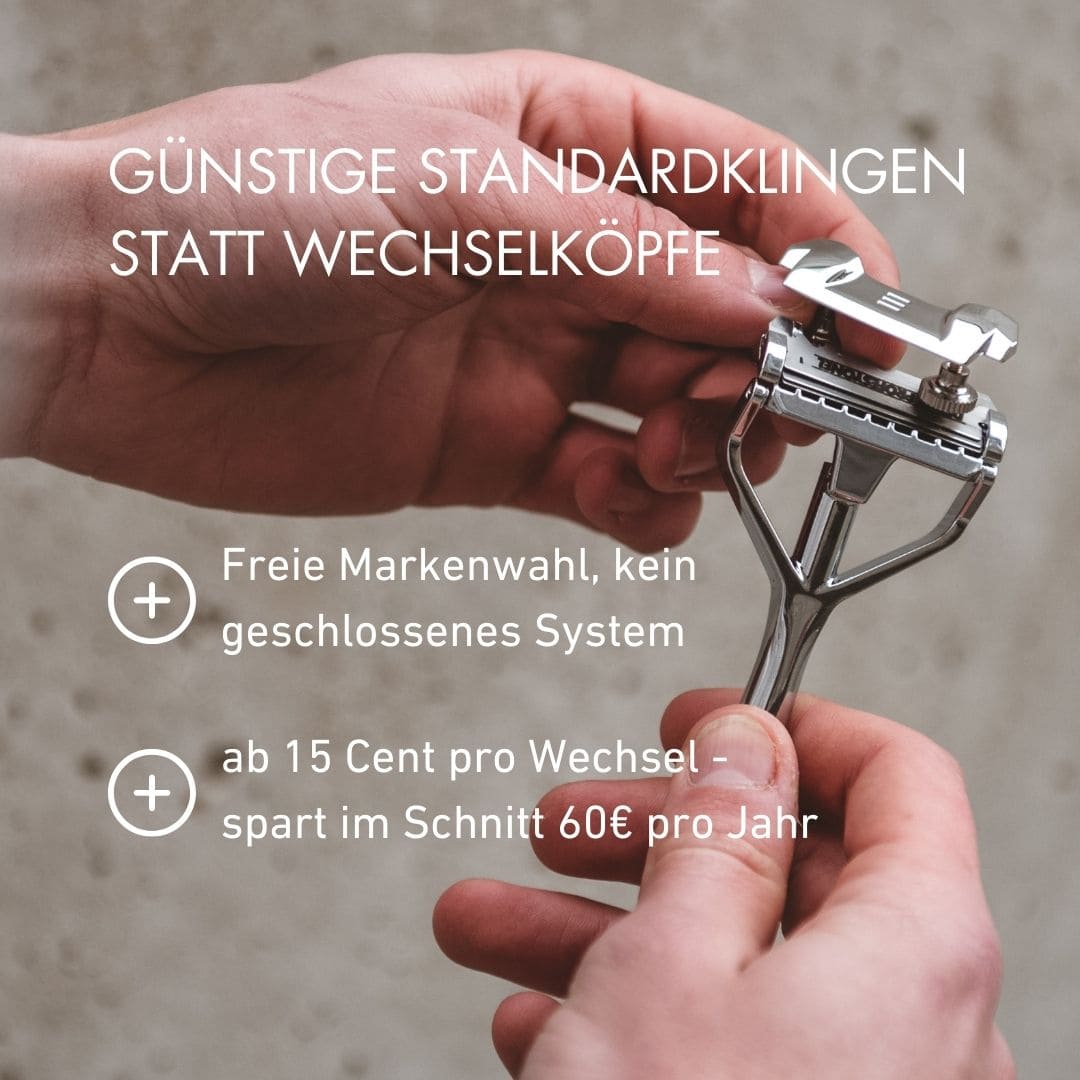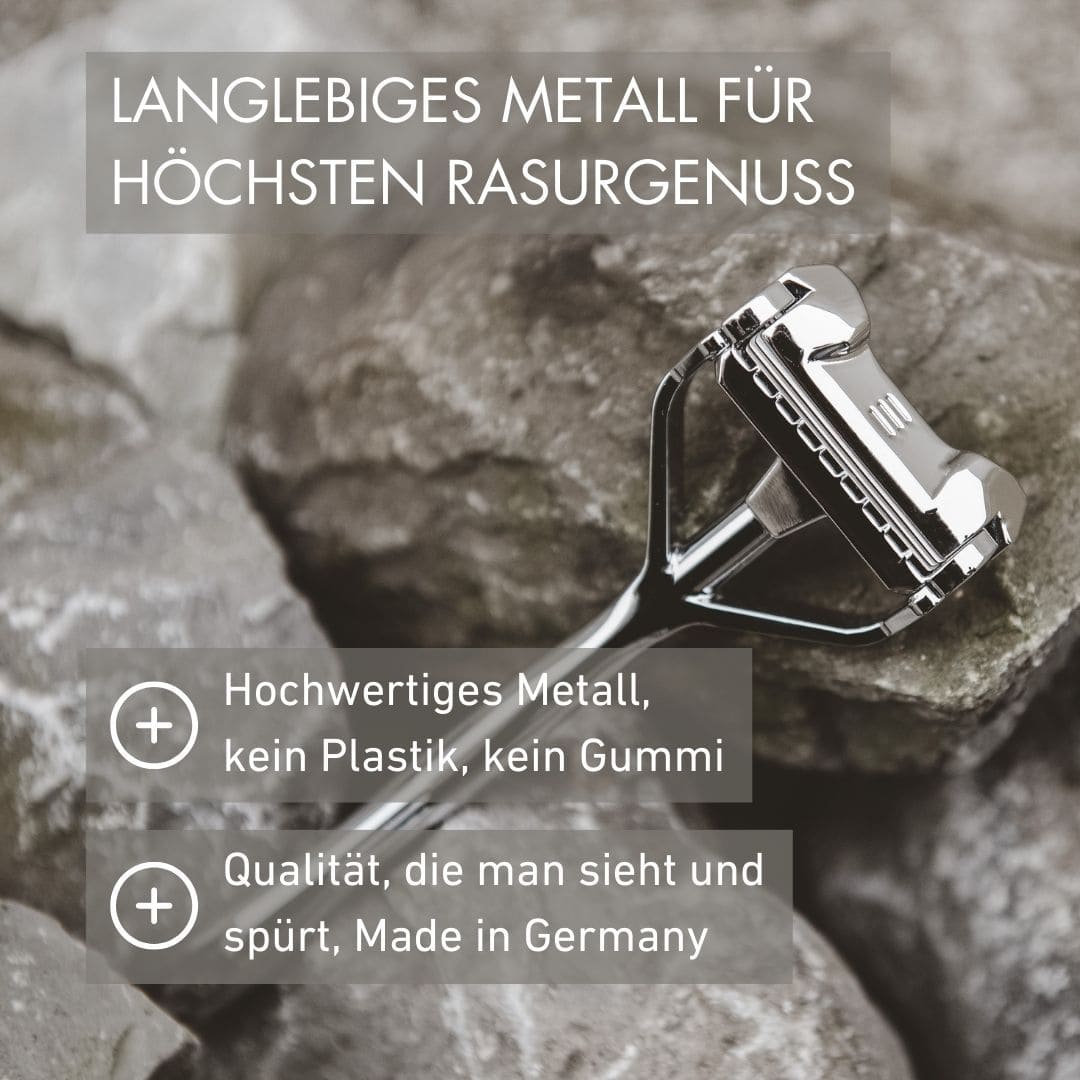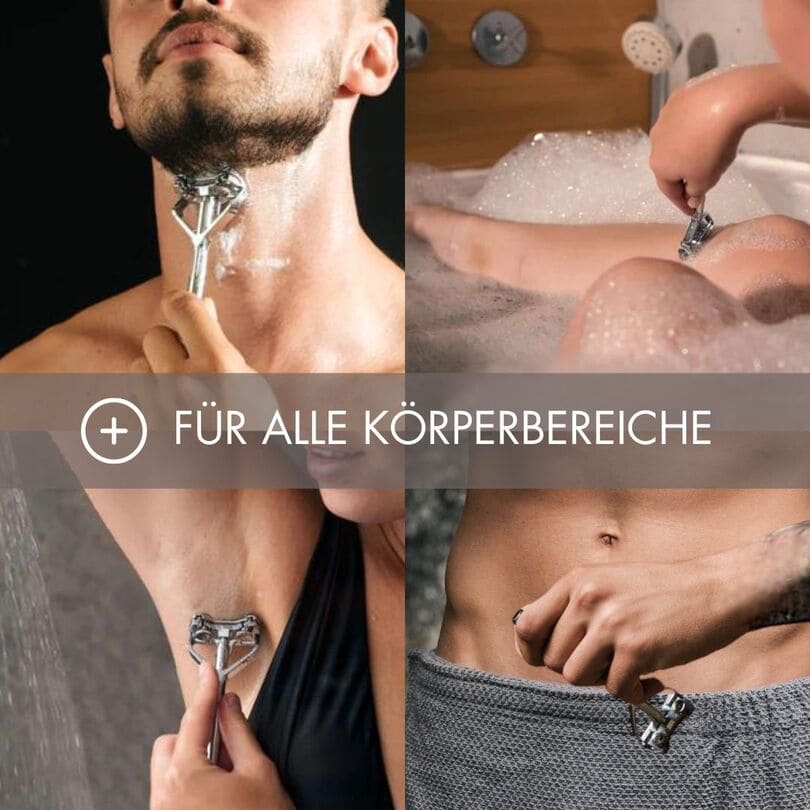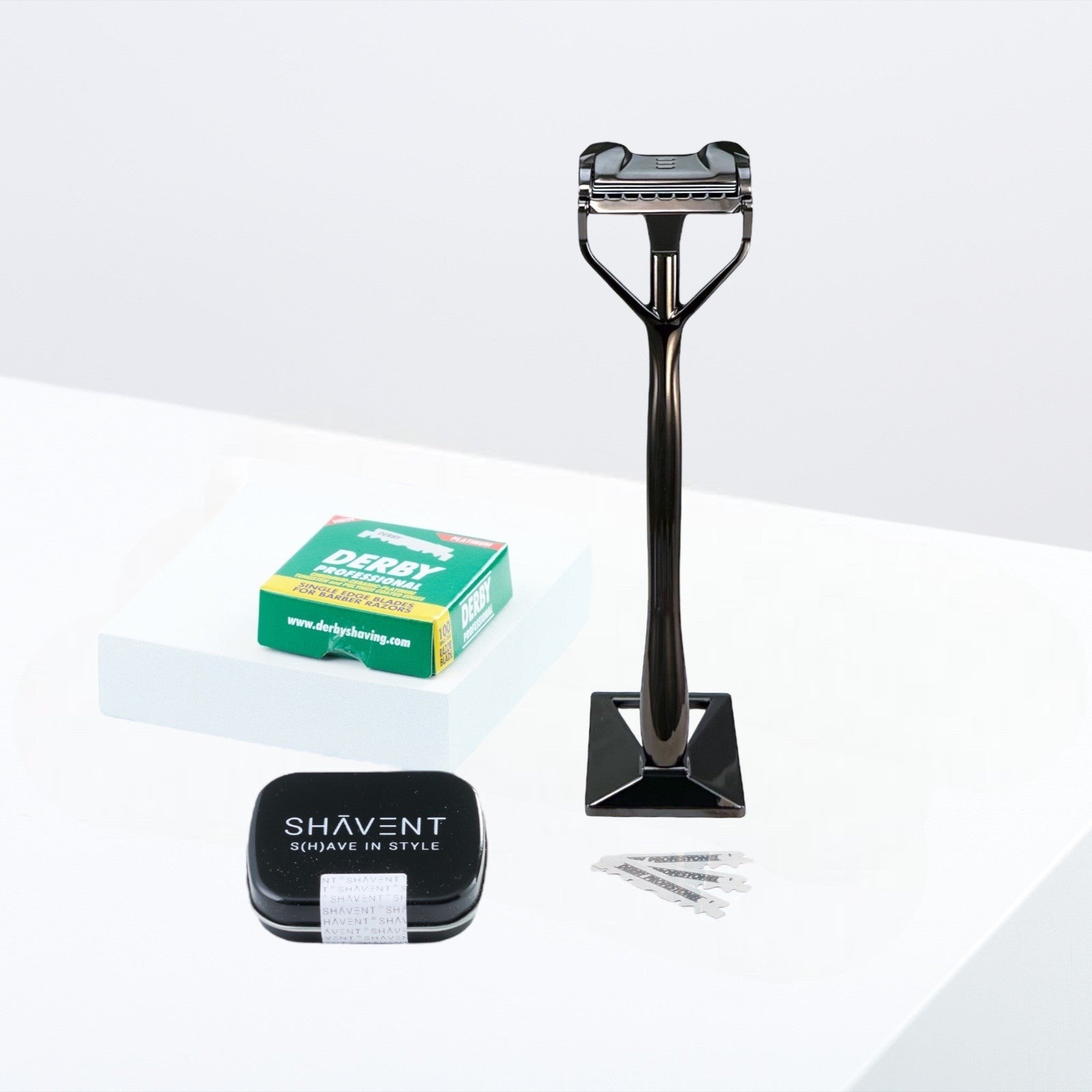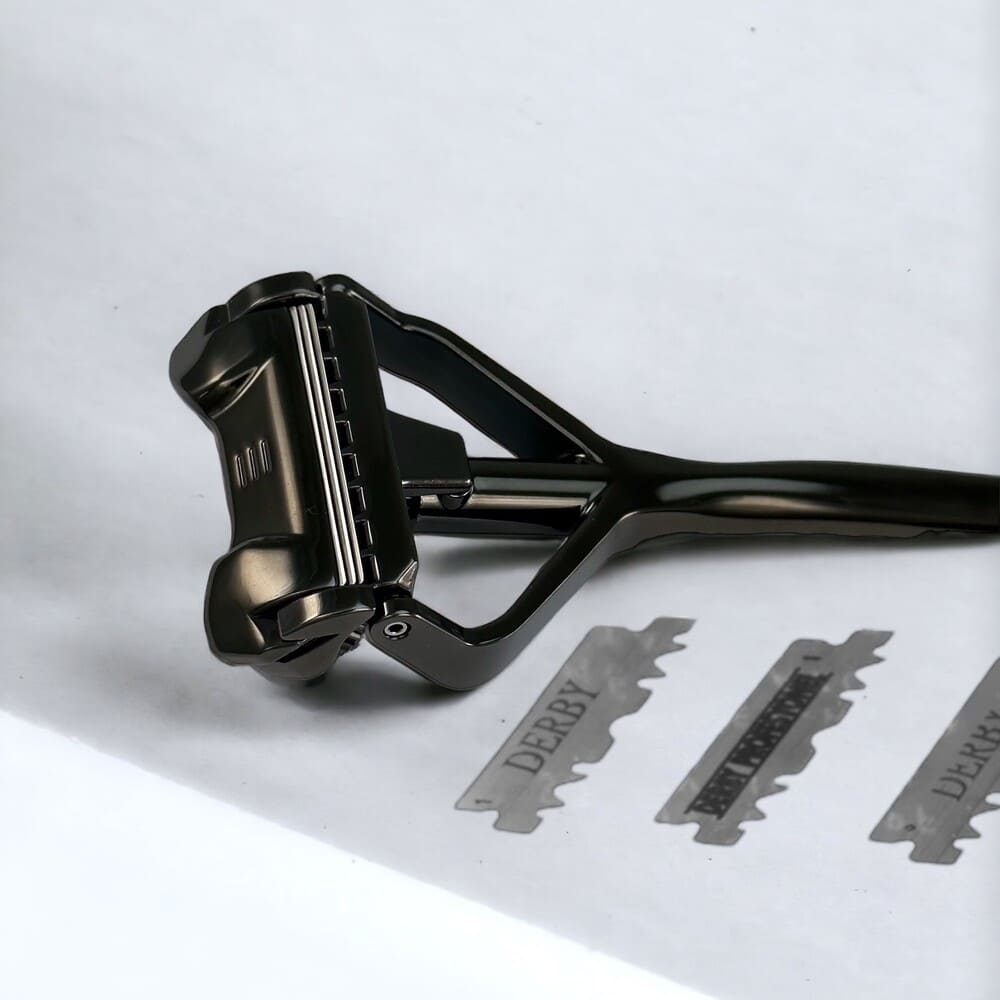 All-round set SHAVENT swing head razor, incl. razor blades & collection box
In stock, with you in 1-4 days
Satisfied or your money back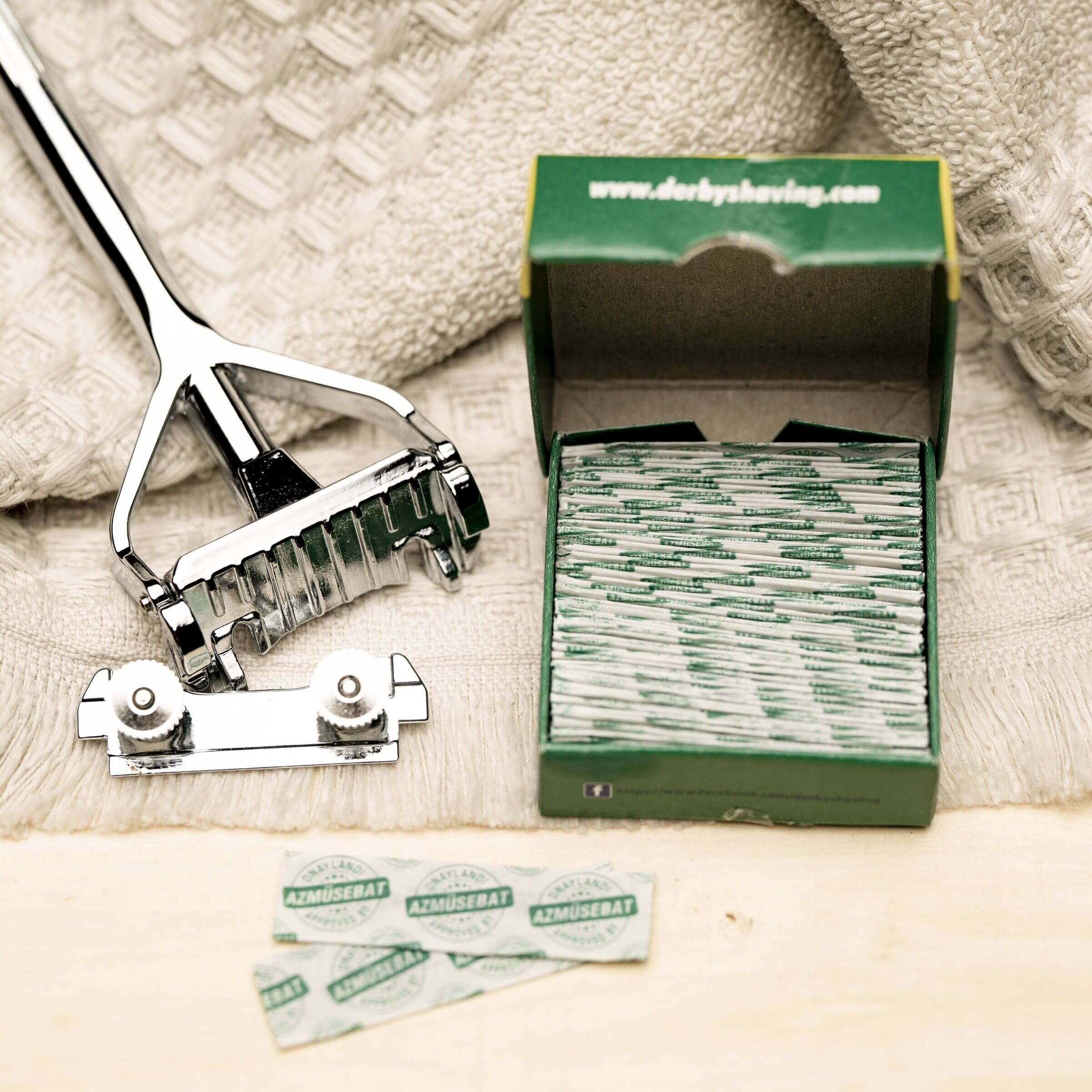 All-round set SHAVENT swing head razor, incl. razor blades & collection box
The all-round set for our SHAVENT 3-blade wet razor with flexible head - it gives you the gentle, thorough shave you love and saves tons of plastic!
In the all-round set you get the long-lasting SHAVENT razor including a matching base, a supply of standard razor blades for 33 x changes and a blade collection box in which you can safely store used razor blades until they are disposed of.
Your advantages with SHAVENT:
✅ Completely plastic-free
✅ Flexible head for a gentle and thorough shave from head to toe
✅ Inexpensive standard blades instead of long-term expensive, waste-causing blade cartridges
✅ Durable, valuable, Made in Germany
✅ No risk: 30 Day Money Back Promotion
Your perfect, gentle shave for face & body, for men, women, everyone | elegant, sustainable & 100% plastic-free | Made with love in Germany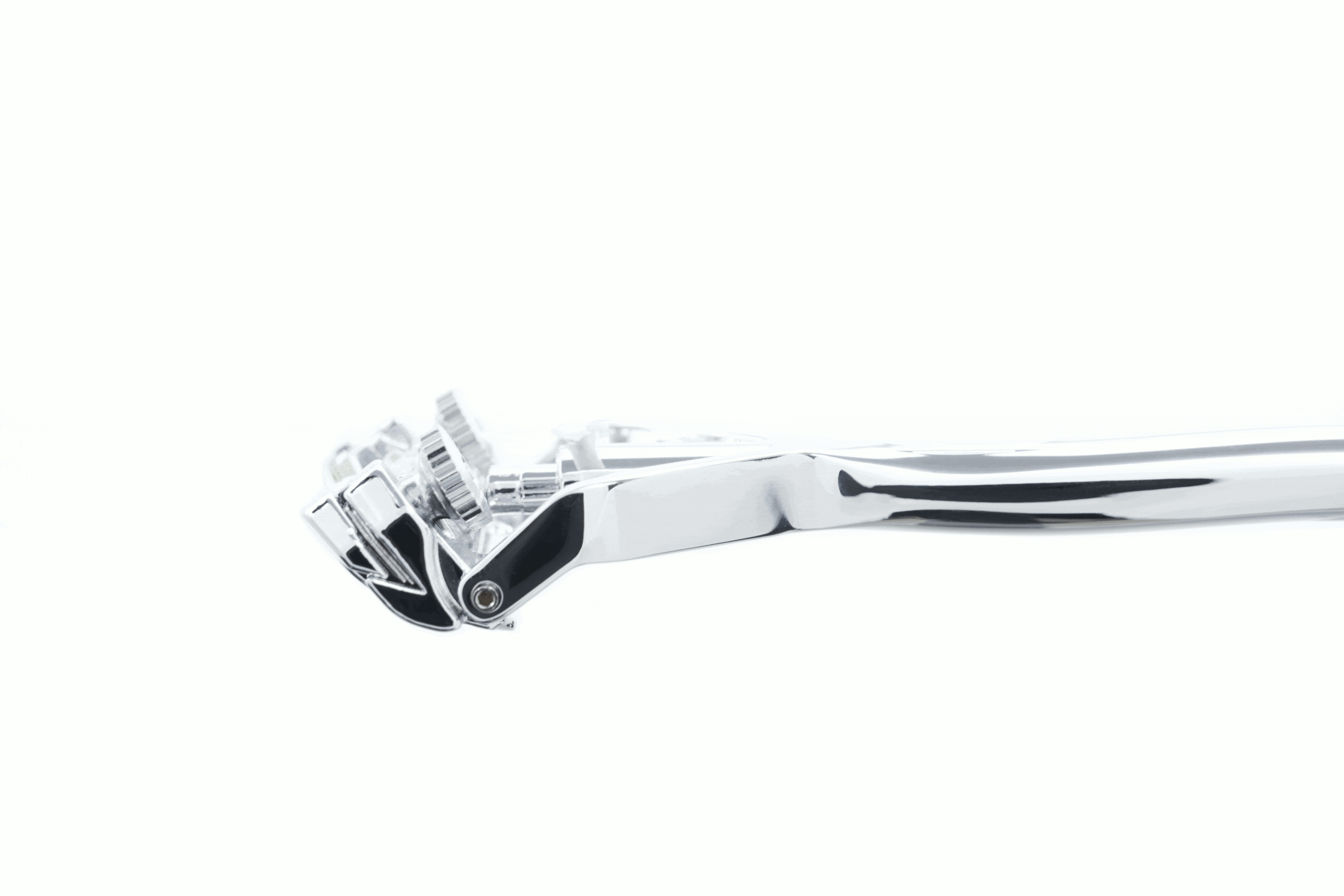 Metal shaving made flexible
Flexible swing head, safe shave
The SHAVENT flex head maneuvers easily around all contours, both on the face and on the body, even in sensitive areas.
It holds three standard razor blades for a balanced, direct and safe shave without skin irritation.
Due to its valuable weight, you need less pressure for a very thorough shave and protect your skin.
The razor is really great. The shave is very comfortable and with significantly less skin irritation than with conventional razors. Highly recommended at any time!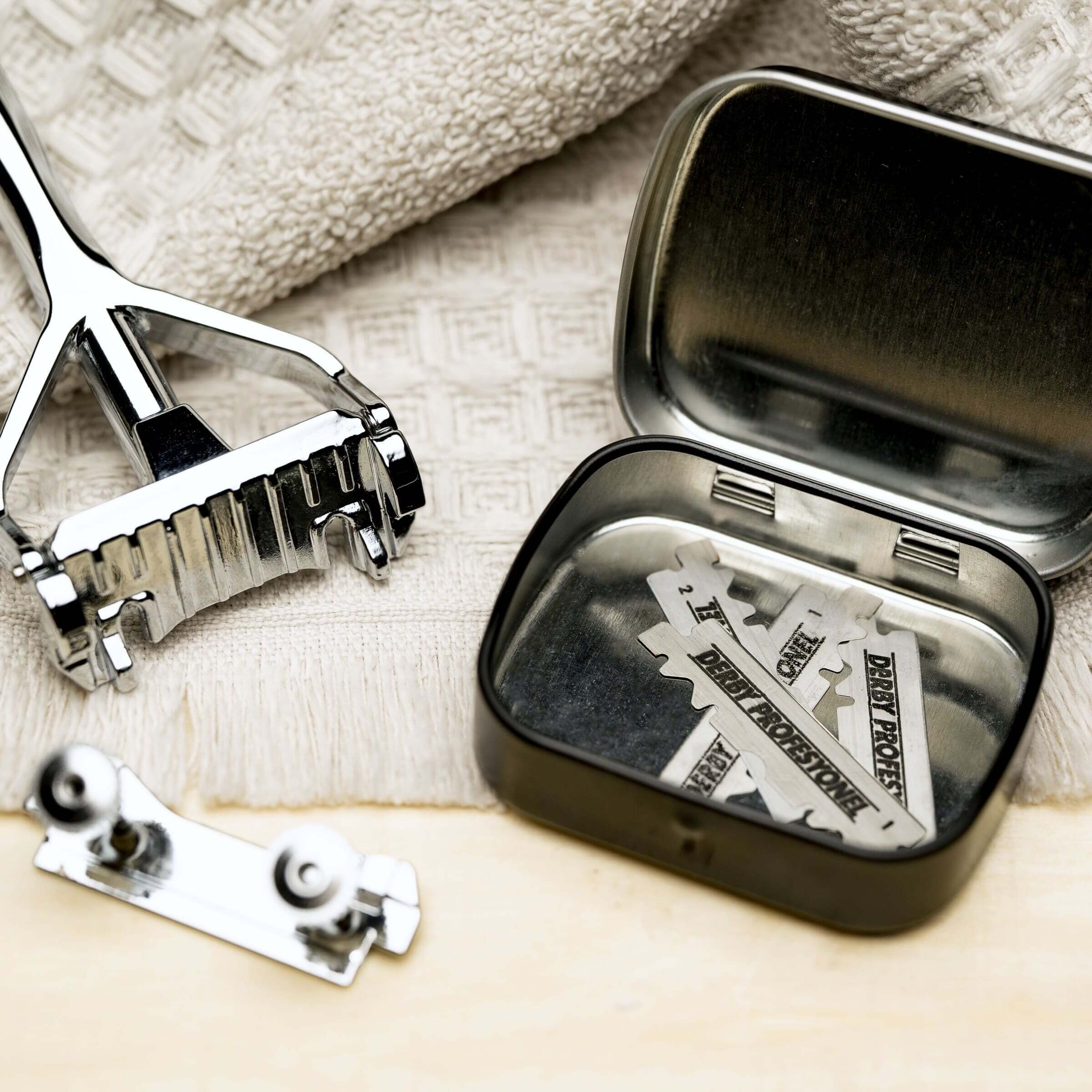 Independent
Cost-effective standard blades, more freedom
The SHAVENT uses classic razor blades. So you can choose the blade brand freely and thus independently of us.
The so-called half-blades have been used in straight razors for decades and are therefore available from many manufacturers online and in specialist shops.
At Costs from 15 cents per blade change and no more plastic waste, so you can treat yourself to fresh blades more often.
Brilliant! Finally a great shave without having to buy overpriced blades!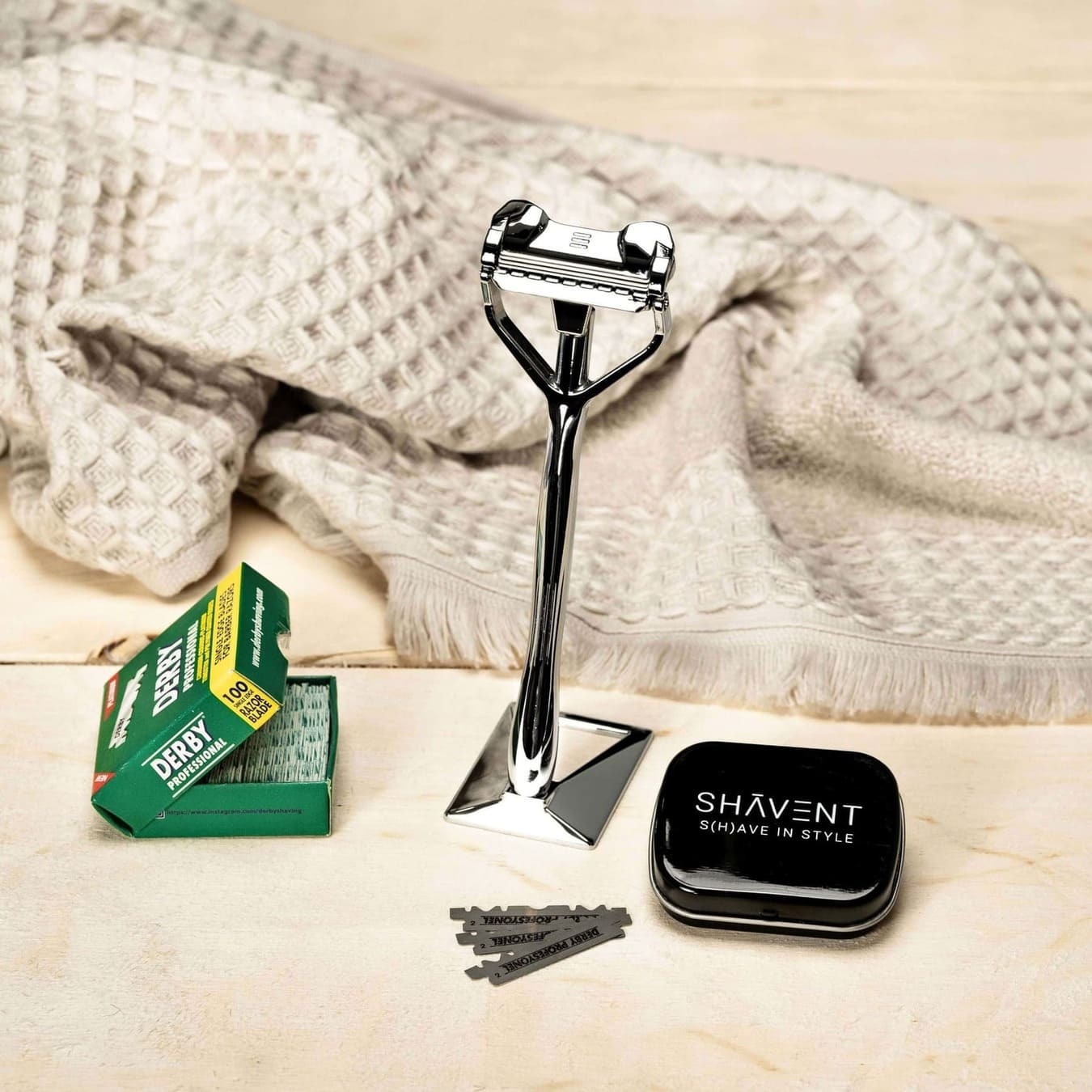 The all-round set is our recommendation for anyone looking for the perfect start to a plastic-free shave from head to toe - whether face or body, with the derby blades in the SHAVENT all-round set you are well looked after for all parts of the body. They are wonderfully thorough and yet so gentle that they safely circumnavigate one or the other skin imperfection.
In the set, you get the compact supply of blades for the first 33 changes, which can easily be accommodated in even the smallest drawer.
Less pressure. full of comfort
You can use the SHAVENT on the face and all over the body.
Just start with less pressure as before. Rule of thumb: with a plastic razor you press as you would when writing with a ballpoint pen, with the SHAVENT just as you would when writing with a fineliner / soft tip. 
Use the SHAVENT always on wet skin with a gentle lather - a shower gel is often sufficient, but you can use the SHAVENT with all shaving products that you use with other razors: gel, soap, foam - the main point is the "slip". For that extra portion of shaving care, we have our SHAVE & SHOWER shaving care products in our shop. 
You can change the blades just as often or as little as you have been doing so far. We always recommend changingwhen the shave no longer feels as smooth as it did in the beginning - because sharp blades are the best prevention of skin irritation. 
Technical data shaver:
Measurements: 15 cm long
Weight: razor approx. 85 g
Material: zinc chrome plated
Blade type: Standard half-blades, available from many brands, see for example HERE
safety notice
As with every razor, the same applies to the SHAVENT: please always be careful - razor blades are known to be razor sharp! Keep razors and blades out of the reach of children or anyone who is not familiar with razor blades.
You can find more information on safety and care HERE
Note: Decoration on photos not included, see "scope of delivery"
The all-round set contains:
the elegant SHAVENT swing head razor, incl. 6 Derby Professional Single Edge razor blades
High-quality matching foot for elegant storage in the bathroom INCLUDED
A pack of Derby Professional blades (100 pieces, enough for 33 changes)
Our SHAVENT blade collection box - you can safely store used blades in this
Do you still have questions about SHAVENT?
Then look at ours FAQ drop by or write to us about our contact form - we are happy to advise you!
Usage
Thanks to the smooth-running flex head, the SHAVENT offers a safe, thorough and gentle shave for the face, head and body, including the intimate area, for both men and women.
As a metal razor, the SHAVENT lies comfortably in your hand with a weight of approx. 85 grams - this means that you need significantly less pressure when shaving to achieve a perfect shave.
As a rule of thumb: with a plastic razor you press as you write with a ballpoint pen, with a metal razor you only use the same pressure as you write with a Stabilo pen / fineliner.
The SHAVENT is a wet razor - like all wet razors, it should not be used on dry skin, as this irritates the skin unnecessarily and does not provide a good shave.
The skin should always be wet and a lubricating aid such as shaving foam or simply shower gel should be used - this is how the SHAVENT glides optimally over the skin.
Vary your usual vertical shaving line a little under the nose and shave under the nose across instead of lengthways, with light pressure from below on the nostrils - this way you should be able to reach every part of the skin.
Razor blades
The SHAVENT uses standard razor blades. The so-called half blades or "single edge blades" have been used in razors for decades and there are many brands available to buy at low cost in our shop, on the large online marketplaces and in specialist shops. Each blade change costs only a few cents instead of many euros.
The SHAVENT is designed as a 3-blade razor. It offers an optimally balanced skin contact.
However, it can also be used very well with one or two blades.
The blades can be changed in a few simple steps. Simply loosen the knurled nuts, remove the head and insert new blades alternating with the spacers.
Order & Satisfaction
We offer a variety of easy and secure payment methods including PayPal, Credit Card, Amazon Pay, Apple and Google Pay and invoice via Klarna.
You can also order pay in advance at the checkout in the online shop.
We ship with DHL / Deutsche Post domestically and abroad.
Quite simply: take some time to try the SHAVENT shave - not satisfied? Then write to us within 30 days, send the SHAVENT back free of charge and get your purchase price refunded. You can find more details HERE.
No, nothing on the SHAVENT can rust.
If you should see slight brownish traces when changing the blade for the first time, then don't worry: these are deposits from the tap water and skin particles that can be easily removed with your finger.
You can also find all the details in this blog article.
Rundum zufrieden
Ich hatte Shavent schon lange am Radar, allerdings noch jede Menge Mach3 Klingen zu verbrauchen
Der Umstieg war problemlos und gefühlt rasiere ich jetzt gründlicher als je zuvor
Ein super Produkt
Ich vergebe nur sehr selten eine Spitzenbewertung, ich gratuliere und werde Shavent weiter empfehlen
Genial!
Hätte nicht gedacht das dieses Produkt meine Rasur nochmal so viel glatter macht!
Rundum-Set: SHAVENT Original Schwingkopf-Rasierer, inkl. 100 Klingen & -sammeldose
Toller Rasierer
Ich benutze seit vielen Jahren einen Rasierhobel für meine Nassrasur. Mit dem Shavent kann ich mich jetzt viel leichter rasieren, die bislang normalen kleinen Hautschnitte passieren nicht mehr. Die Rasur ist gefühlt auch gründlicher. Das Handling unter der Nase ist anders, aber auch kein Problem.
Ich kann Shavent definitiv weiterempfehlen!
Hey Du, vielen Dank für Deine positive Bewertung! Wir freuen uns total, dass der SHAVENT Deine Nassrasur erleichtert und die Hautschnitte der Vergangenheit angehören. Du wirst sehen, je mehr du ihn benutzt, desto mehr wirst du ihn genießen. Auch unter der Nase :) Ich wünsche Dir weiterhin viele happy Rasuren! Viele Grüße, Ilaria von SHAVENT