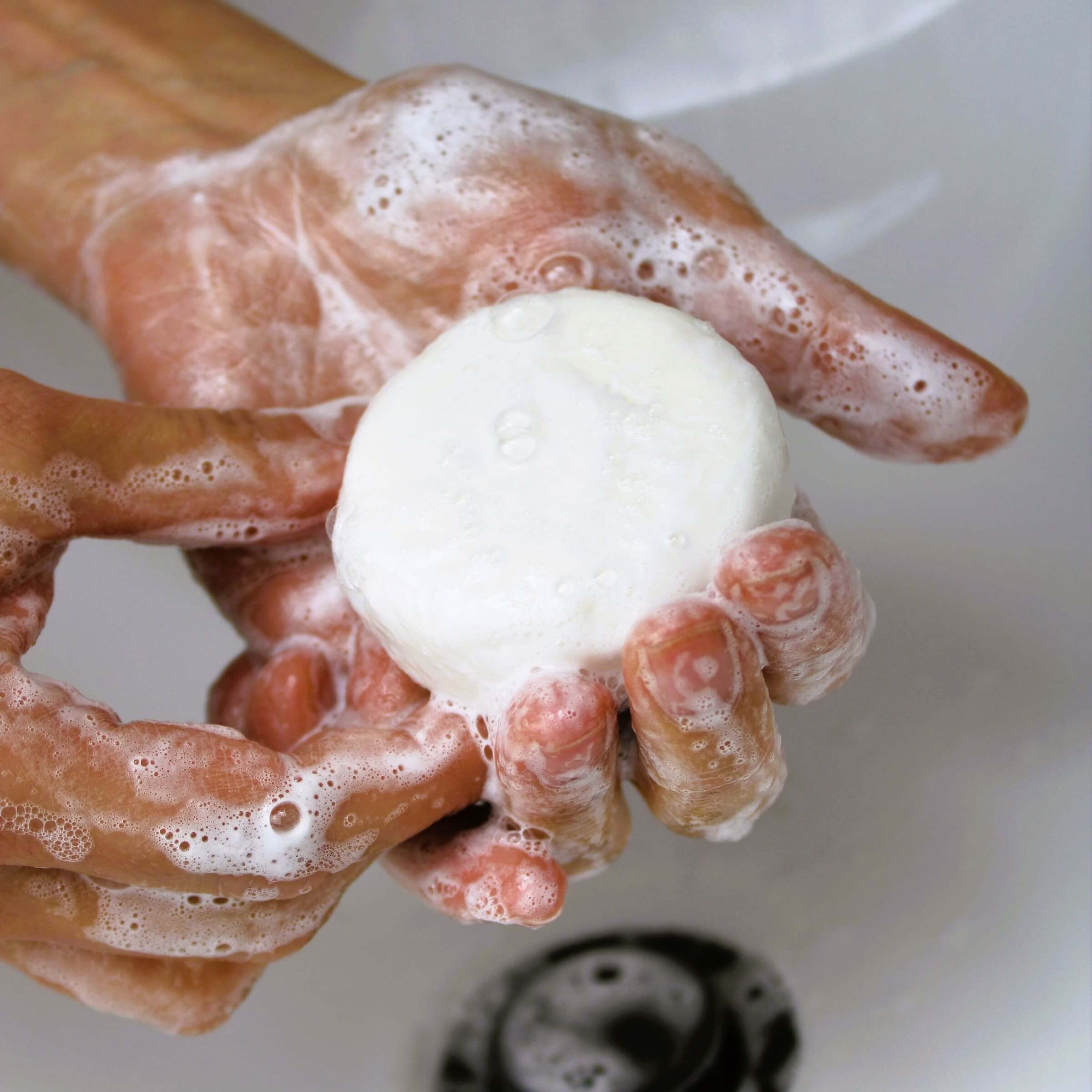 Set 3 x SHAVE & SHOWER - Solid Shaving Bar
In stock, with you in 1-4 days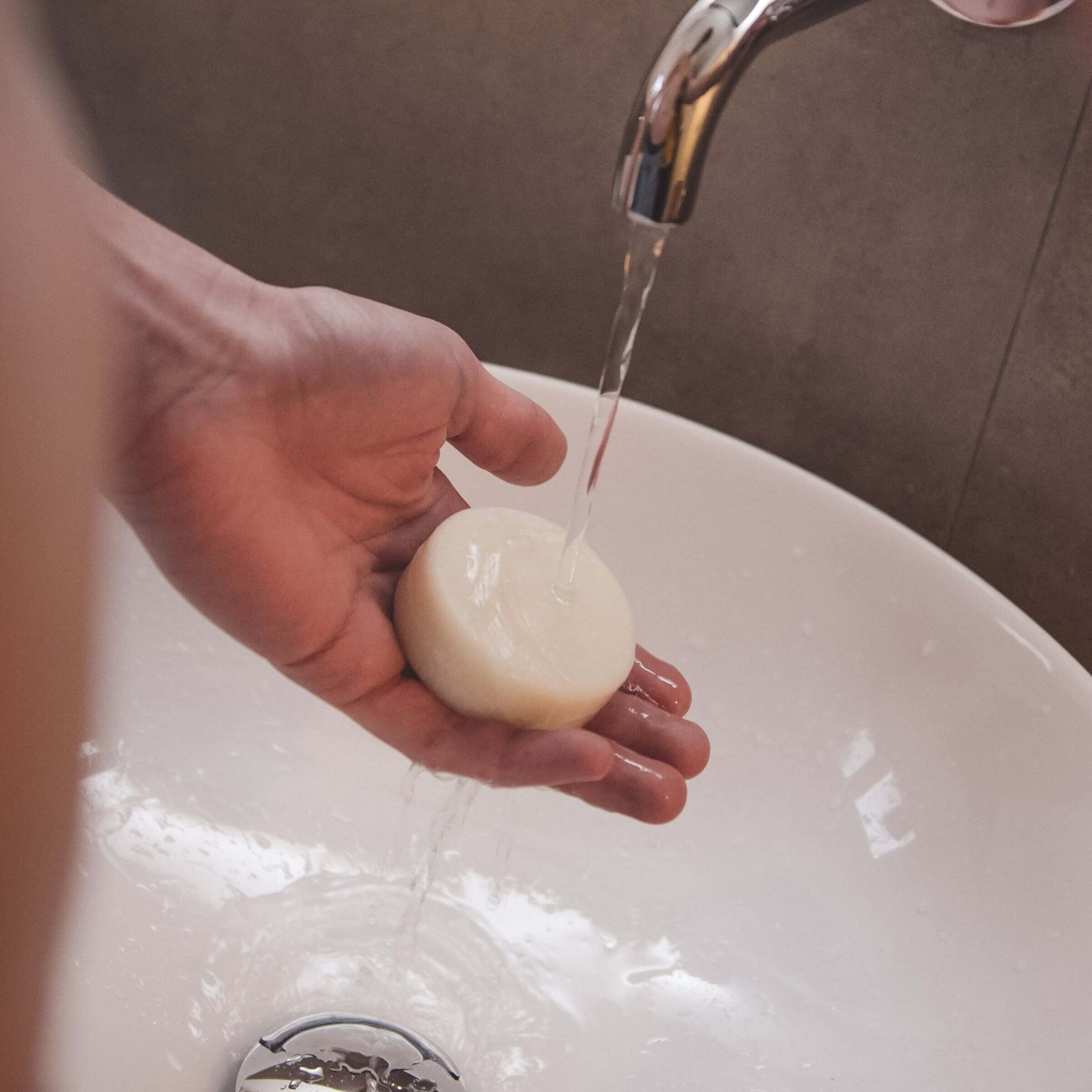 SHAVE & SHOWER
2in1 Shaving Care
The rich care in shaving soap form for your plastic-free shaving experience from head to toe
This is why you will love the SHAVENT Solid Shaving Bar:
✅ Perfect smooth base for your plastic-free shave
✅ Suitable for shaving all over the body, including sensitive areas
✅ Rich, soap-free care that does not dry out your skin
✅ Creamy foam, fresh & subtle scent of a gentle mountain breeze
✅ Plastic-free, mineral oil-free, vegan, GMO-free
Rich shaving care, whether face or body - for men, women, everyone
FOR YOUR SHAVE
The special twist
Our SHAVENT Solid Shaving Bar is not a "normal" shaving soap.
Because normal shaving soaps have always left our skin feeling dry and tight. That's why we developed the SHAVE & SHOWER BAR to be soap-free and pH-neutral to the skin. So it does not attack the natural protective barrier of your skin and leaves a well-groomed, smooth feeling long after the shave.
Thanks to its soap-free, pH-neutral formula, it also gently cares for sensitive skin, even while you are shaving.
Enjoy like that creamy foam the SHAVE & SHOWER BAR Makes your SHAVENT shave even gentler from head to toe and provides your skin with rich moisture. The bar brings you the valuable care of peach butter and sweet almond oil, packed in subtle scent of a clear breeze in the Alps.
---
Particularly suitable for shaving with a metal razor such as the SHAVENT - the fresh blades glide gently over every skin area without any rubber or "gliding strips".
---
Enjoy the subtle scent of a clear alpine breeze.
For face and body, for men, women, everyone - just like the SHAVENT itself, our SHAVE & SHOWER series is unisex with its care and its gentle, clear fragrance. The valuable ingredients care for all types of skin and also prevent razor burn and skin irritation on all parts of the body, from head to toe - even on sensitive areas.
Made with ❤️ in Italy.
You can lather the Solid Shaving Bar by hand or with a brush - at the sink or simply under the shower. Apply the foam to the area of skin to be shaved, rinse off the soapy hand briefly and shave gently and safely. Rinse with cool water after shaving, done!
Enjoy the fresh, clear scent of a mountain breeze every day!
No shave today? the SHAVE & SHOWER Solid Shaving Bar is also wonderfully cleansing and caring as a solid shower gel and facial soap.
---
Store in a cool, dry place before using for the first time. Once used, use up the soap quickly.
3x 75g, 6.5cm diameter
Razor, bowl and other decoration not included
Included are:

3x SHAVENT Solid Shaving Bar
Other decorations are not included
Dimensions:
Diameter: 6.5cm
Weight: 3x 75g
This is what the SHAVENT Solid Shaving Bar contains:
Sodium Coco-Sulfate (C 12-18) - Surfactant based on coconut oil known from natural cosmetics - mild cleaning
Citric Acid - Citric acid - regulates pH
Sodium Chloride - Table salt - supports the consistency of the shaving bar
Glycerin - Vegetable moisturizer
Prunus Almond Sweet Oil - Sweet almond oil - nourishing, moisturizing, soothing
Oryza Sativa Starch - Rice starch - provides a creamy consistency of the foam
Prunus Persica Kernel Oil - Component of peach butter - Makes the skin smooth and supple
Carrageenan - Carbohydrates from red algae - ensures a creamy consistency of the foam
Hydrogenated Vegetable Oil - Component of peach butter - Makes the skin smooth and supple
Bisabolol - from chamomile oil - soothing, calming
Helianthus Annuus Seed Oil - Sunflower oil - antioxidant, anti-inflammatory
Tocopherol - Vitamin E, cell protection, also supports the regeneration of the skin
Calendula Officinalis Flower Extract - Calendula extract, nourishing, soothing
Scent - Fresh smell
INGREDIENTS: SODIUM COCO-SULFATE, CITRIC ACID, SODIUM CHLORIDE, GLYCERIN, PRUNUS AMYGDALUS DULCIS OIL, ORYZA SATIVA STARCH, PARFUM, PRUNUS PERSICA KERNEL OIL, CARRAGEENAN, HYDROGENATED VEGETABLE OIL, BISABOLOL, HELIANTHUS ANNUUS SEED OIL, TOCOPHEROL, CALENDULA OFFICINALIS FLOWER EXTRACT
Do you still have questions about SHAVENT SHAVE & SHOWER shaving care?
Then look at ours FAQ drop by or write to us about our contact form - we are happy to advise you!
Super Rasierseife
Die Inhaltsstoffe sind super und ein Schaum lässt sich mit der Seife ebenfalls gut aufschlagen.
Lieber Moritz, vielen Dank für deine Bewertung! Es freut mich sehr zu lesen, dass Du mit unserer Rasierseife sehr zufrieden bist. Ich wünsche Dir weiterhin viele glatte Rasuren! Viele Grüße, Ilaria von SHAVENT
Ziemlich gut
Ergiebig und hautschonend, schäumt aber etwas schwer auf. Großer Vorteil, es gibt fast keine Rückstände auf dem Metall des Rasierers und den Klingen.
Lieber Uwe,
dank für Dein tolles Feedback. Es freut mich sehr zu lesen, dass Du extrem zufrieden bist <3
Zum Geweicht : Erfahrungsgemäß kann ich Dir sagen, dass sich unsere Kunden schon nach einiger Zeit an das 'neue' Gewicht des SHAVENT gewöhnt haben und es dann bei den Rasuren gar nicht mehr auffällt :).
Liebe Grüße, Lorenza von SHAVENT
Die Seife ist zwar angenehm cremig, allerdings auch zu wenig kompakt. Obwohl meine Seifenschale Auflagenoppen hat, die ein ankleben der Seife verhindern soll, zerfällt die Seife beim Herausnehmen.
Sehr guter Rasierschaum
Der Shavent- Rasierer gleitet mit diesem Rasierschaum wie "geölt" über die Haut. Auch nach der Rasur fühlt sich die Haut wie eingecremt an. Und: der Shavent - Rasierer bleibt nach dem Abspülen mit Wasser sauber. Mit anderen Rasierseifen bildete sich immer nach kurzer Zeit ein weißer Film auf dem Rasierer, der nur aufwendig zu entfernen ist. Tip: Man sollte den Rasierpinsel vor dem Aufschäumen nicht zu nass machen, dann wird der Schaum etwas fester und cremiger.
Lieber Klaus,
vielen Dank für Dein wunderbares Feedback! :) Das klingt großartig und freut uns wirklich sehr zu hören, dass Dich der SHAVENT begeistern konnte und dass Dein Rasiererlebnis und Rasierergebnis sensationell ist.
Danke für den Tipp mit dem Rasierpinsel – etwas fester und cremiger Schaum ist immer eine gute Sache!
Ich wünsche Dir noch viel Spaß mit unserem SHAVENT!
Liebe Grüße,
Lorenza von SHAVENT