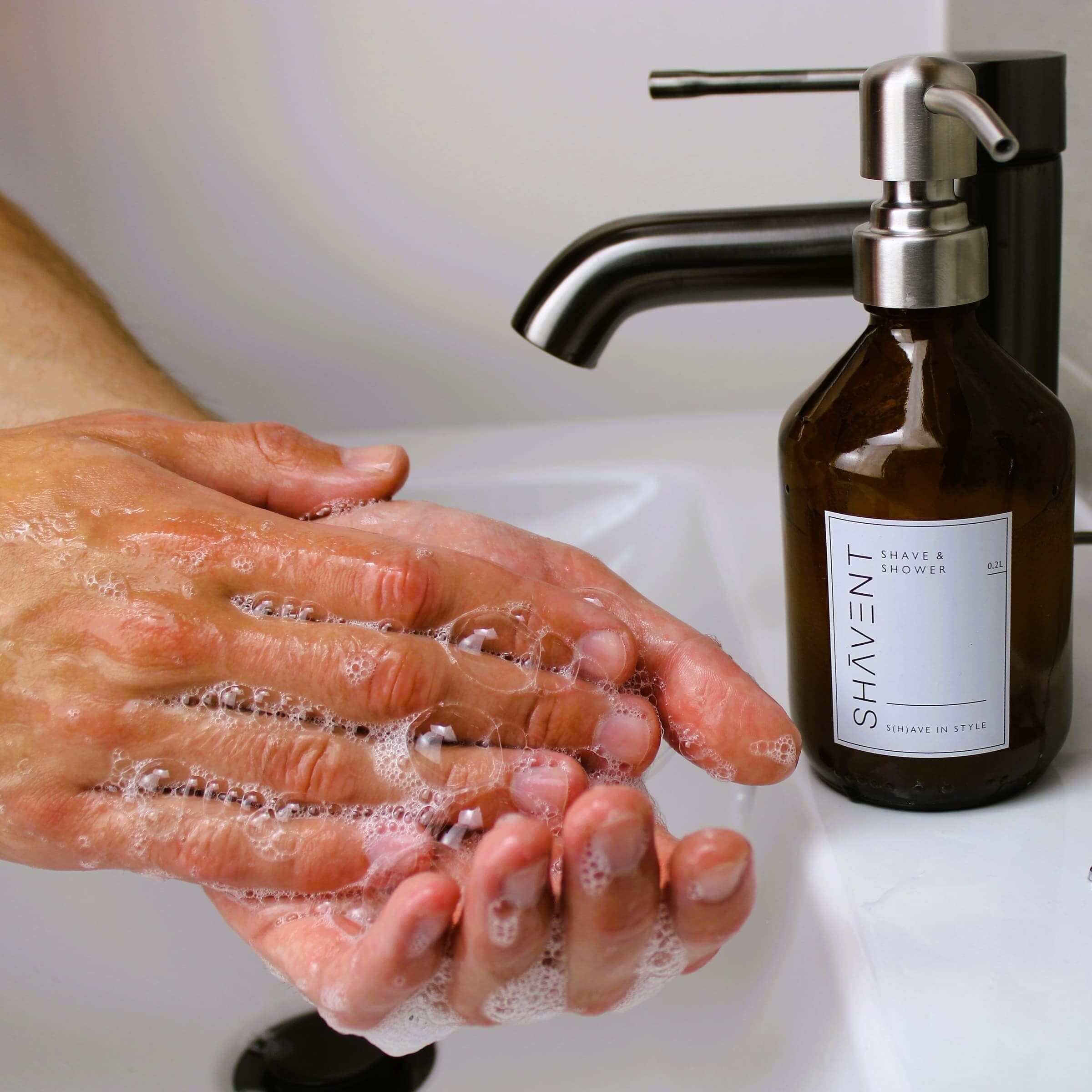 Set: 3x SHAVE & SHOWER - Shaving Gel
In stock, with you in 1-4 days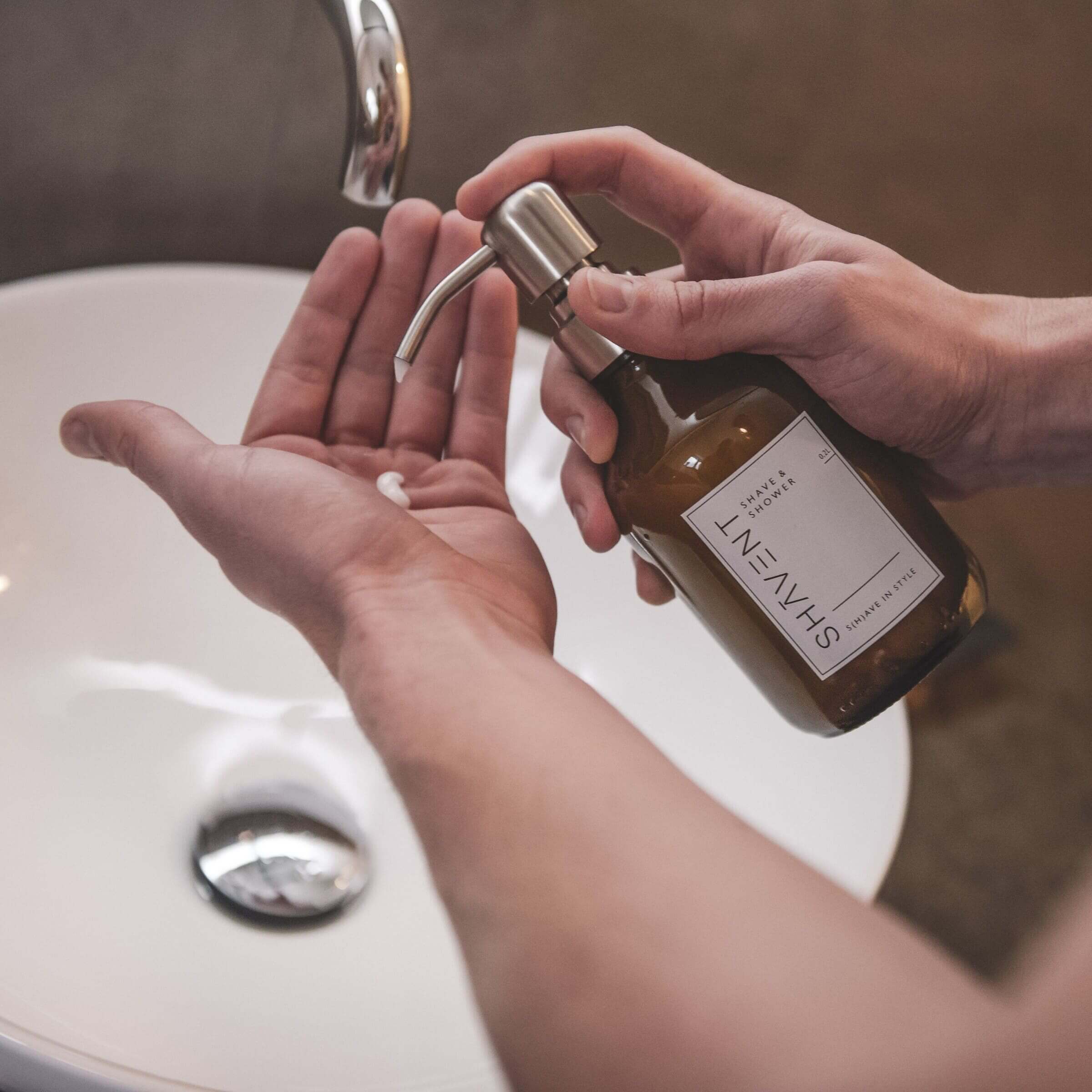 SHAVE & SHOWER
2in1 Shaving Care
Your light shaving gel for face and body - in a set of 3
This is why you will love the SHAVENT Shaving Gel:
✅ Fine shaving gel
for your plastic-free shave - quickly applied, quickly rinsed off, especially practical in the shower
✅ Light, soap-free care that does not dry out your skin - also perfect as a shower gel
✅ Suitable for shaving all over the body, including sensitive areas
✅ No cans, no plastic packaging, space-saving stock - simply make powder into gel with water in the soap dispenser
✅ Plastic-free, mineral oil-free, vegan, GMO-free
Light shaving gel with a subtle, clear scent of cleanliness - nourishing from head to toe - for men, women, everyone
FOR YOUR SHAVE
The special twist
Do you like it easy and quick to shave without sacrificing care? Then our shaving gel is just right for you!
The fine shaving and shower gel is the perfect companion for your plastic-free shave, whether face or body.
With its light texture, it can be applied effortlessly to large areas and rinsed off quickly and easily - even from your hands, so that your SHAVENT fits your hand even better!
The SHAVENT Shaving Gel is soap-free and pH-neutral. It also cares for and soothes sensitive skin, even while shaving.
As a nourishing film on the skin it ensures optimal gliding of the blades, without a big "foam party", and at the same time calms: it is pH skin-neutral with nourishing wheat protein extract, which protects the natural acid layer of your skin and makes the hair to be shaved softer. Valuable betaine also soothes sensitive skin and preserves moisture.
By the way: thanks to the caring properties of the wheat protein, the gel is also ideal as a beard shampoo / beard wash.
---
Enjoy the subtle scent of cleanliness.
For face and body, for men, women, everyone - just like the SHAVENT itself, our SHAVE & SHOWER series is unisex with its care and its gentle, clear fragrance. The valuable ingredients care for all types of skin and also prevent razor burn and skin irritation on all parts of the body, from head to toe - even on sensitive areas.
---
Canned shaving gel? Pah, nobody needs that much packaging waste!
The shaving gel highlight for your plastic-free shaving experience comes to you in powder form in paper. Simply mix with water and you have 200 ml of fine shaving gel.
Made with ❤️ in Germany.
Preparation: How to turn powder into gel
~ Pour 200ml of water into an empty bottle (soap dispenser) that is at least 250ml in size.

Add a sachet of Shave & Shower Gel powder and close the bottle.

Shake & wait 3 min. Your shaving gel is ready.
Note: Bottle may foam over.
16g powder for ~200ml gel
Pro tip: the gel is very economical - try it with a little more water to get even more shaving pleasure out of every bag.
---
Application:
Simply apply to wet skin like shower gel, shave, rinse off, done!
Enjoy the fresh clear scent of cleanliness every day!
No shave today? Use it as a mildly cleansing and caring shower gel and enjoy the gentle cleansing every day!
P.S.: even if you haven't switched to the SHAVENT yet, the SHAVE & SHOWER shaving gel with its light texture is a perfect plastic-free companion for your shave.
Store in a cool, dry place, use up the finished shaving gel quickly.
Included are:

3 bags of SHAVENT shaving powder for mixing up to 200ml shaving gel each
Other decorations are not included
Dimensions:
Height: 14.5cm
Weight: 3x 16g
This is what the SHAVENT Shaving Gel Powder contains:
Sodium Coco-Sulfate (C 12-18) - Surfactant based on coconut oil known from natural cosmetics - mild cleaning
Sodium lauryl sulfoacetate - Surfactant based on coconut oil known from natural cosmetics - mild cleaning, foaming
Cyamopsis tetragonoloba gum - Guar Gum - Consistency and film formation on the skin
Xanthan Gum - Gel former - Moisture and consistency enhancer
Citric acid - Citric acid - regulates pH
Hydrolyzed wheat protein - Wheat Protein Extract - Moisturizes, softens hair (Hydrolyzed Wheat Protein is also applicable on the skin for people with gluten intolerance or celiac disease.)
Sodium Benzoate - Light preservative against germ development
Potassium Sorbate - Potassium salt of sorbic acid, protects cosmetic products from microbial spoilage
Prunus sweet almond oil - Sweet almond oil - nourishing, moisturizing, soothing
Betaine - Vegetable component from the sugar beet. Very mild raw material that protects the skin from drying out and soothes and reduces skin irritation.
Perfume - Fresh smell
INGREDIENTS: SODIUM C 12-18 ALKYL SULFATE, SODIUM LAURYL SULFOACETATE, CYAMOPSIS TETRAGONOLOBA GUM, XANTHAN GUM, CITRIC ACID, HYDROLYZED WHEAT PROTEIN, SODIUM BENZOATE, POTASSIUM SORBATE, PRUNUS AMYGDALUS DULCIS OIL, BETAINE, PARFUME
Do you still have questions about SHAVENT SHAVE & SHOWER shaving care?
Then look at ours FAQ drop by or write to us about our contact form - we are happy to advise you!
Eine gute Ergänzung
Das Shave & Shower Rasiergel wird von mir zwar nicht "under the shower" sondern als normales Rasiergel bei der regelmäßigen Rasur meines Bartes genutzt, doch dabei hat es sich bewährt, so dass ich es nun erneut bestellt habe. Der damit aufgeschlagene Schaum sorgt für ein angenehmes Rasurerlebnis und der neutrale Duft verträgt sich auch mit anderen Produkten, wenn ich sie denn überhaupt zusätzlich einsetzen möchte. Alles in allem, ich bin sehr zufrieden.
Ich bin sehr zufrieden.
Lieber Klaus-Thomas, herzlichen Dank für Dein erneutes Vertrauen in unser Shave & Shower Rasiergel! Es freut mich sehr zu hören, dass die Schaumtextur und der Duft zu einer angenehmen Rasur beitragen. Ich wünsche Dir noch viele wunderbare Rasuren! Viele Grüße aus München, Ilaria von SHAVENT
Sehr gut, schnelle Lieferung - teuer
Ich mag den Rasier"schaum" von Shavent wirklich sehr gern, nutze ihn und habe mich entschlossen, ihn erneut zu kaufen. Aber dass dieses Pulver derart teuer ist, erschließt sich mir nicht…
Rasiergel
Das Rasiergel ist einfach zum mischen mit Wasser und zum rasierern einfach genial. Es kühlt sanft und der Rasierkopf gleitet super über die Haut. Vielen Dank für das super Produkt, werde es sicher immer wieder kaufen weil es auch noch nachhaltig ist. 😍
Danke für diese ehrliche und super schöne Bewertung, lieber Thomas! Du kannst Dir gar nicht vorstellen, wie froh ich bin, zu lesen, dass Du von unserem Rasiergel begeistert bist, es ist ein Produkt, dem wir so viel Liebe und Mühe investiert haben. Ich wünsche Dir von ganzem Herzen, dass der SHAVENT und unser Rasiergel Dir noch lange begleiten werden! :) Viele Grüße, Ilaria von SHAVENT
Gutes Produkt
Gutes Produkt und zu empfehlen. Es könnte aber etwas mehr Schäumen und der Schaum auch etwas länger halten.
Lieber Roland,, herzlichen Dank für Dein Feedback zum Rasiergel. Wenn Du mehr Schaum wünschst, probier doch gern einmal unsere Rasierseife aus. Diese kannst Du mit einem Pinsel, oder Deiner Hand ganz schaumig rühren. Beste Grüße, Tamara