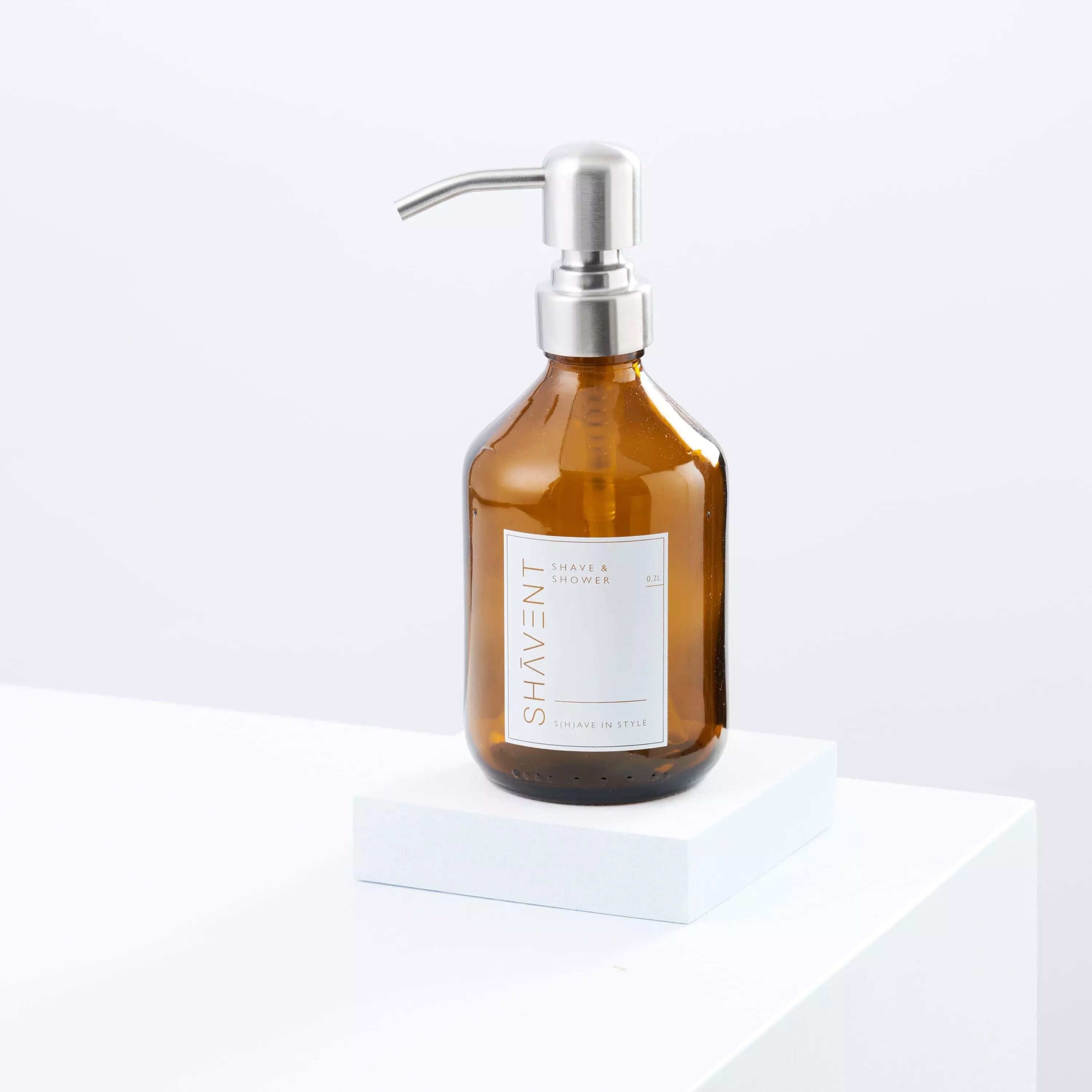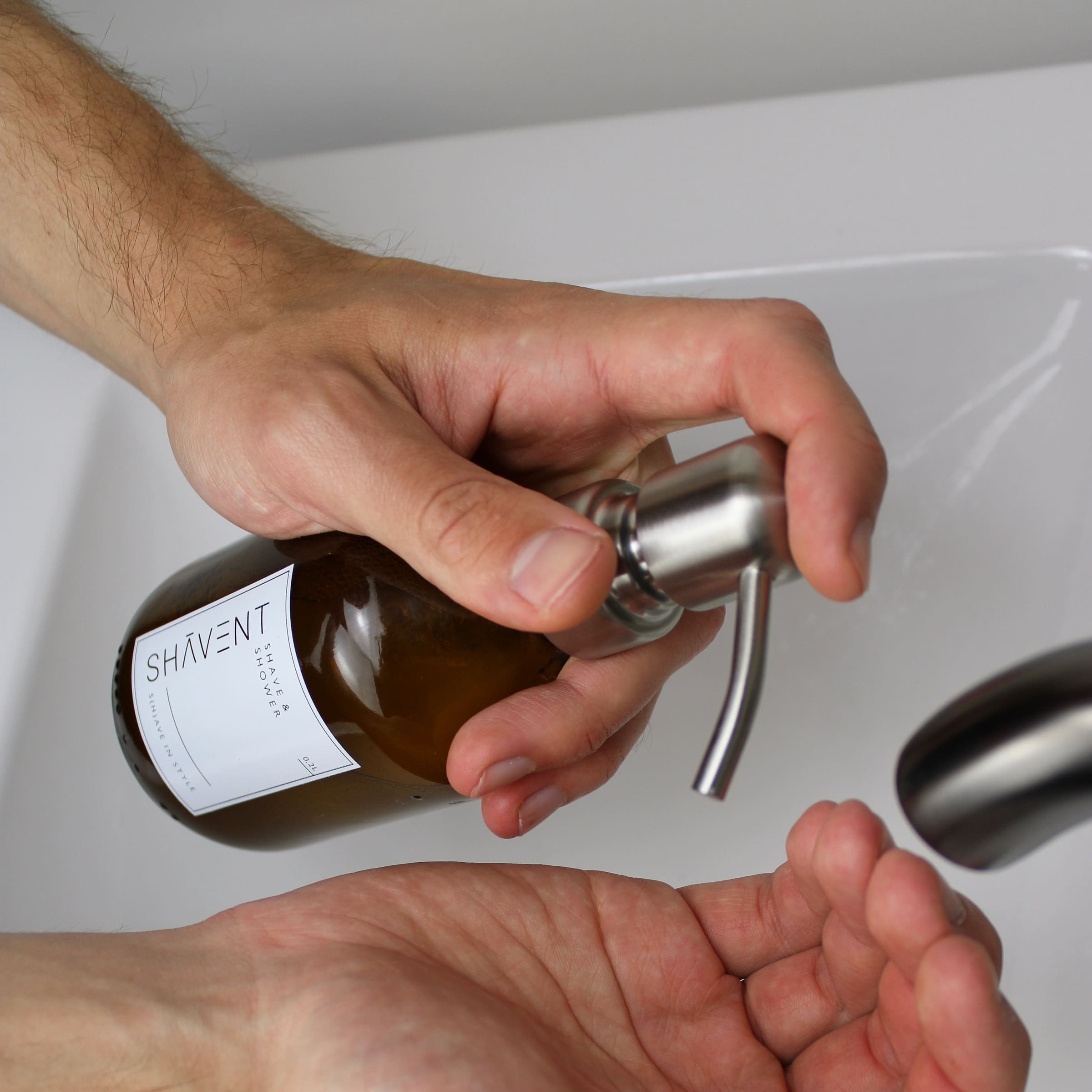 SHAVENT shaving gel dispenser - glass bottle with pump dispenser
In stock, with you in 1-4 days
Accesories
Jars/ Dispenser and Other Accessories
Elegant, durable, practical: with the high-quality pump dispenser from SHAVENT, you always have your shaving gel at hand and save yourself and the environment unnecessary packaging

That's why the SHAVENT shaving gel dispenser fits perfectly in your bathroom:
✅ the perfect size to shake up your Shave & Shower Gel
✅ practical and decorative, in the shower, on the sink and in the bath
✅ no more disposable plastic or disposable spray cans for your shaving care
✅ elegant glass bottle made with care and printed in Germany for a long time
So beautiful, so durable - the SHAVENT shaving gel dispenser, perfect for the SHAVENT Shave & Shower Gel
FOR YOUR SHAVE
The special twist
Say goodbye to plastic tubes and disposable spray cans - your elegant SHAVENT shaving gel dispenser brings stylish sustainability into your bathroom
a wonderful accessory for your daily shaving ritual. Reliable and easy, it dispenses the perfect amount of shaving gel for your light shave, especially useful in the shower.
The amber glass bottle is of course recyclable, but why would you want to give this beautiful piece away? In order to make the bottle particularly durable, we have dispensed with labels that could come off and have printed them with a high-quality, subtle SHAVENT design. Together with the pump dispenser clad in brushed metal, you have gained a timeless gem for your bathroom.
Particularly practical: we have printed the filling mark for the 200ml water for the preparation of the Shave & Shower Shaving Gel on the bottle.
But it not only decorates your bathroom, but also saves a lot of plastic and other packaging material that shaving gel usually comes to you in over its long service life.
SHAVE & SHOWER Shaving Gel Powder
Your light shaving gel for face and body - simple, caring and plastic-free at the same time. With its light texture, it can be easily applied to large areas and rinsed off quickly and easily. That SHAVENT Shaving Gel ist Soap-free and pH-neutral, so it also cares for and soothes sensitive skin while shaving.
Our SHAVENT Shaving Gel comes to you in powder form.
So you can easily shake it up yourself at home and save yourself and the environment a lot of packaging.

Included are:

Printed glass bottle
Pump dispenser head including hose
Other decorations are not included
P.S.: we do everything we can every day to produce our products as locally as possible. Unfortunately, even after weeks of research, we couldn't find a single manufacturer of durable metal pump heads in Europe, so we had to source these heads from Asia. If you know someone in your area who produces such a pump head in Europe, please contact us at kontakt@shavent.store! We look forward to getting in touch!
The SHAVENT shaving gel dispenser is designed for the SHAVENT Shave & Shower Gel, but of course it is also suitable for other gels and even as a normal soap dispenser for liquid soaps.
Please note that after shaking the gel in the bottle, there may be a little pressure in the first few hours, which can escape when you unscrew the bottle. This is completely normal.
In order not to block the pump hose, let the shaken gel swell for a few minutes. If the hose should ever become clogged, simply let some warm water run into it at the top and bottom and pump it through a few times with warm water - and it's ready for use again.
Rinse the shaving gel dispenser with warm water before each refill and pump the pump dispenser with warm water as well. Let dry.
Dimensions:
Bottle diameter: 7.0 cm
Height: bottle without pump head: 13 cm, bottle including pump head: 17.5 cm
Capacity: 300ml
Do you still have questions about the SHAVENT shaving gel dispenser?
Then look at ours FAQ drop by or write to us about our contact form - we are happy to advise you!