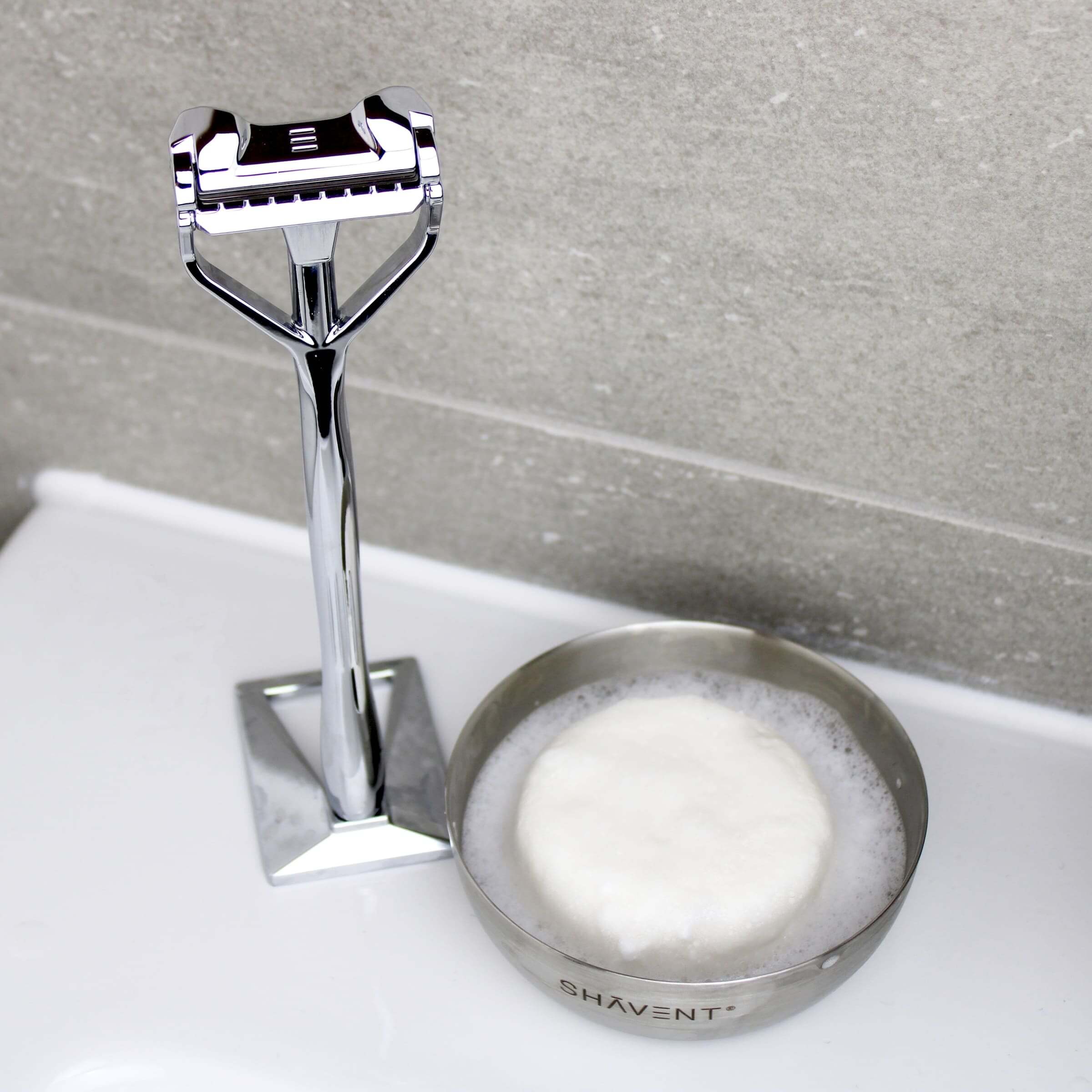 Accesories
Jars / Dispenser and Other Accessories
Whether at the sink or in the shower: our elegant shaving soap dish is the perfect place for your regular shaving care

That's why the SHAVENT shaving bowl fits perfectly into your bathroom:
✅ Specially crafted
for the SHAVENT Solid Shaving Bar, for foaming and storage
✅ for frothing and storing
✅ Durable made from one piece - elegant, matt stainless steel with noble SHAVENT engraving
✅ Made with great care in a family factory in Baden Württemberg
Elegant, practical, plastic-free - the SHAVENT shaving bowl, perfect for the SHAVENT Solid Shaving Bar
FOR YOUR SHAVE
The special twist
The SHAVENT shaving bowl is your durable accessory
the elegant jar is perfect for the SHAVENT Solid Shaving Bar, but also for all shaving soaps with a diameter of 6.5 - 7 cm.
Whether for whipping up the shaving foam or for decorative storage at the sink or in the shower, your bathroom will gain a wonderful accessory with the SHAVENT shaving bowl. Like all SHAVENT products, it is plastic-free and durable,
Made with ❤️ in Germany
SHAVE & SHOWER Solid Shaving Bar
The rich care in shaving soap form for your plastic-free shaving experience from head to toe. The creamy foam of SHAVENT Solid Shaving Bar cares for your skin while shaving.
Our SHAVENT Solid Shaving Bar is not a "normal" shaving soap.
Because normal shaving soaps have always left our skin feeling dry and tight. That's why we developed the SHAVE & SHOWER Solid Shaving Bar to be soap-free and pH-neutral to the skin. So it does not attack the natural protective barrier of your skin and leaves a well-groomed, smooth feeling long after the shave.
Included is:

1x SHAVENT shaving bowl, precious metal
Razors and other decorations are not included
The SHAVENT shaving bowl is suitable for all fixed care products with a diameter of 6.5-7 cm. It can be used both for frothing and for storage.
Due to its diameter, which increases at the top, it offers space for foaming and at the same time makes it possible to easily remove the soap.
Clean the bowl regularly and let it dry.

Dimensions:
Diameter at widest point: 9.0 cm
Height: 2.8cm

Do you still have questions about the SHAVENT shaving gel bowl?
Then look at ours FAQ drop by or write to us about our contact form - we are happy to advise you!
Wunderschön
Die Rasierschale ist formschön und absolut gut in der Handhabung. Wäre nur toll, wenn es von euch auch noch einen passenden Rasierpinsel gäbe.
Meine neue Rasierschale
Die Rasierschale ist ein echter Blickfang. Schlichtes Design, aber sehr schick.
Lieber Uwe, vielen Dank für die tolle Bewertung - es freut uns sehr, dass Dir die Rasierschale so gut gefällt :) Beste Grüße, Tamara von SHAVENT