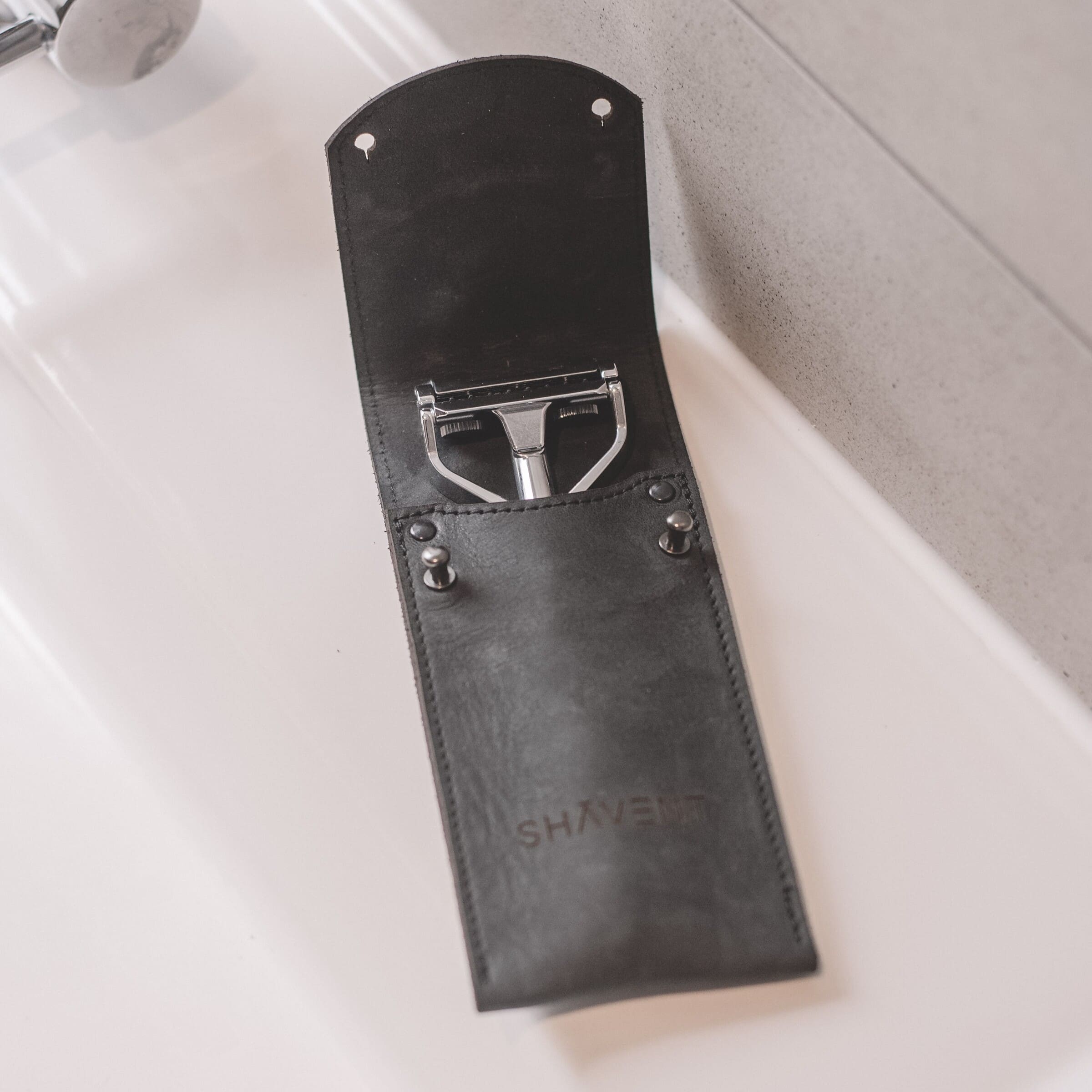 Accesories
Cases
The perfect travel case and storage for the SHAVENT razor, made from high quality, durable, locally sourced leather.
That's why you'll love the SHAVENT travel bag
✅ Safe & beautiful - the perfect travel companion for your SHAVENT


✅ Wonderfully grippy premium leather with a soft feel - durable protection for sharp blades


✅ Vegetable tanned, from Central Europe processed in a Bavarian manufactory


Elegant, durable and made with love in Bavaria.

FOR YOUR SHAVE
The special twist
A noble accessory for your travel bag - durable and close to nature
High-quality cowhide leather from Central Europe, e.g. from Germany and Austria, double-layered with fine seams, durable. Hatchet buttons ensure a practical and firm closure and the slightly rustic, elegant look.
The non-slip, soft leather is vegetable-tanned in Germany (without chrome) and aniline-dyed, without a covering layer of colour. This special premium leather is also used for knife bags, so it will be a very durable companion for your SHAVENT. It is lightly sanded, refined with wax and tumbled, resulting in a soft surface with a great feel, where you can clearly see the leather structure.
Made in Germany
(a small note: we have also received many inquiries about non-animal packaging and, since we do not use plastic, we are working on a stable alternative that can compete with razor blades in the long term. Unfortunately, this will probably be in fashion for some time claim.)
Your SHAVENT travel bag made of leather is specially tailored to the SHAVENT Original. The SHAVENT Compact also fits in, but you lose the size advantage of the Compact.
Included is:

1x SHAVENT travel bag, leather
Razors and other decorations are not included
Leather with character - this is how you take care of your SHAVENT travel bag
Leather is a material that develops its very own character over the years and your travels together allow this character to develop. With the right care, your leather case will be your companion for many, many years.
Here are the best tips:
The hatchet buttons, which serve to close your case, can still be a bit stiff when you first use them. However, the leather soon adapts and you have a permanent but handy closure.


Your leather case is intended for transport. Small splashes of water don't bother him, but you should avoid diving. If a drop of water leaves a stubborn stain, simply wipe your entire bag with a damp cloth. This will give you an even surface again.


If your razor case ever gets a grease stain, e.g. from creams, you can iron it carefully at low heat and with a paper towel in between, because this allows grease to come out of the pores and the surface becomes finer and more even again
Dimensions:
Height: 16.2cm; Open 24.4cm
Width: 7.0cm
Do you still have questions about the SHAVENT travel bag?
Then look at ours FAQ drop by or write to us about our contact form - we are happy to advise you!
Reisetasche
Sehr hochwertige Lederreisetasche, perfekt von der Passform und sehr schick im aussehen . Sehr schön finde ich persönlich den Verschluss,der aus zwei Bolzen besteht und super aussieht
Gutes Produkt
Die Tasche macht einen sehr guten Eindruck. Man merkt, dass das Produkt mit Sorgfalt hergestellt wurde. Es wurde ordentlich gearbeitet. Das Leder selbst wirkt hochwertig, für mich jedenfalls eine Kaufempfehlung.
Vielen Dank für Dein positives Feedback zur Reisetasche, lieber Torsten. Weiterhin viel Freude mit Deinen SHAVENT Produkten und alles Gute. Viele Grüße, Tamara von SHAVENT