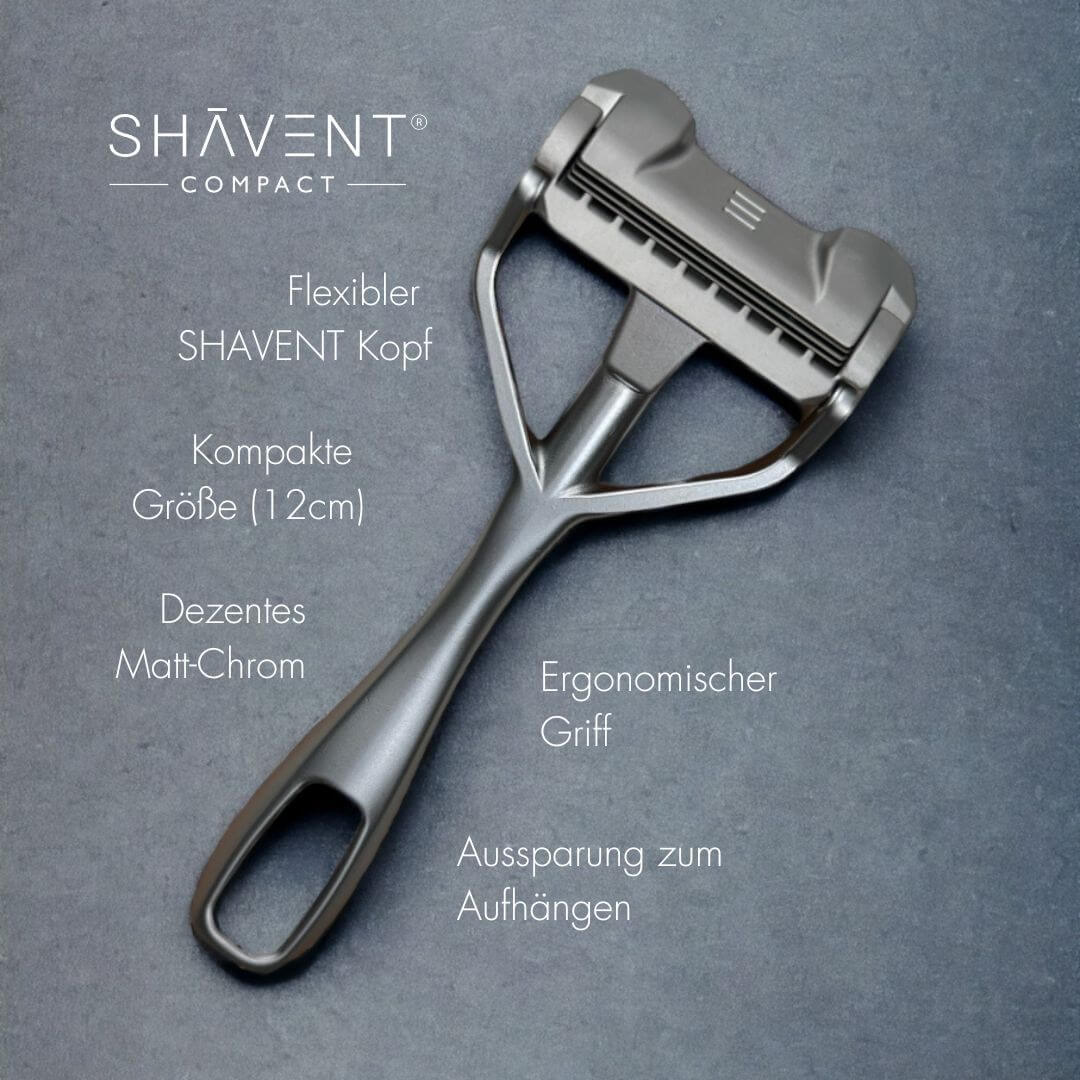 NEW: SHAVENT Compact - metal flex head shaver in travel size
🟢 Bald auf Lager. Lieferung in ca 5-10 Tagen.
Free shipping within the EU
A razor for face and body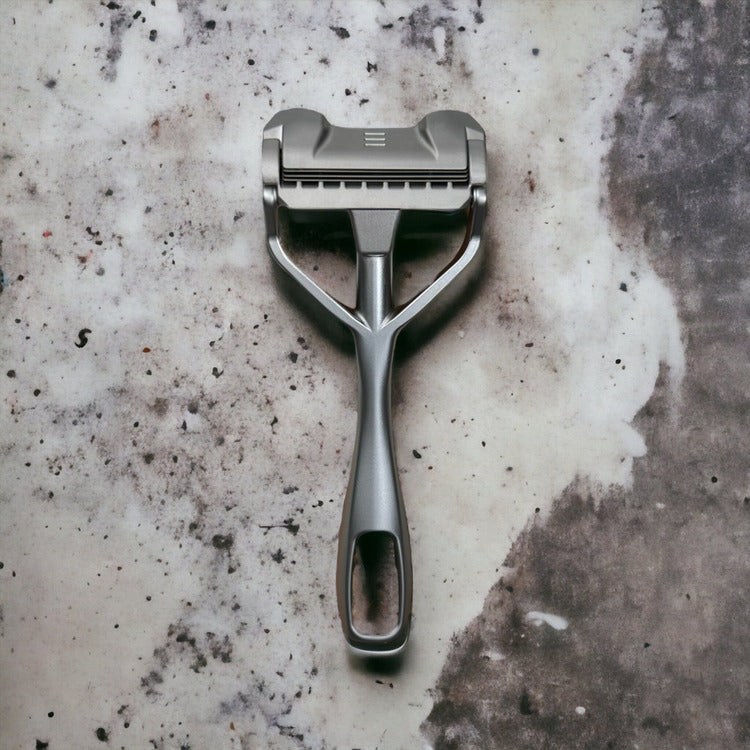 Reduce to the Max
With the SHAVENT Compact you have complete comfort in pocket size
Full focus on function: we have cast our patented flexible razor head with the three standard blades into a compact format!
With its simple handle design, subtle matt chrome and 12 cm height, it is the perfect functional companion.
Great, now I can easily hang the SHAVENT in the shower!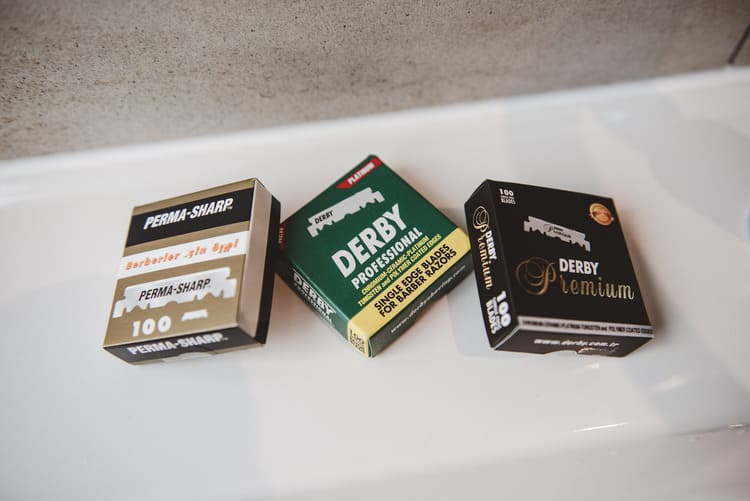 From head to toe
Great shave all over the body with the tried and tested standard blades
Of course, like its big brother, it offers the perfect gentle and close shave for the face and body and the affordable standard blades.
Tip: particularly suitable for body shaving - even in sensitive areas.
Brilliant! Finally a great shave without having to buy overpriced blades!
From family hands
Durable Made in Germany
All SHAVENT razors are designed to last and are manufactured in Germany using a precision zinc die-casting process. They completely do without plastic and rubber and are therefore free from age-related material failures.
Made for a life in timeless design – Designed in Italy, Made in Germany.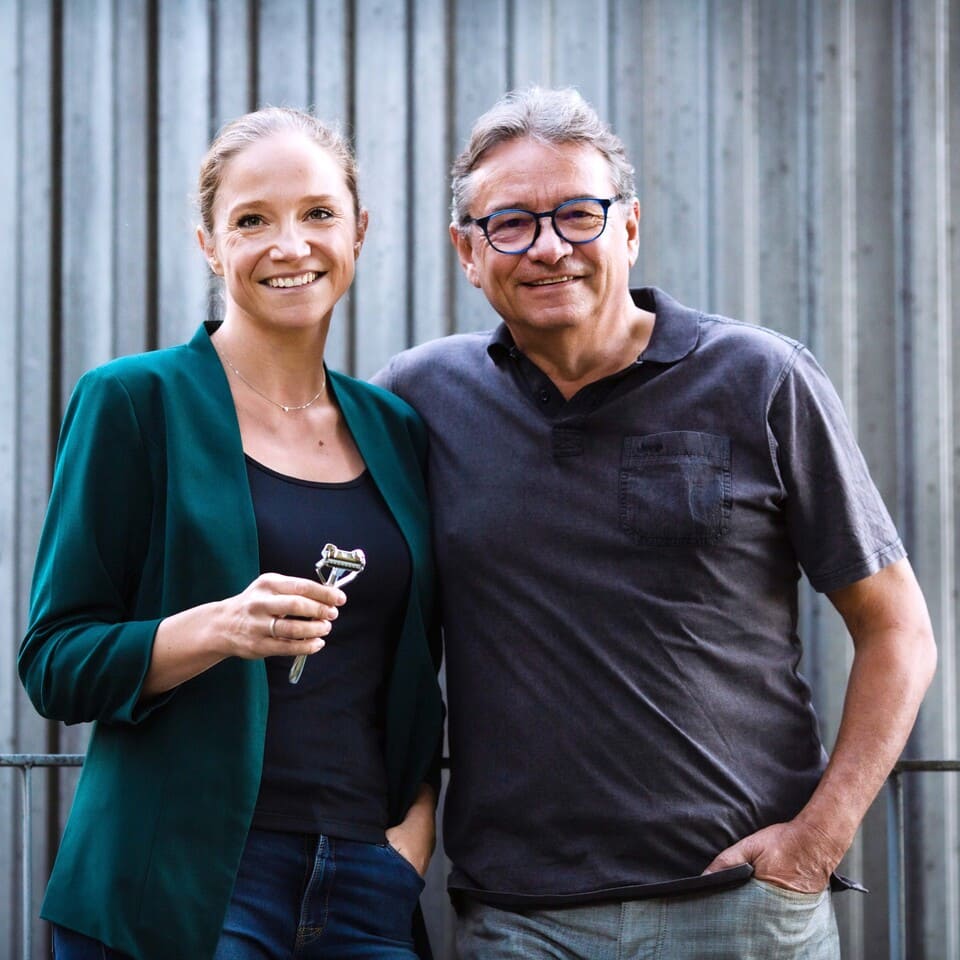 family thing
Quality from a family hand
As a father-daughter company, quality is a family matter for us! We want to offer you a razor for life and get you excited about metal shaving. Together with our experienced partners in Germany, we give everything we can every day - including knowledge, passion and passion. Made with ❤️ in Germany!
Romy & Armin
Founders of SHAVENT
We recommend the SHAVENT Compact to everyone who likes things small, handy and simple. With the patented SHAVENT comfort oscillating head with three blades, it offers complete shaving comfort and fits into any wash bag, and thanks to the recess in the handle you can hang it up within easy reach, for example in the shower.

Extra tip: The simple handle is particularly suitable for body shaving.
The SHAVENT Compact contains:
the compact SHAVENT Compact metal razor without plastic
6 pieces Derby Professional Single Edge razor blades - one set ready assembled to start straight away, one set for the first change
Less pressure. full of comfort
You can use the SHAVENT on the face and all over the body use.
Just start with less pressure as before. Rule of thumb: with a plastic razor you press like you're writing with a ballpoint pen, with SHAVENT you just press like you're writing with a fineliner/stabilo. 
Use the SHAVENT always on wet skin with a gentle foam - a shower gel is often enough, but you can use the SHAVENT with all shaving products that you use with other razors: gel, soap, foam - the main thing is that it "slips". For an extra portion of shaving care, we have our SHAVE & SHOWER shaving care products in the shop. 
You can change the blades just as often or as rarely as you do before. We always recommend changingwhen the shave no longer feels as smooth as it did at the beginning - because sharp blades are the best way to combat skin irritation. 
Technical specifications
Dimensions: 12 cm long
Weight: razor approx. 90 g
Material: matt chrome-plated zinc
Blade Type: Standard Half Blades
safety notice
As with every razor, the same applies to the SHAVENT: please always be careful - razor blades are known to be razor sharp! Keep razors and blades out of the reach of children or anyone who is not familiar with razor blades.
You can find more information on safety and care HERE
Note: Decoration on photos not included, see "scope of delivery"
Do you still have any questions about SHAVENT?
Then take a look at ours FAQ drop by or write to us about our contact form - we would be happy to advise you!
use
As a metal razor with a weight of approx. 85 grams, the SHAVENT feels good in the hand - this means you need significantly less pressure when shaving to achieve a perfect shaving result.
As a rule of thumb: with a plastic razor you press the same way as you write with a ballpoint pen, with a metal razor you only use the pressure with which you write with a Stabilo/Fineliner.
Thanks to the smooth-running swinging head, the SHAVENT offers a safe, close and gentle shave for the face, head and body, including the intimate area, for both men and women.
The SHAVENT is a wet razor - like all wet razors, it should not be used on dry skin as this irritates the skin unnecessarily and does not provide a good shaving result.
The skin should always be wet and a gliding aid such as shaving foam or simply shower gel should be used - this is how the SHAVENT glides optimally over the skin.
Vary your usual vertical shaving stroke under the nose a little and shave under the nose crosswise instead of lengthwise, with light pressure from below on the wings of the nose - this way you should be able to reach every part of the skin.
No, nothing on the SHAVENT can rust. If you see slight brownish traces when changing the blade, then don't worry: these are deposits from the tap water and skin flakes that can easily be removed with your finger.
Razor blades
The SHAVENT uses standard razor blades. The so-called half blades or "single edge blades" have been used in razors for decades and are available to buy cheaply from many brands in our shop, on the large online marketplaces and in specialist shops. This means that every blade change only costs a few cents instead of many euros.
The SHAVENT is designed as a 3-blade razor. This means it offers optimally balanced skin contact.
However, it can also be used very well with one or two blades.
The blades can be changed in just a few steps. Simply loosen the knurled nuts, remove the head and insert new blades alternating with the spacers.
Unfortunately, according to EU legislation, razors with removable blades are not allowed in hand luggage on board (we don't understand it either...). Please find out about the local regulations before the flight or leave the SHAVENT in your suitcase.

If you accidentally left your SHAVENT in your hand luggage and notice it too late, just remove the blades. Both the razor and the spacers are airworthy.
Order & satisfaction
We offer a variety of easy and secure payment methods, including Paypal, credit card, Amazon Pay, Apple as well as Google Pay and invoice via Klarna.
It is also possible to order in advance at the checkout in the online shop.
We ship with DHL / Deutsche Post domestically and internationally.
Quite simple: try out SHAVENT shaving in peace and quiet - not satisfied? Then write to us, send the SHAVENT back free of charge and get your purchase price refunded. You can find more details HERE.
Geiles Teil
Wäre der früher erschienen hätte ich jetzt nicht zwei Shavent Rasierer.
Der Liebe liegt gut in der Hand ist nicht so rutschig wie der große.
Beide liefern ein tolles Rasurergebnis.
Dann habe ich jetzt eben einen für unterwegs und einen für zuhause. Ist auch gut.
Beide sind wirklich empfehlenswert!
gute Rasur
leider nur 2 mal mit den gleichen Klingen
sehr schwierig unter die Nasenlöchen zu kommen
Klein Handlich Perfekt
Das ist mal ein Rasiere der in den Kulturbeutel passt und ich auf Reisen mitnehmen kann, er ist Klein , handlich und rasiert so gut wie sein großer Bruder....einen kleinen Nachteil gibt es ... meine Frau findet ihn auch super...
nah ja was soll ich sagen ....muss ich wohl noch einen Zweiten kaufen
Toller Rasierer, liegt durch die kleinere Größe sehr gut in der Hand, gewohnte, tolle Qualität, Öse zum Aufhängen ist eine Verbesserung. Fazit: bin sehr zufrieden.