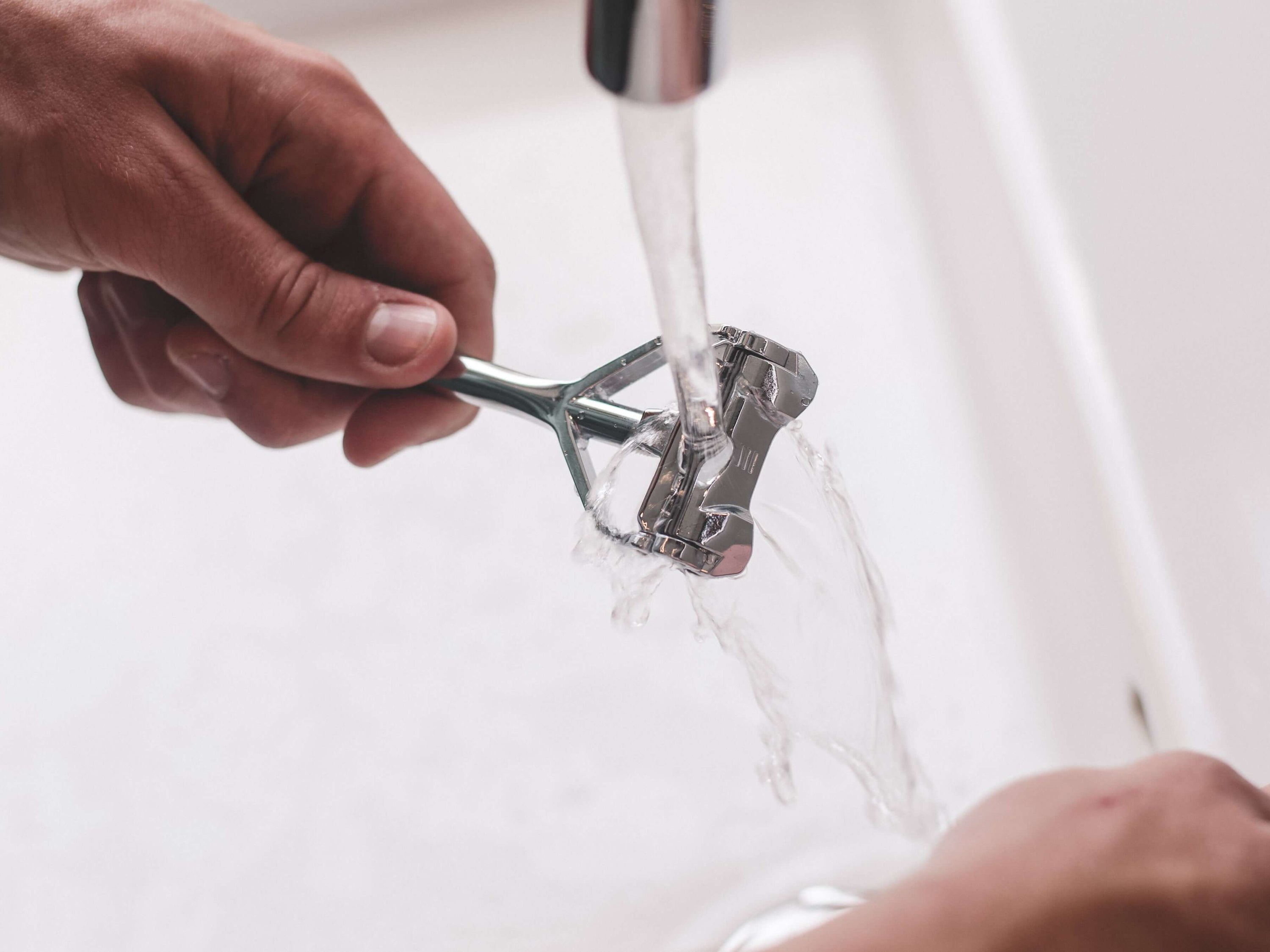 Nassrasur as she should be
SHAVENT metal razor: Simply better shaving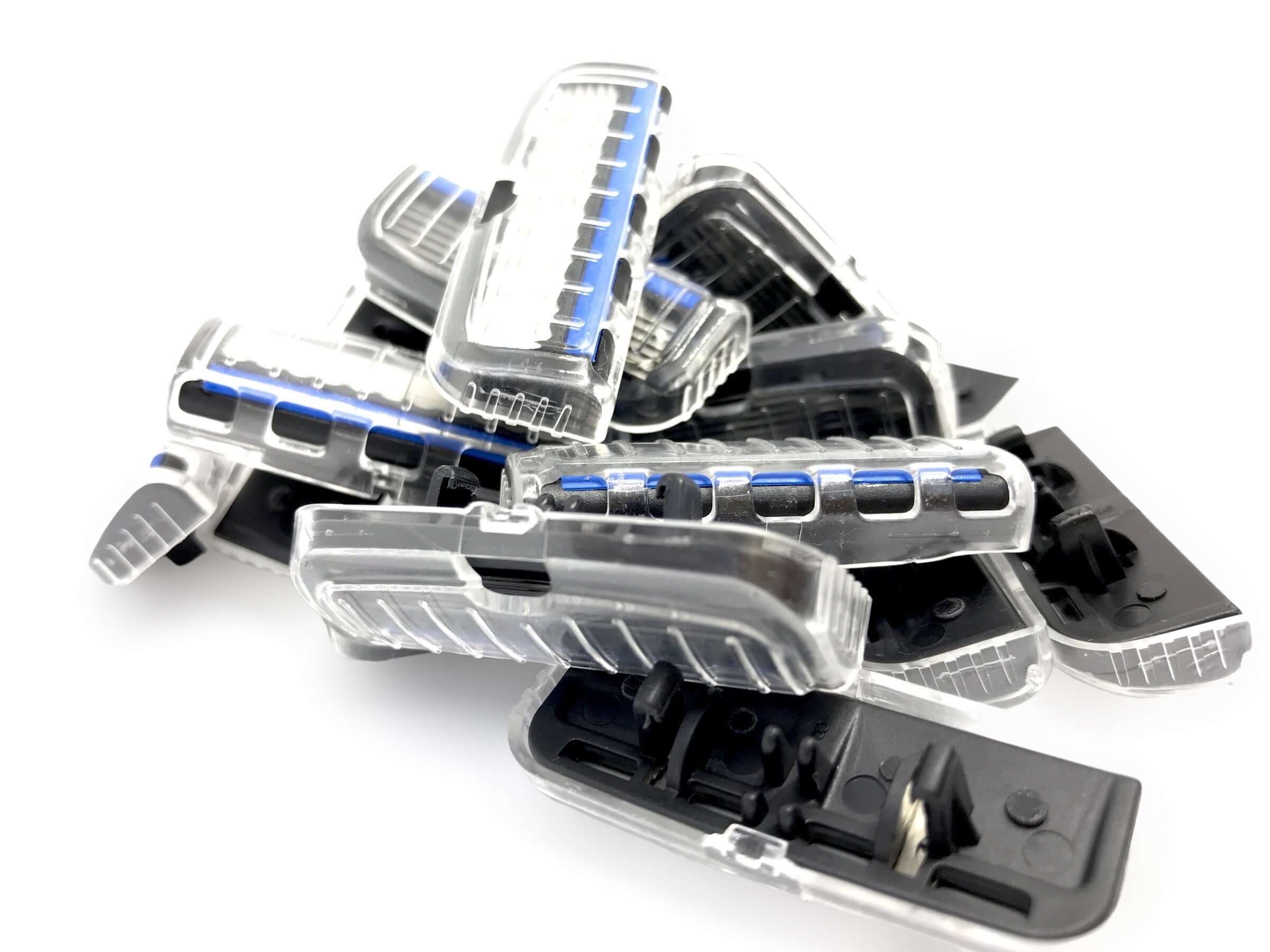 Are you also in the "cheap handle, expensive blades" system?
Have you ever calculated?
How much money do you spend every year on the replaceable heads of your drugstore razor?
Over the years (according to a 2018 Gillette survey, 76% of men shave for the first time between the ages of 14 and 17) it's been a streak.
Get rid of interchangeable heads
The SHAVENT puts an end to interchangeable heads
With the high-quality SHAVENT metal razor, you only replace what wears out: the razor blades.
You can buy the right standard blades from many brands very cheaply, because they have been used in razors and hairdressers for decades.
A blade change only costs ~15 cents instead of many euros!
Clever
This is how the SHAVENT pays for itself
Clever blades, full of comfort
Full swing head comfort
The SHAVENT offers all the advantages of a modern shave: the flexible head with the 3 blades adapts to every contour and ensures excellent shaving results, both on the face and on the whole body.
For the smoothest shaving result and less skin irritation!
Let customers speak for us
Quality you feel
High quality, durable, noble
The SHAVENT is fully designed for durability. Made in Germany with the highest quality, it not only completely dispenses with unsightly and unstable plastic and rubber deposits - its high-quality chrome surface also makes it a visual pleasure.
Quality that remains.
Now change
Get our most popular set with 100 blades included
Test now
Satisfied or 30 days money back
Thousands of customers are already convinced of the SHAVENT shave. You are too or you will get your money back.
What can I say: WoW. Saw it at the lion's den, thought long and hard about whether I should afford it. From the order to the service to the product, everything was worth every penny. HAMMER PRODUCT, HAMMER IDEA - Thank you for this razor.
I'm totally excited. A great razor. Easy and quick changing of the blades. Consistent. Super sharp blades. Would buy and recommend the razor again at any time.
Handling is surprisingly easy. The shave is comfortable and very clean. I've never cut myself and now even shave against the grain, which I didn't think was mortal. I am very pleased.
Use
Thanks to the smooth-running oscillating head, the SHAVENT offers a safe, thorough and gentle shave for the face, head and body, including the intimate area (for both men and women).
With the SHAVENT you shave as usual - it's easy to use and you hardly have to change.
The only difference is that you need less pressure, which makes your skin happy.
As a rule of thumb: with a plastic razor you press as you write with a ballpoint pen, with a metal razor you only use the same pressure as you write with a stabilizer / fineliner.
Blades
The SHAVENT uses standard razor blades. The so-called half blades or "single edge blades" have been used in straight razors for decades and there are many brands available to buy cheaply in our shop, on the large online marketplaces and in specialist shops. Every blade change costs only a few cents instead of many euros and a supply for years fits into the smallest corner of a bathroom drawer.
As with all razors, this depends on your individual shave - but the rule of thumb is: just as often or rarely as before.
With the big difference that from now on you save unnecessary waste and hard cash every time you change the blade.
The blades can be changed in a few simple steps. Simply loosen the knurled nuts, remove the head and insert new blades alternating with the spacers.
So that you can follow it closely, we have one for you Blog article prepared with instructions and a video.
Miscellaneous
The SHAVENT razor is manufactured using high-quality precision zinc die-casting, a process used for parts that should be functional and beautiful at the same time. The surface finish in bright chrome ensures visual brilliance.
Our parts are cast in Thuringia, elaborately polished (with many steps still done by hand!), galvanized (i.e. chrome-plated) and assembled, checked and packaged in Bavaria (Munich).
So the SHAVENT is Made with ❤️ in Germany.
In Germany alone, up to FIVE HUNDRED MILLION replaceable heads end up in the residual waste in just one year. That's the weight of the Statue of Liberty in New York - TIMES THIRTEEN!
We developed the SHAVENT razor because we were shocked by the amount of waste and plastic we consume when wet shaving around the world year after year. Existing low-waste alternatives such as safety razors or razors did not convince us in our own use and so we developed the SHAVENT razor - sustainability without sacrificing comfort and elegance.
Quite simply: try the SHAVENT shave in peace and quiet - not satisfied? Then write to us, send the SHAVENT back free of charge and get your purchase price refunded. You can find more details HERE.
Do you still have questions about SHAVENT?
Then look at our FAQ drop by or write to us about our contact form - we are happy to advise you!